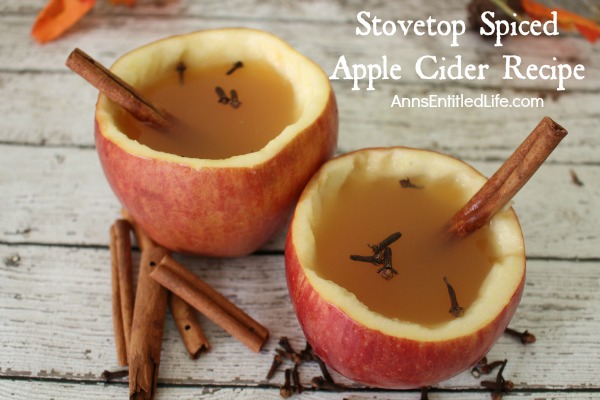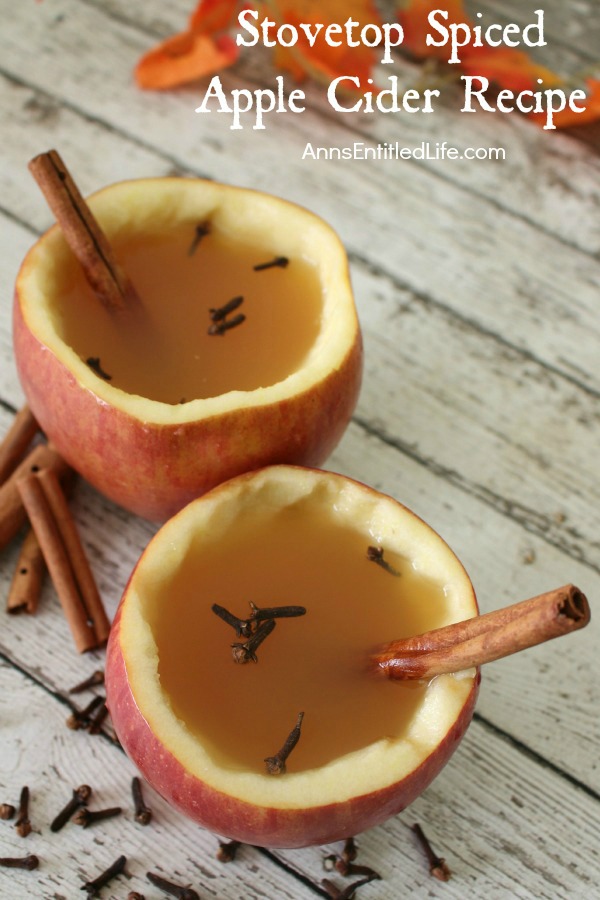 Stovetop Spiced Apple Cider Recipe
By Ann
The delicious taste and smells of homemade apple cider! There is nothing quite like it for entertaining during the holidays, enjoying a mug on a chilly day, or sitting in front of the fire with family and friends. This simple to make Stovetop Spiced Apple Cider Recipe is aromatic and oh so tasty! Your whole family will enjoy it.
Prep Time: 15 minutes
Cook time: 60 Minutes
Stovetop Spiced Apple Cider Ingredients:
● 64 oz Apple Juice
● ½ cup Dark Brown Sugar
● 1 TBSP Whole Cloves
● 2 Star Anise
● 3 Cinnamon Sticks
● ½ tsp Nutmeg
● ½ tsp Allspice
● 1 Orange or ½ tsp Dried Orange Peel
Cored Apple Mug Ingredients:
● 6 Extra Large Apples
● Juice of 2 Lemons
● 6 Cinnamon Sticks
● 18 Whole Cloves optional: star anise, orange or apple slices (for garnish)
Directions:

● In a large stockpot, add the apple juice and heat on medium for 7-8 minutes.
● Add the brown sugar and stir until dissolved.
● Thoroughly wash the outside of a large orange. Cut it into 4-5 slices (leave the skin on) and add to the apple juice, or use the dried orange peel instead.
● Add all of the spices to the apple juice and stir. If you own a cheesecloth, tie the spices up in it. If not, you will just strain before serving.
● Reduce heat to medium low and let simmer for at least 30 minutes to allow all of the flavors to blend (your house will smell heavenly, too!)
● Before serving, strain with a coffee filter or tea strainer.
● To make the apple mugs (not required)
● Using a sharp knife, cut off the top of each apple on a cutting board.
● Outline your rim around each apple cup with a parking knife.
● Scoop out the pulp with a melon baller leaving at least 1/4 of an inch between the inside and skin of the apple.
● If your apple cup does not sit up evenly, slice a small sliver off of the bottom of the apple to even it out.
● Squeeze lemon juice over each apple cup to prevent discoloration.
● Pour your homemade apple cider into each cup and garnish with cinnamon sticks and whole cloves.
● Makes 8 servings Stovetop Spiced Apple Cider
● To print the Stovetop Spiced Apple Cider recipe click here.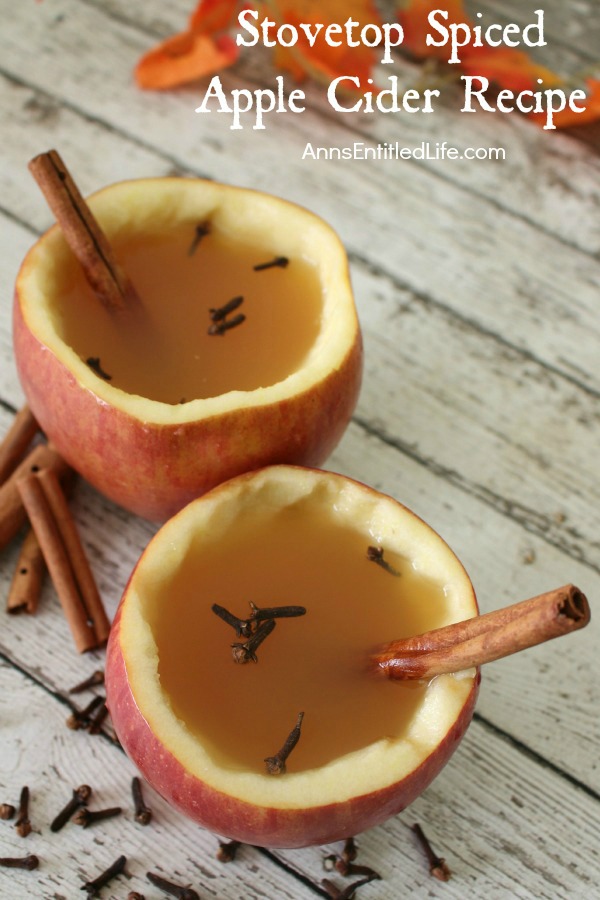 Note: this is a non-alcoholic recipe. If you wanted to add liquor for a party, try a shot of vodka when serving.
---
● For more Recipes on Ann's Entitled Life, click here.
● If you enjoyed this post, be sure to sign up for the Ann's Entitled Life weekly newsletter, and never miss another article!
---