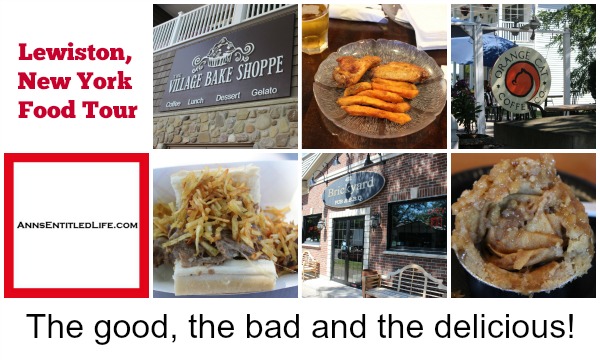 For many years now I have been listing Things To Do In Niagara Falls and Buffalo, NY. I started this list on my old blog in 2010 with a whopping 75 listed items – back then everything was free – and it has grown to over 200 Things To Do In Niagara Falls and Buffalo, NY. My goal is a list of 365 things to do (reasonably priced, not crazy-expensive) in the Western New York area – something for every day of the year!
With that in mind, when Hubby and I attended class at the Niagara Falls Culinary Institute last month, and had the Lewiston Food Tour recommended to us by one of the couples in attendance, we thought we'd give it a go.
Now this is actually the Lewiston Food and Historical Tour. And that is a much more accurate description than just a food tour. There is a large dose of Lewiston history that is incorporated in this tour. Alicia Scott-Tepas (one of the owners) is from Lewiston, and her pride of place shows through. Her husband Chris took the lead on our tour. He's a school teacher and at times that showed. He was quite thorough in his material, but sometimes I felt I was being "taught" during our three hour class… er tour.
Now that isn't necessarily a bad thing. At least it was not a bad thing for us. One of the areas Hubby and I are house hunting in is Lewiston. This tour made the history of Lewiston much more real and rich for us.
While I will not relate all the details of Lewiston (you gotta take the tour to get that), I will say it was most interesting. I find Lewiston very quaint, very beautiful, and very livable. I find it even more interesting now that I took the Lewiston Food Tour.
A few things of note:
● You can buy tickets here. Bring your printed out ticket with you. You will get a text reminder the day before the tour (ours was from a Boston 617 area code which I assume is where roaming table is located, but that is just an assumption).
● Tours are available through the end of September, Wednesday through Saturday, but check their calendar for confirmation.
● Group sizes are up to 12 people. (Our group had 8 people.)
● There are six (6) food stops. Carmelo's is only on Wednesday and Thursday, on Friday and Saturday Waterstreet Landing makes up the six stops.
● Private group tours are available.
● The cost was $49 per person (August 2016), children 12 and under are $35.
Now on to the food…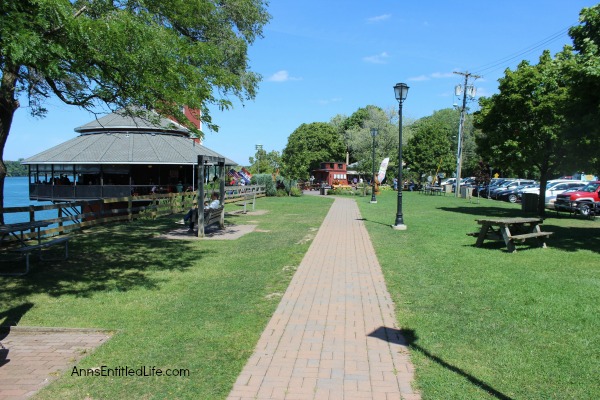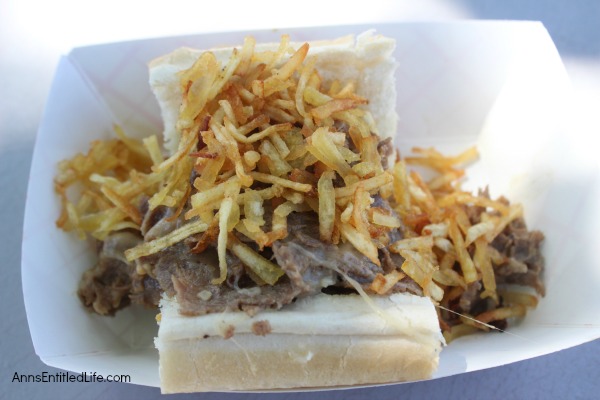 We met at The Silo Restaurant – a beautifully restored coal silo that sits on the Niagara River. We enjoyed The Haystack. Some of you may remember it from an episode of Man V. Food. They went to the Silo to film the recipe.
A normal Haystack has 1 pound of Rib eye steak, cheese, mayo and hashbrowns served on a roll from a local bakery. Our Haystacks were smaller, but still delicious!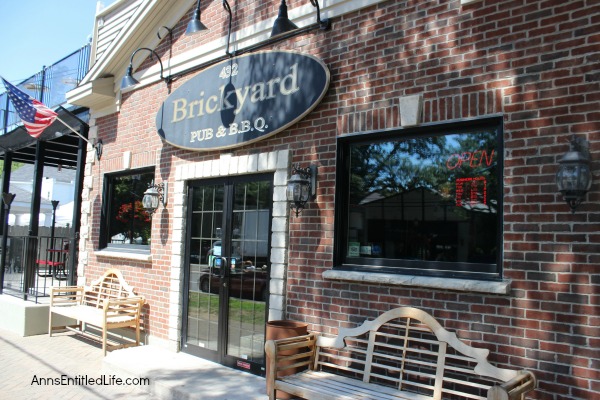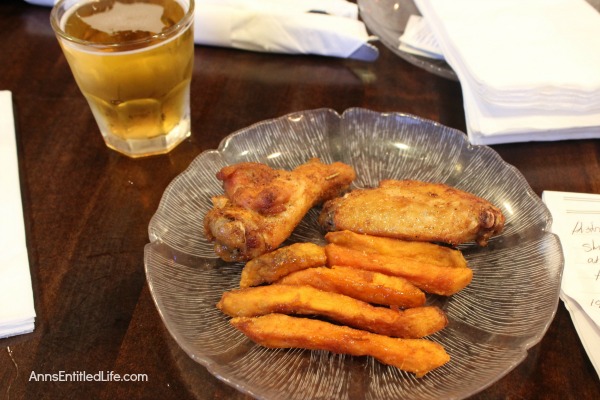 Our next stop was the Brickyard Pub. Here we had fresh cut sweet potato honey fries (OMG sooooo good) and Smoked Wings. The wings had been smoked for 5 hours, and I must say that while they were different, I didn't care for them much. Hubby didn't even try them.
We also had the Brickyard Lager which is brewed in Rochester for them. I am not a beer fan, but man did I like this one. It reminded me of a tasty pale ale.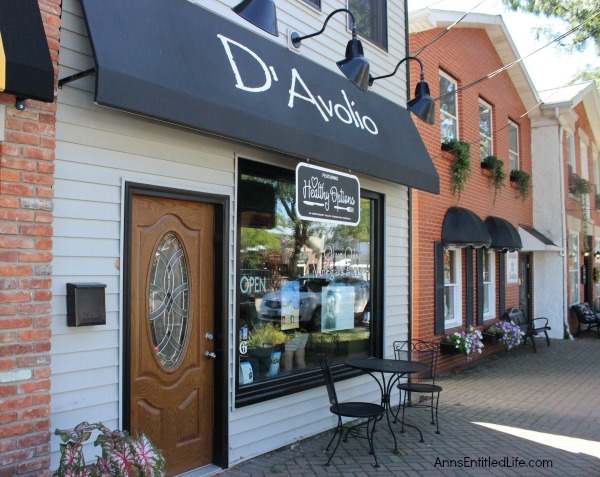 Our third food stop on the tour was the D'Volio Olive Oils, Vinegars and More. Honestly this was completely out of place on the tour. It was more like a "come sample the oils and stop back later to buy" stop than a real food stop.
Saying that… we had small samples of:
Vanilla custard and Lime Olive Oil. I loved this. Hubby hated it.
Vanilla custard and Blackberry Ginger Balsamic Oil. I liked this. As a group this was the favorite of the two. Hubby also hated this.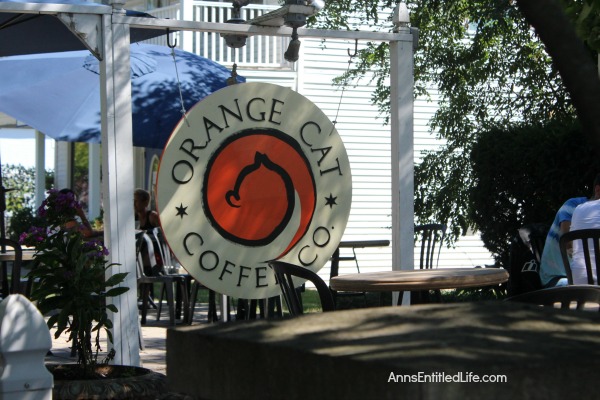 We then headed over to the Orange Cat Coffee Co, for a choice of iced or hot coffee. And, since it was another 90+ degree day, most of us chose iced coffee. There are 100 flavor choices of coffee inside this tiny coffee house. They roast their beans with essential oils which I found very interesting. We had the Iced Island Coconut, and Hubby loved it. He's the iced coffee guy at our house, so trust his judgement on this one.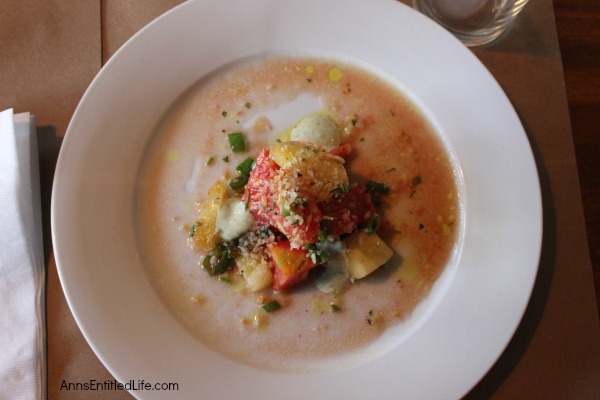 We next went over to Carmelo's. This was Hubby's favorite stop. He loved that the owner came out to chat, as well as serving our group himself. We enjoyed a plate of Heirloom tomatoes, citrus bread crumbs, basil with an aioli sauce. We also had a white wine that was god-awful. I have no idea what it was… should have gotten the name so I never order it anywhere.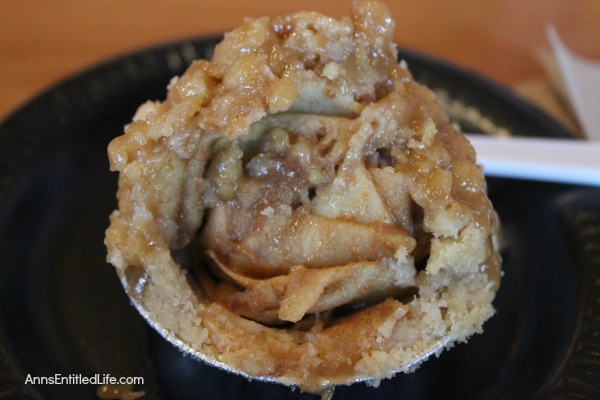 And our final food stop (actually it was the final stop of the tour) was at the Village Bake Shoppe for a mini mile high pie. I thought this was fabulous!! Their regular mile high pie has 5 pounds of local apples inside. I can see how with the beautiful, thin slicing.
On our way out we bought a few cookies and bars. The bar I bought (a toffee one) was pretty bad. It was dry and flavorless. Hubby bought their version of the Hello Dolly bar, and he thought the same (dry and flavorless) and said my Hello Dolly Bar recipe was much better. Then there was some muttering about my making them soon – which I ignored. The ricotta cookies he purchased, he liked very much.
All in all I felt the tour was well worth it. The food was mixed in my opinion, but different enough to be glad we tried it. The historical tour was very interesting. The Lewiston Food and Historical Tour was a great way to spend a summer afternoon.
---
● For more New York State posts, Click here.
● For more Travel posts on Ann's Entitled Life, click here.
● If you enjoyed this post, be sure to sign up for the Ann's Entitled Life weekly newsletter, and never miss another article!
---