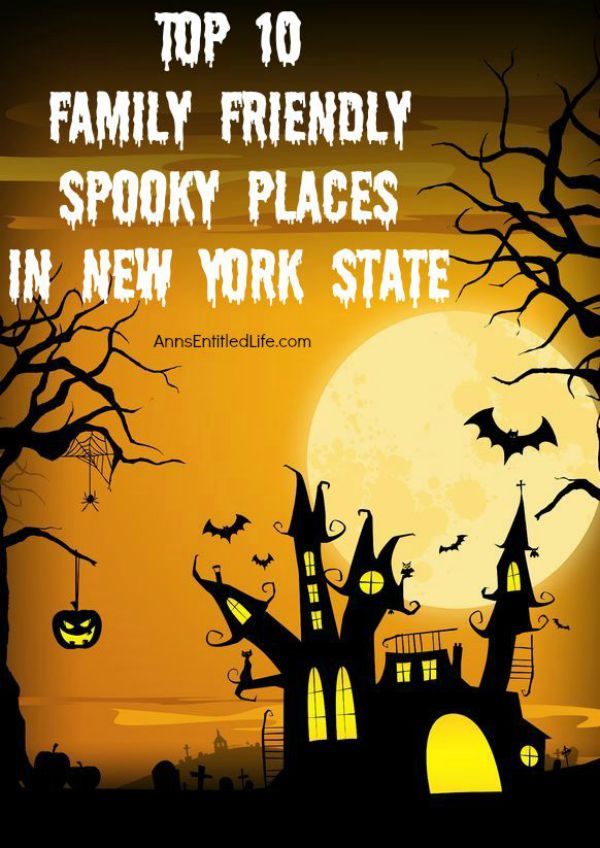 Top 10 Family Friendly Spooky Places in New York State
New York State is one spooky place! Stories abound of ghouls and ghosts at Indian burial sights, haunted mansions, and early colonial spirits. Some stories are of mere hauntings, while other specter sightings are much more elaborate. This list includes those places that are spooky but may still be appropriate for children. Please use your best discretion as to what level of fright you believe that your children will be to handle – and not have nightmares.
● Spook Hill Newell Road, Middlesex, NY – Starting this list off with a place called "spooky hill" seems fitting. Legend has it that if you put your car in neutral at a certain spot on Newell Road in Middlesex, Native American spirits will push your car back up the hill. Drive to the top of the big hill, sit, and be spooked as your car rolls backward up the hill! Here are the exact coordinates.
Note: beware as oncoming traffic will not see you.
● USS Sullivans Canalside, Buffalo, New York – Five brothers of the U.S. family, the Sullivans, were stationed on the USS Juneau during WWII. The ship was sunk and all five brothers died. To honor the family's service, the Navy commissioned the building of the USS Sullivans. It was eventually retired and brought to Buffalo for its permanent home. George Sullivan is said to wander the decks looking for his lost brothers who were below deck when they were all killed.
● Old Fort Niagara – Youngstown, NY Legend has it that two French officers fought a sword duel and one was decapitated. The duel's survivors threw the deceased's head in Lake Ontario and stuffed the headless body down the well. On nights of the full moon, a ghost allegedly rises from the well in search of its wayward cranium. (I've been on this ghost tour. It is a bit spooky, not for the very young, but children 12 and over should not have a problem with it. I'm a scaredy-cat, and it wasn't bad for me.)
● Headless Horseman Hayrides and Haunted Houses – Ulster Park, New York – There are all kinds of opportunities for scary family fun here. There is a mile-long hayrack ride and six separate haunted houses. There is also a corn maze and a walk-through adventure! There is elaborate staging in each house and there is a story to follow for each one as well.
● Kingsbury Cemetery Haunted House – Galleria of Shops, 100 Victory Highway, Painted Post, New York – The theme for this haunted house changes from year to year. This Haunted House is not recommended for children under 12, although they will not deny entry to younger children. Special "not so scary" Sunday Kids Matinee event Sunday, October 18th from 3-6 pm. "We intend to continue to contribute to the Corning Community Food Pantry through a cash donation of one dollar per ticket."
● Smith-Ely Mansion – 39 W. Genesee St, Clyde, New York – This house has been converted into a bed and breakfast, but it is said to have multiple ghosts. The spirits of many of the former residents have been seen by locals and visitors alike. During renovations, there were so many people who stopped by to tell their stories of hauntings that one worker declined to work on the project any longer.
● Ghosts of NYC Walking Tours – New York, New York – There are a multitude of places that are haunted or having spooky connotations in New York City. The best way to see them is on a walking tour. Each tour covers less than a mile of walking and takes about 90 minutes. There are ghost tours, tours celebrating Edgar Allen Poe, and even George Washington.
● The Old Bermuda Inn – 301 Veterans Rd West, Staten Island, New York – This is an old house that has been renovated to house a restaurant. The house is said to be haunted by the spirit of a young woman. She has been seen walking through the dining room and walking up the staircase in the main entry. Those eating have reported feeling cold breezes and pressure on their arms and shoulders.
● Beardslee Manor & Castle – 123 Old State Rd, Little Falls, NY – Another beautifully restored home that is now a restaurant, Beardsley Manor hosts weddings and receptions – and maybe a few ghosts as well. During the 1700s, the home served as the storage depot for munitions. Stories are told of some Native American warriors who broke into the home who set off the munitions with the flames from their torches. Their spirits are now seen wandering through the dining and ballrooms. There also have been numerous reports of rainbow-colored and bright lights showing up at various places on the estate where there is no reason for those to occur. More spirits wandering perhaps?
● Monster Mash and Bash New York State Museum, Cultural Education Center 260 Madison Avenue, Albany, NY, Cultural Education Center Saturday, October 24 and Sunday October 25 (noon-4)
● Top 10 Spooky Places to Visit in New York State
● For more spooktacular spots to visit in New York State, check out the haunted history trail!
---
● For more Halloween posts on Ann's Entitled Life, click here.
● For more Travel posts on Ann's Entitled Life, click here.
● If you enjoyed this post, be sure to sign up for the Ann's Entitled Life weekly newsletter, and never miss another article!
---