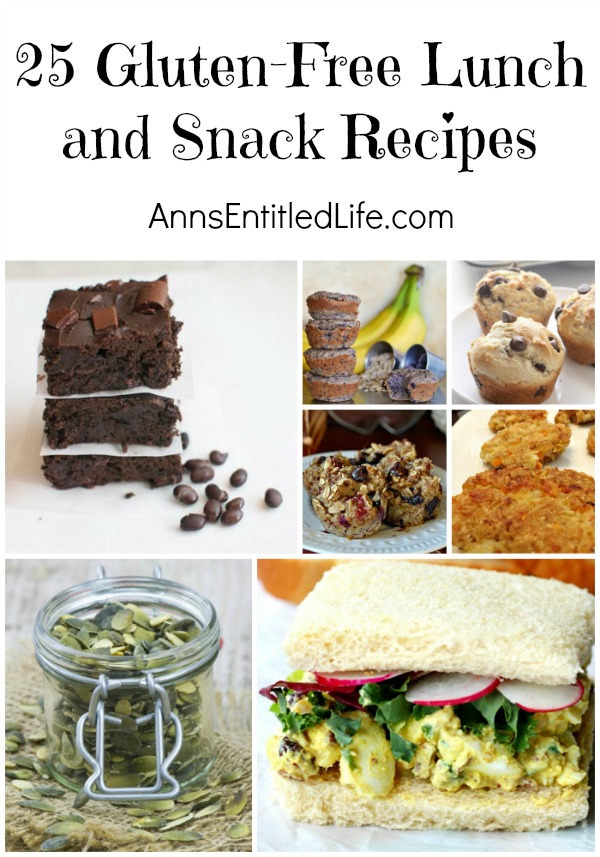 25 Gluten-Free Lunch and Snack Recipes
Gluten-free lunch recipes and snack recipes to eat at home, school, office or on the road. Eating gluten-free doesn't have to be a chore, especially when it comes to lunchtime. Remember, leftovers can be a perfect addition to any lunch box, especially when the lunch is also packed with fruits and nuts.
Tips For Packing Gluten-free Lunches:
● Get a thermos that will fit in a reusable lunch box, so hot things can stay hot and cold things can stay cold.
● Substitute sunbutter or almond butter if your child has a peanut allergy – or if you know of children in their class do.
● Hummus, hard boiled eggs, and trail mix make great snacks for gluten-free lunches.
● Always pack a treat – even if it's fruit cut into cute shapes, or mini muffins.
● Avocado Deviled Eggs | Great Food Lifestyle
● Banana Oat Mini Muffins | Fearless Dining
● Blueberry Banana Muffins | Savvy Saving Coupon
● Brown Rice Pizza Muffins | The Big Man's World
● Butternut Squash Sweet Potato Soup | Easy Bites Online
● Chocolate-chip Raspberry Oat Muffin Recipe, Gluten Free Vegan | My Dairy-Free Gluten-Free Life
● Chicken Nuggets | Gluten Free Cooking
● Chocolate Chip Muffins | Natural Chow
● Chicken Salad | The Big Man's World
● Curried Egg Salad | Kim's Cravings
● Easy Crab Cakes | Slapdash Mom
● Edamame Cucumber Noodle Salad | Eat Spin Run Repeat
● Flourless Black Bean Brownies My Dairy-Free Gluten-Free Life
● Fresh Spring Rolls | ifoodreal
● Garlic Chicken Flatbread | Almost Supermom
● Mushroom Quiche | Lavende and Lemonade
● Mini Mushroom and Swiss Cups | Iowa Girl Eats
● Mini Tortilla Bites | The Kitchen Alchemist
● No-Bake Granola Bars | The Little Plantation
● Pumpkin Seeds | Slapdash Mom
● Sweet Potato Waffle Sandwiches | Nerdy Bites
● Taco Burger Sliders | Two Healthy Kitches
● Tzatziki Greek Yogurt Chicken Salad | Bowl of Delicious
● Vegan Rice Balls | Lands and Flavors
● Veggie Burgers | Avacado Pesto
---
● If you enjoyed this post, be sure to sign up for the Ann's Entitled Life weekly newsletter, and never miss another article!
● For more Recipes on Ann's Entitled Life, click here.
---