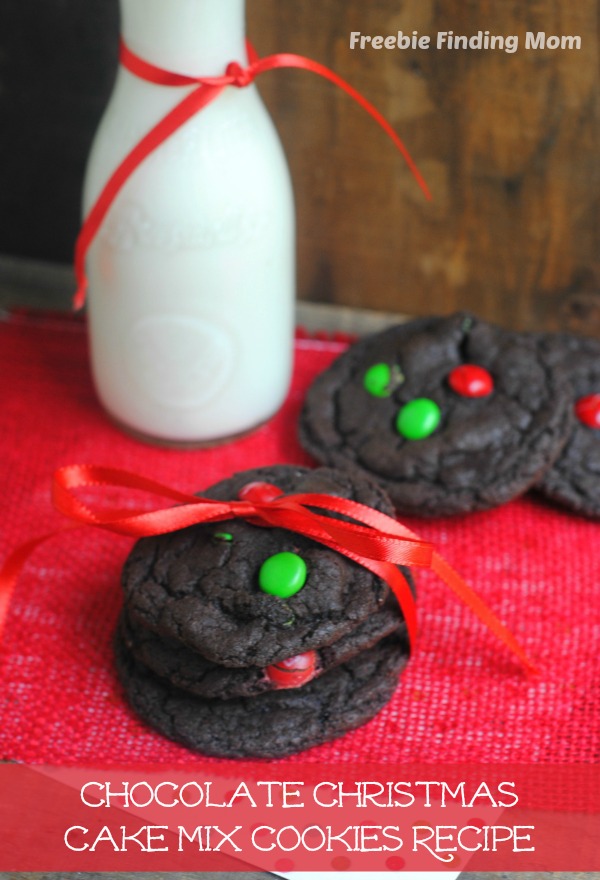 Chocolate Christmas Cake Mix Cookies Recipe
Easy to make, these Chocolate Christmas Cake Mix Cookies can also be turned into a cookies in a jar holiday gift!
Prep Time: 15 minutes
Cook time: 8 minutes
Ingredients:
● 1 Box Chocolate Cake Mix
● 1 cup Red & Green M&Ms
● 2 Eggs
● 1/2 cup Vegetable Oil
Directions:

● Preheat oven to 350°.
● Pour cake mix and M&Ms into a bowl.
● Add eggs and 1/2 cup of vegetable oil, mix well.
● Bake at 350° for 8-10 minutes, do not over bake.
● Cook on wire rack.
Makes 12 Chocolate Christmas Cake Mix Cookies
To print the Chocolate Christmas Cake Mix Cookies Recipe, click here.
Today is Day 4 of 15 Days of Holiday Sweets! This Chocolate Christmas Cake Mix Cookies Recipe was provided by Kelli from Freebie Finding Mom. Kelli Bhattacharjee, the proprietor of freebiefindingmom.com, is a former investment professional with nearly ten years of experience. She has a passion for empowering Family CFOs to make smart money decisions. She also contributes to Parade.com.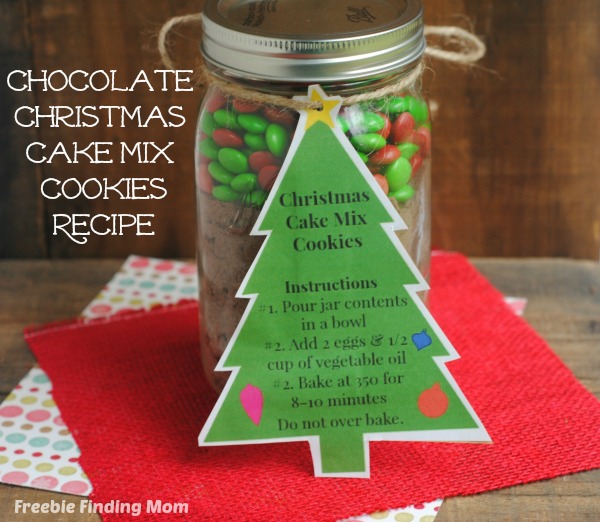 Kelli designed this recipe as a Chocolate Christmas Cake Mix Cookies in a Jar Gift. These are the instructions to make these in a jar for you to give as a Christmas gift:
Ingredients to Make Chocolate Christmas Cookies in A Jar
● 1 box of Chocolate Cake Mix, any brand
● Red & Green M&Ms – if your store carries bulk candies you can opt for these versus buying a large bag of M&M's or buy Christmas M&M's.
● 1 large Wide Mouth Mason Jar with Lid
● Twine
● Single Hole Punch
● Gift Tag, click here to print the gift tag with baking instructions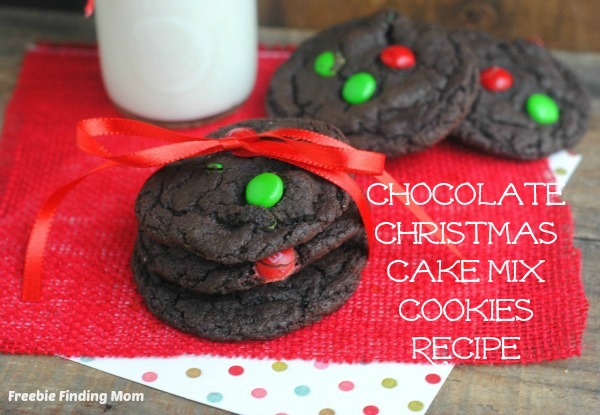 Assembly Instructions
● Add your box of chocolate cake mix to your wide mouth mason jar.
● Tap the jar a few times no the counter allowing the cake mix to settle.
● Slowly pour in the red and green M&M's to fill the rest of the jar.
● Print the gift tag provided and use a single hole punch to make a hole at the top of the tag, cut your twine and then secure it around the jar.
---
● If you enjoyed this post, be sure to sign up for the Ann's Entitled Life weekly newsletter, and never miss another article! On confirmation, you will receive a link to the free eBook: A Baker's Dozen of Holiday Sweets! Offer available through New Year's Day 2015 (1/1/15).
● For more Recipes on Ann's Entitled Life, click here.
---