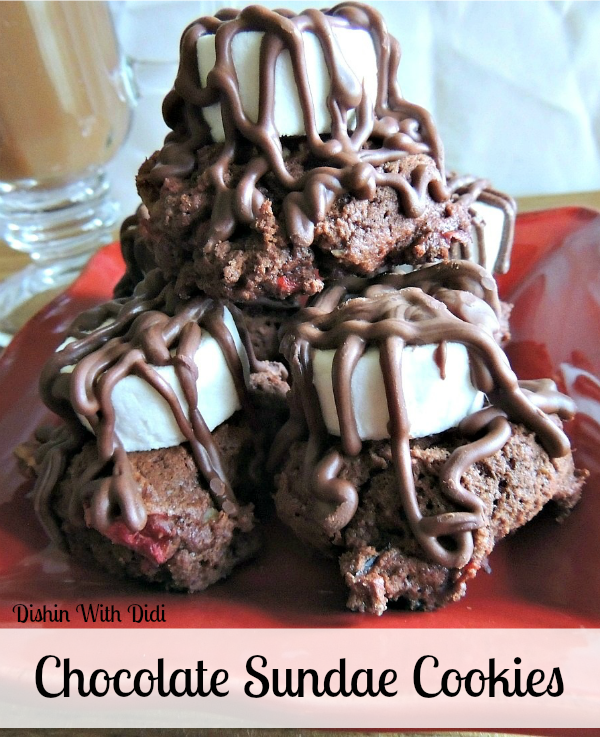 Chocolate Sundae Cookies Recipe
By Ann
Decadent, delicious and sweet creamy chocolate combines with marshmallows and maraschino cherries for a truly magical Chocolate Sundae Cookies Recipe treat!
Prep Time: 25 minutes
Cook time: 15 minutes
Ingredients:
● 2/3 cup Brown Sugar (packed)
● 1/2 cup Shortening
● 1 Egg
● 2 squares Unsweetened Chocolate, melted
● 1/4 cup Maraschino Cherry Juice
● 1/4 cup Maraschino Cherries, snipped
● 1/2 cup Walnuts, chopped
● 2 TBSP Milk
● 1 1/2 cups Flour
● 1/2 tsp Baking Soda
● 1/2 tsp Salt
● 2 dozen Large Marshmallows, halved
Drizzle Ingredients:
● 11 oz Milk Chocolate Chips
● 2 TBSP Shortening
Directions:

● Preheat Oven to 350°
● Line cookie sheets with parchment paper.
● In a medium bowl sift together flour, baking soda and salt. Set aside.
● Beat together brown sugar and shortening with a mixer until well blended.
● Add eggs; beat well.
● Add maraschino cherry juice, milk and melted unsweetened chocolate squares.
● Slowly add your flour mixture to the brown sugar mixture in the mixing bowl; mix until combined.
● Remove batter from mixer, and stir in with a spoon your snipped cherries and chopped walnuts.
● By heaping teaspoonfuls drop your cookie batter onto your parchment lined cookie sheet.
● Bake in your preheated 350° oven for 13-15 minutes.
● As soon as your baked cookie comes out of the oven, place a marshmallow half onto of the freshly baked cookie and press the marshmallow down slightly to ensure it sticks to the cookie below.
● Bake and top all cookies.
● Using a double boiler, melt your milk chocolate chips with your shortening.
● Drizzle the melted chocolate over the tops of the marshmallows and cookie.
● Let drizzled cookies dry on a wire rack.
● Store cookies in an air tight container.
Makes 48 Chocolate Sundae Cookies
To print the Chocolate Sundae Cookies Recipe , click here.
Thank you, Didi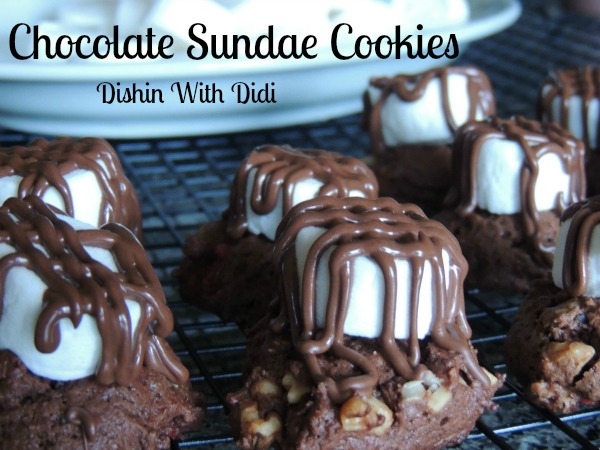 Doesn't this look decadent! What a sweet and tasty treat. The Chocolate Sundae Cookies Recipe originally appeared in the Good Housekeeping Complete Christmas Cookbook – 1967, so a definite classic you will want to make this holiday season (or anytime… these would be awesome as an after school treat!).
---
● If you enjoyed this post, be sure to sign up for the Ann's Entitled Life weekly newsletter, and never miss another article! On confirmation, you will receive a link to the free eBook: A Baker's Dozen of Holiday Sweets! Offer available through New Year's Day 2015 (1/1/15).
● For more Recipes on Ann's Entitled Life, click here.
---