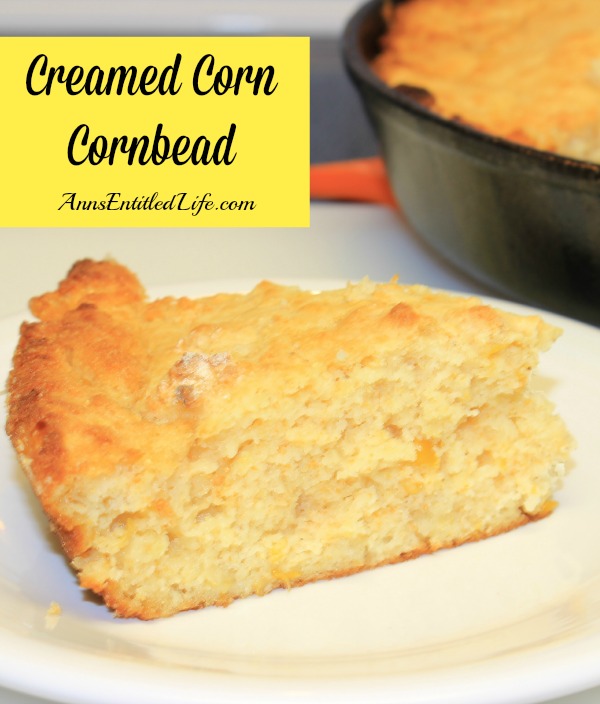 Hubby got most of this recipe from a book I gave him for his last birthday: The Cornbread Gospels
Weeeellllll you know me and Hubby; can't leave well enough alone. He pretty much disregarded the instructions and did it his own way. The ingredient change was buttermilk, and I think it made a world of difference.
We've tried other recipes in this book, and to date, this has been the only one we will make again and again. The creamed corn + the buttermilk makes for an extremely moist, tasty, and wonderful cornbread!
Note: There are tons of comments from people that the baking soda listed must be wrong. I will tell you, we made it as the recipe was written in that book. A lot of people have said it was inedible, but when they substituted baking powder, they loved it. Baking powder is going to make this rise a lot, so keep that in mind if you make the substitution.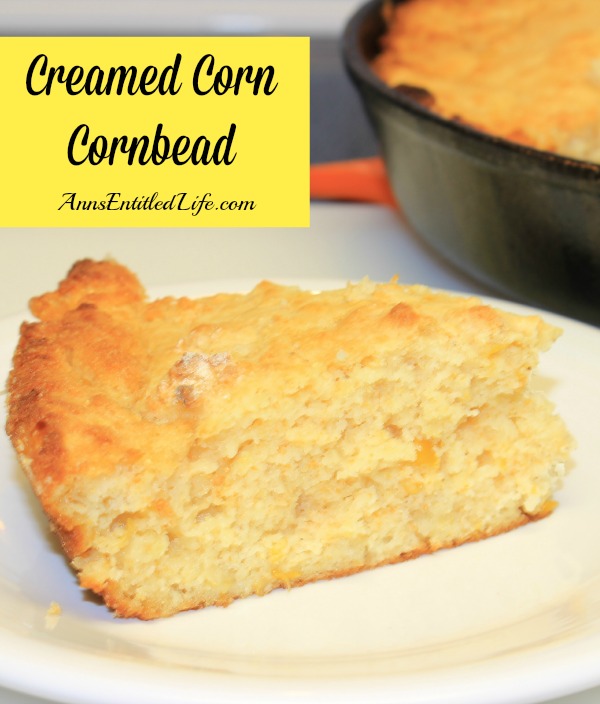 Creamed Corn Cornbread Recipe
By Ann
The creamed corn plus the buttermilk makes for an extremely moist, tasty and wonderful cornbread! This Creamed Corn Cornbread Recipe doesn't dry out, and holds up for days.
Prep Time: 15 minutes
Cook time: 30 minutes
Ingredients:
● 1/4 cup unsalted Butter
● 1 cup Yellow Cornmeal
● 3/4 cup White Flour
● 2 TBSP Sugar
● 1 TBSP plus 1 tsp Baking Soda
● 1/2 tsp Salt
● 1 cup Creamed Corn
● 1 cup Buttermilk
● 1 Egg
Directions:

● Preheat oven to 450°.
● Preheat pan in the oven, allowing it to become very hot.
● Melt 1/2 stick of butter in the microwave, set aside.
● Combine cornmeal, flour, and sugar in a medium metal bowl; sift in baking soda and salt
● In a separate bowl, whisk together creamed corn, milk, and egg.
● Combine creamed corn mixture, dry mixture, and half of the melted butter; stir until combined.
● Remove heated pan from the oven, add the rest of the melted butter to the pan.
● Pour batter on top of melted butter into the hot pan, flatten until even.
● Return the pan to the oven, and bake the cornbread for 20-25 minutes at 450° until golden brown.
● Remove from oven, and allow to stand 15 minutes before cutting.
Makes 8 servings of Creamed Corn Cornbread
---
● Disclosure the links in this post may be affiliate links.
● For more Recipes on Ann's Entitled Life, click here.
● If you enjoyed this post, be sure to sign up for the Ann's Entitled Life weekly newsletter, and never miss another article!
---