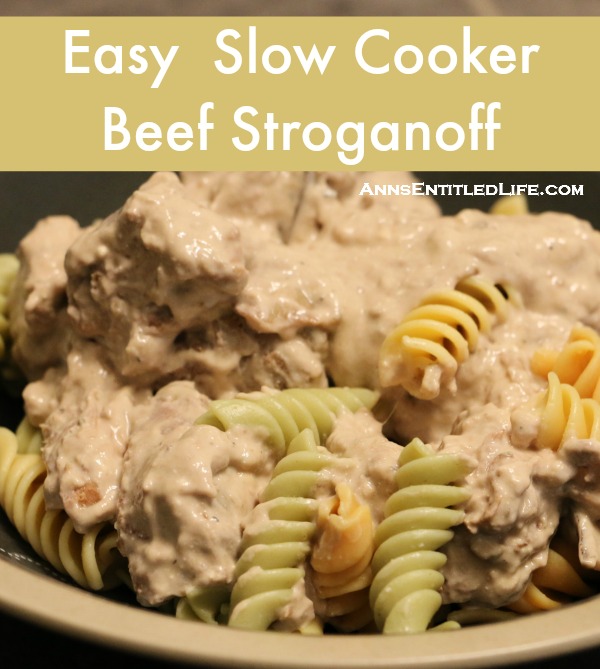 Easy Slow Cooker Beef Stroganoff Recipe
By Ann
This easy Slow Cooker Beef Stroganoff Recipe makes dinner a breeze. Delicious and creamy with meat so tender you can cut it with a fork, your family will definitely be asking for seconds!
Prep Time: 15 Minutes
Cook time: 10 Hours
Ingredients:
• 2 lbs Beef Stew Meat, cut into bite sized pieces
• 2 TBSP Minced Garlic
• 2 small cans Condensed Cream of Mushroom Soup
• 8oz Mushrooms, sliced or 1/4 cup dehydrated mushrooms + 3/4 cup of water
• 1/4 tsp Pepper
• 8oz Cream Cheese, cubed
• 8oz Sour Cream
• 6 cups Cooked Rice or Noodles (for serving)
Directions:

• Mix together beef stew meat, garlic, soups, mushrooms and pepper in your slow cooker.
• Cook in your slow cooker on low 8-10 hours or overnight.
• Stir in cream cheese and sour cream into the beef mixture until the cream cheese is melted.
• Serve hot over rice or noodles.
• Refrigerate leftovers.
Makes 6 servings of Easy Slow Cooker Beef Stroganoff
This doesn't look like much of anything, but man is it delicious! Soooooo easy to make, toss everything into your slow cooker before you leave for work, make some rice when you get home, and viola! Dinner!
Note: Hubby left out any onion as Max wanted a taste. It was not missed at all!
• To print the Easy Slow Cooker Beef Stroganoff Recipe, click here.
---
• If you enjoyed this post, be sure to sign up for the Ann's Entitled Life weekly newsletter, and never miss another article!
• For more Recipes on Ann's Entitled Life, click here.
---