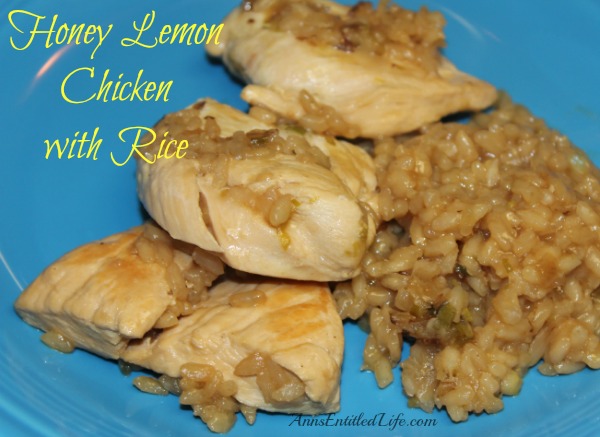 Honey Lemon Chicken with Rice
By Ann
This Honey Lemon Chicken with Rice recipe is sweet-tart, and so tender you can cut it with a fork. The rice cooks so well, and absorbs so many flavors, you'd think you were eating risotto – without the time or stirring! Simply delicious.
Prep Time: 20 minutes
Cook time: 40 minutes
Ingredients:
● 1 tsp Lemon Zest
● 1 TBSP Lemon Juice
● 1 1/4 cups Chicken Stock
● 2 TBSP Raw Honey
● 1 TBSP Soy Sauce
● 3 TBSP Cooking Oil
● 4 Chicken Breasts, sliced in half horizontally, and then vertically
● 1/2 cup Scallions, diced
● 1/2 cup Yellow Onion, diced
● 3/4 cup Medium Grain Rice (uncooked)
● 1/4 tsp Pepper
● 1 TBSP Honey Flavored Bourbon
Directions:

● Combine lemon zest, lemon juice, chicken stock, honey, honey bourbon and soy sauce in a bowl, set aside.
● Heat the cooking oil in a large pot with a cover.
● Brown chicken breasts in the hot oil, 2 minutes each side.
● Remove chicken breasts from the oil, and add the scallions and yellow onion to the oil, saute until soft.
● Add rice, pepper and broth mixture, top with the browned chicken breasts.
● Cover and simmer on low heat for 30 minutes or until the liquid has been absorbed.
● Remove from heat, allow to sit covered 10 minutes before serving.
Makes 4 servings of Lemon Honey Chicken with Rice
● For a list of all recipes available on Ann's Entitled Life, click here.
---