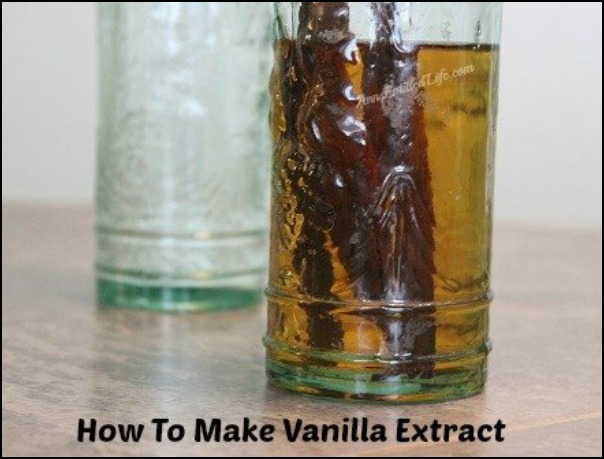 How To Make Vanilla Extract
How To Make Vanilla Extract – from selecting the beans to making the extract, here is a comprehensive look at making vanilla extract!
How to make Vanilla Extract begins with a very important step: selecting your vanilla beans. Make sure you select the best beans for your eventual need.
Your choice of vanilla beans depends on your personal preference in flavor. There are three main types of vanilla beans. Here's a description and comparison of the three types of Vanilla Beans, so you can choose the ones that are best suited to your baking and cooking needs:
● Madagascar- Bourbon Vanilla Beans
– creamy and sweet, thin bean
● Mexican Vanilla Beans
(a type of Bourbon Vanilla) – smooth and mellow, woody fragrance
● Tahitian Vanilla Beans
(originally came from Mexico, now grown mainly in Papa New Guinea) – dark, floral, short and thick, less flavorful than a Mexican or Bourbon bean even though they are more aromatic.
● Madagascar- Bourbon Vanilla Beans
are rich, sweet and the thinnest of the three beans. Mexican Vanilla Beans
generally have a smooth rich flavor, woody fragrance due to drying method (see below). Tahitian Vanilla Beans
are the thickest and darkest of the main Vanilla Bean types, and although very aromatic they are not as flavorful as the Mexican or Madagascar- Bourbon Vanilla Beans .
There are over 125 varieties of vanilla orchids. Vanilla beans vary widely in taste and aroma – when grown as little as 20 miles apart they may have subtle differences in flavor and appearance. Beans to avoid are cured beans with very little scent, that are smoky, brittle or dry or are mildewed.
Vanilla pods are hand picked from orchids. They are then "water killed" by dipped them in steeping in hot water to stop their growth – the water-kill method results in a softer more pliable vanilla bean. A vanilla "sun kill" results when vanilla beans are put on concrete slabs and allowed to bake in the sun. Primarily used in Mexico, this results in a ragged vanilla bean skin.
When picked, a vanilla bean doesn't have any smell or flavor. The beans must be cured, usually at a central curing house. They are heated in the sun and wrapped to sweat at night for up to 3 weeks. The vanilla beans are then air dried for 4-6 months to allow them to ferment and develop their aroma and flavor.
There are two grades of Vanilla Beans commonly sold to consumers:
● Grade A (gourmet, prime) Vanilla Beans are oily and moist (30-35% moisture content). There are about 100 to 120 grade A beans per pound. This vanilla is lovely to look at so is used in gourmet cuisine.
● Grade B (extract) Vanilla Beans are less moist (15-25% moisture content) and less attractive than Grade A beans. There are about 140 to 160 grade B beans per pound. These are used in extract because less moisture in the beans results in less water in your extract.
Vanilla extract is made by transferring the flavors and aromas of the vanilla beans to the alcohol – either vodka, brandy or rum. Vodka is preferred because of the neutral flavor. When using a liquor other than Vodka, the liquor itself will contribute flavors to the vanilla extract.
Here is the FDAs definition of Vanilla extract:
Code of Federal Regulations Title 21
And, this is how 35% alcohol is determined: 169.175
To make Vanilla Extract is simple. You use vanilla beans, a corked bottle and a cup of vodka:
How to Make Vanilla Extract
● Use 5-6 vanilla beans per 1 cup of unflavored Vodka.

● Slit or scrape the beans before adding the Vodka.

● Place vanilla beans in bottle, add 1 cup Vodka.

● Cork tightly, and store in a dark cabinet.
● Shake the vanilla extract bottle several times a week, on at least two different days for the first month.
● Your vanilla extract will be ready to use in a few months (plan on 4-6 months).
I actually have two bottles of vanilla made at all times. When I run out of one bottle, I start making the vanilla again, and use the second bottle. By the time I use that bottle, my original bottle is again ready for use!
---
● Disclosure: the links in this post may be affiliate links.
● For more Recipes on Ann's Entitled Life, click here.
● If you enjoyed this post, be sure to sign up for the Ann's Entitled Life weekly newsletter, and never miss another article!
---