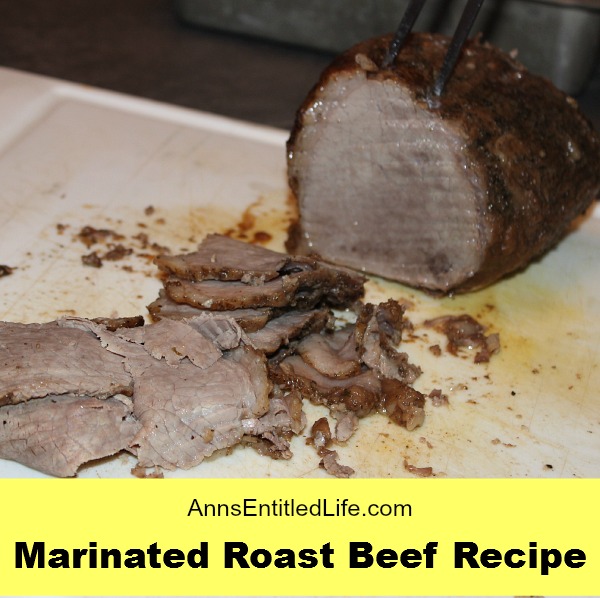 Marinated Roast Beef Recipe
By Ann
Bursting with flavor, this marinade makes an economical beef cut taste expensive making it moist and juicy. Absolutely delicious.
Prep Time: 2 Hours
Cook time: 20 minutes per pound
Ingredients:
● 1/2 packet Onion Soup Mix
● 3/4 cup Soy Sauce
● 1/4 cup Vegetable Oil
● 1/4 cup Lemon Juice
● 4 TBSP Worcestershire Sauce
● 1 TBSP Pepper
● 1 tsp Garlic Powder
● 1/2 tsp Sage
● 1/2 tsp Oregano
● 2-3 pound Beef Roast
Directions:

● Mix together all ingredients except the roast.
● Place roast in foil lined baking pan (there should be enough foil to wrap later).
● Cover roast with marinade.
● Wrap roast with foil, allow wrapped-foil-opening to be on top of the roast.
● Allow to sit at room temperature for 2 hours.
● Note: if you refrigerate to marinate, you must still allow wrapped roast to sit at room temperature for 2 hours before roasting.
● Preheat oven to 450°.
● Roast meat for 20 minutes in 450° oven.
● After 20 minutes, turn down oven temperature to 225°, continue roasting for 20 minutes per pound of meat.
● Remove from oven and let roast rest for 20 minutes.
Makes 6 servings Marinated Roast Beef
● For beef cut, I always use eye of the round. It is relatively inexpensive, and quite good.
---
● Disclosure the links in this post may be affiliate links.
● For more Recipes on Ann's Entitled Life, click here.
● If you enjoyed this post, be sure to sign up for the Ann's Entitled Life weekly newsletter, and never miss another article!
---