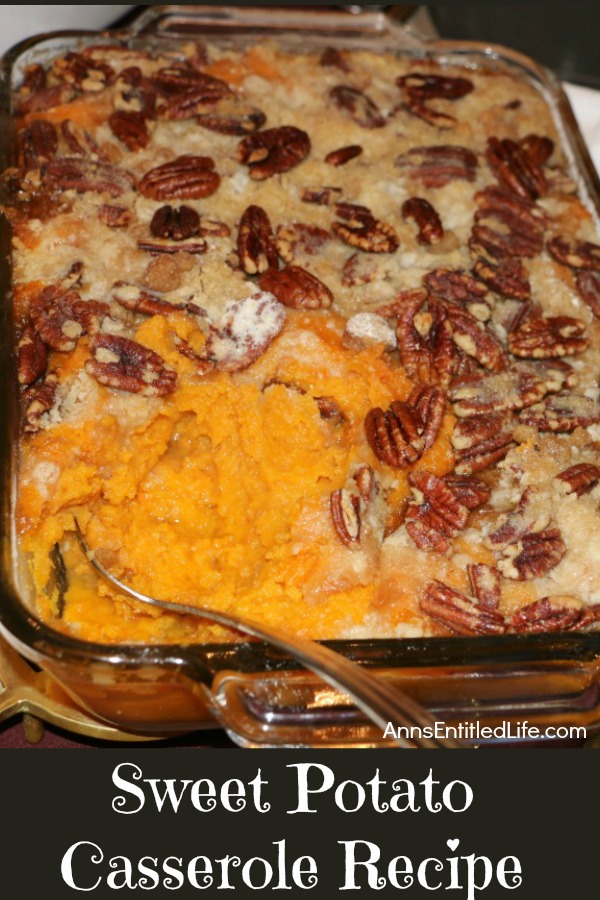 Sweet Potato Casserole Recipe
By Ann
A delicious, easy to prepare sweet potato casserole recipe you entire family will enjoy. This classic sweet potato recipe is a wonderful side dish that pairs well with turkey, chicken or pork.
Prep Time: 20 minutes
Cook Time: 25 Minutes
Total Time: 1 Hours 10 Minutes
Ingredients:
• 4½ cups Sweet Potatoes (cooked and mashed)
• 1 cup Butter, divided
• 1/3 cup Half and Half
• 1 cup Sugar
• ½ tsp Vanilla Extract
• 2 Large Eggs
• 1 cup Brown Sugar
• ½ cup Flour
• 1 cup Pecans, divided
Directions:

• Preheat oven to 350°.
• Grease a 13″ x 9″ baking pan with butter; set aside.
• Peel, cook and mash sweet potatoes so you have 4½ cups of mashed sweet potatoes.
• Melt ½ cup butter.
• Using a stand mixer, in a large bowl mix together mashed sweet potatoes, melted butter, half and half, sugar, vanilla extract and eggs. Mix until whipped.
• Spread sweet potato mixture into the prepared 13″ x 9″ baking pan. Set aside.
• In a small bowl, mix together brown sugar and flour. Cut in remaining ½ cup butter (unmelted). Cut together the brown sugar, flour and butter until the mixture is pebbly, then, stir in ¾ cup of pecans.
• Sprinkle brown sugar mixture over the top of the mashed sweet potato mixture in the baking dish.
• Place final ¼ cup of pecans on top of the casserole.
• Bake for 25 minutes in a preheated 350° oven.
• Serve hot.
• Refrigerate any leftovers.
• Makes 12 servings Sweet Potato Casserole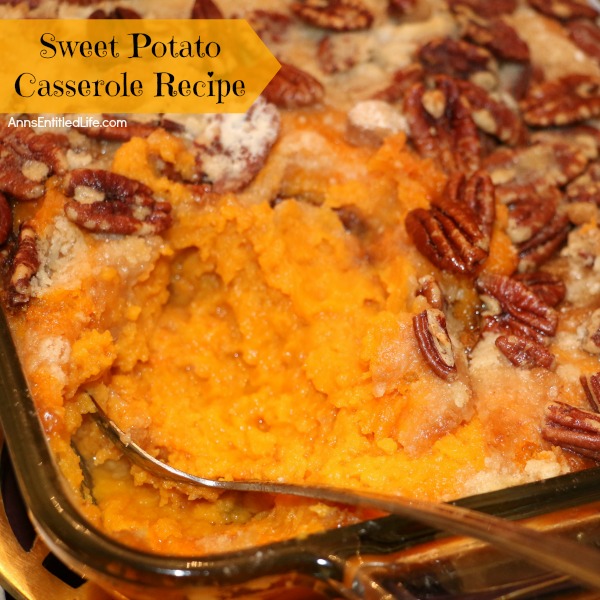 This is a fantastic, out of this world delicious recipe. Don't just make it for Thanksgiving (I need to take my own advice on that one), but make it when you have pork or chicken too!
• If you like, you can double the brown sugar, flour and make that cutting-in-butter a whole stick to double the topping. You may have to bake a few extra minutes if you do.
• I also suggest using WHOLE pecans for that last ¼ cup you place on the top of the casserole for aesthetic reasons. So use pecan pieces of the mixture if you like, but use whole pecans for the final top.
Sweet Potato Casserole Mise en Place:
• 13×9 Pan
• Measuring Cup

• Measuring Spoons
• Large Bowl
• Spatula
• Stand Mixer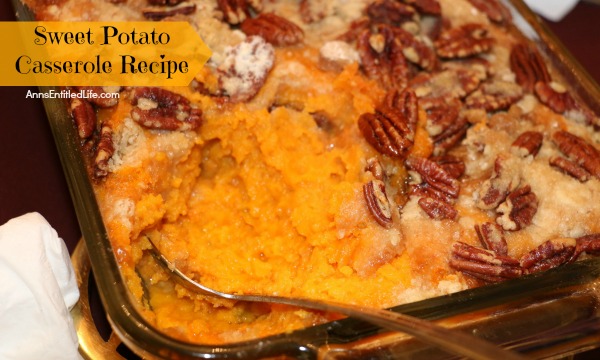 • To print the Sweet Potato Casserole recipe, click here.
---
• Disclosure the links in this post may be affiliate links.
• For more Recipes on Ann's Entitled Life, click here.
• If you enjoyed this post, be sure to sign up for the Ann's Entitled Life weekly newsletter, and never miss another article!
---
---
FOLLOW US ON: