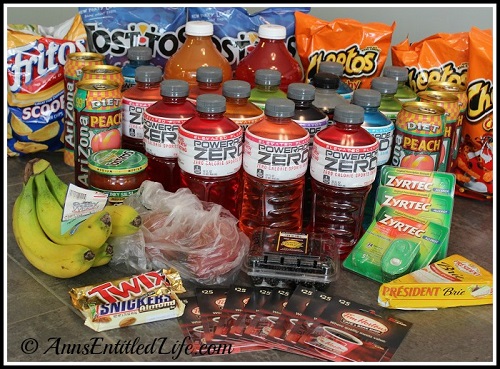 A few weeks ago I posted Sunday Morning Shopping making it very clear that I may not be out shopping on Sunday ever again (or at least not every week). This is a reader driven post having little to do with me – except I may run out to get whatever good deals you all post in comments. 😛
I also added an email notification for additional comments. Definitely read this post so you know how to opt in or out.
Ann's Sunday Morning Shopping
Hubby and I were out bright and early this morning. No particular reason, we just were up early and so headed out to shop.
The first stop was Walgreens. I had a $1 RR expiring today, and I figured I'd get the Nutrition Peanut Butter for $2.99 with a $3 RR. The shelf was empty at my local Walgreens, so I asked the MOD (who is all sorts of awesome) for the scoop. He said that a truck was coming in Tuesday with at least 50 of each flavor, so stop back Tuesday afternoon! This is a great deal, and I may very well stop in. In the meantime, I needed something to use my $1 RR on, and it was Hubby to the rescue!
Walgreens Order
(3) Zyrtec (5ct) $6
(6) Arizona Tea 2/$1 (w/in-ad coupon)
= $23
– (3) $6 Zyrtec coupons (4/28/13 SS)
– $1 RR
= $2
At CVS the sad news about the bag tag program ending was confirmed. 🙁 At checkout I received $1 ECB for using the tag today (was not my fourth shop), and $1 in ECB for what I "paid" for the bag tag. So, next time you shop CVS make sure you scan your bag tag at check-out and you will receive a $2 ECB
From the CVS Kiosk today we (almost all of these were Hubby's) received these CVS Coupons:
• $2/$8 Cosmetic purchase expires 5/12/13
• $1.50/$5 Deodorant purchase expires 5/12/13
• $6/$20 Facial Skincare purchase expires 5/12/13
• $3/$10 First Aid or Footcare purchase expires 5/12/13
• $2/$8 Greeting Card purchase expires 5/12/13
• Beauty Club $5 expires 5/12/13
• Dove, Caress, Lever Bar (6-8pk) or Dove Body Wash (18-24oz) $1 expires 5/5/13
• Maybelline Cosmetic $1 expires 5/5/13
• M&Ms Sharing Size, Snickers 2 Go or Twix to Go 75¢/2 expires 5/5/13
• Mars or Hershey Bar 99¢ expires 5/5/13
CVS Order
Snickers Bar 99¢
– 99¢ CVS coupon
= $0
This was a great stop… Zero order and a $2 ECB from the ending of the bag tag program, and $5 ECB from the beauty club!
The other stop we made this morning was Tops. We actually spent a lot of money there, and it looks like we got very little. That is because Tops is offering a 4x gift card promo, and one of the featured cards is Tim Horton's! We bought $200 worth of gift cards in $25 increments which make for nice keep-in-the-card or present amounts. That $200 earned us 800 in gas points which equals 80¢ off per gallon to 30 gallons or $24 off! Gas and Tim Horton's is something we buy frequently (ok, the Tim Horton's is far more frequent), so for us this was a no brainer!
I may end up back at Tops this week. We are down to three freezers and have no freezer room for the Marie Callendar deal. The garage fridge/freeze combo seems to have finally bit the dust. I guess we will take a look at the National Grid refrigerator program unless I can (unlikely) talk Hubby into the budget-busting Gladiator.
All-in-all I was very pleased with our shopping today. Anytime you can get a bonus for something you buy regularly, and have the bonus be for something else you buy regularly – that is a great deal!
How was your shopping this week? Did you go Sunday Morning Shopping? Did you find any great deals? Anything we should all run out for? Detail folks, details!