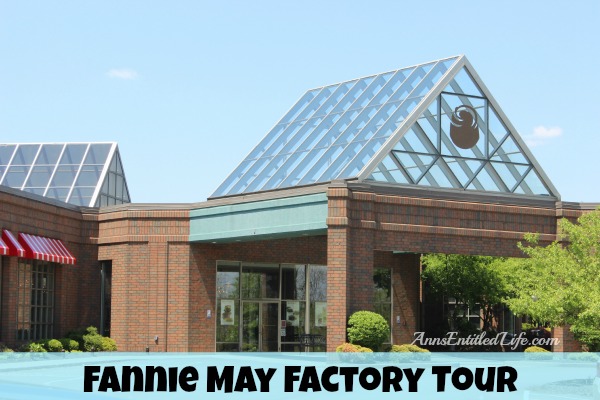 Fannie May Chocolate Factory Tour
Fannie May & Harry London Chocolate Factory & Store tour, including hours, tour information, history, and store chocolate prices at the Fannie May Chocolate Factory Tour.
Since I am the best wife in America, I went with Hubby this past weekend to Ohio so he could shop at Menards. Since there is only so much time that even Hubby can spend shopping in a hardware store, we looked for other things to do in the Canton/Akron area.
When I looked on in naked hunger at the Pro Football Hall of Fame, Hubby offered to dump me off there for the day while he shopped. I declined, and we agreed when we head back to Menards (to spend his rebates) in the fall, that the Pro Football HOF is my stop that trip! YAY!

This time, Hubby found two destinations that we would both enjoy, once of which was the Fannie May Factory Tour. Fannie May Fine Confections plant, actually.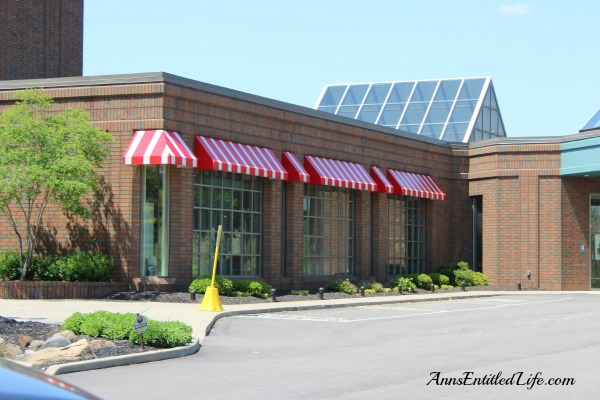 Fannie May is currently owned by Alpine Confections – which also owns 1-800-Flowers, Cheryl's Cookies, Harry London, Andes Candies, and more.
The Fannie May Fine Confections Brands, Inc plant is located in North Canton, OH. Plant tours vary at different times of the year. Right now (due to warmer, summer weather) tours take place Monday – Thursday from 10 am – 4pm, and begin at the top of every hour. It is suggested you call first (we did) because if they have "100 kindergarteners touring the plant, you wouldn't be able to tour." The phone number is 1-800-321-0444 ext 119. Note that the store hours at the plant are different than the Fannie May Factory Tour hours.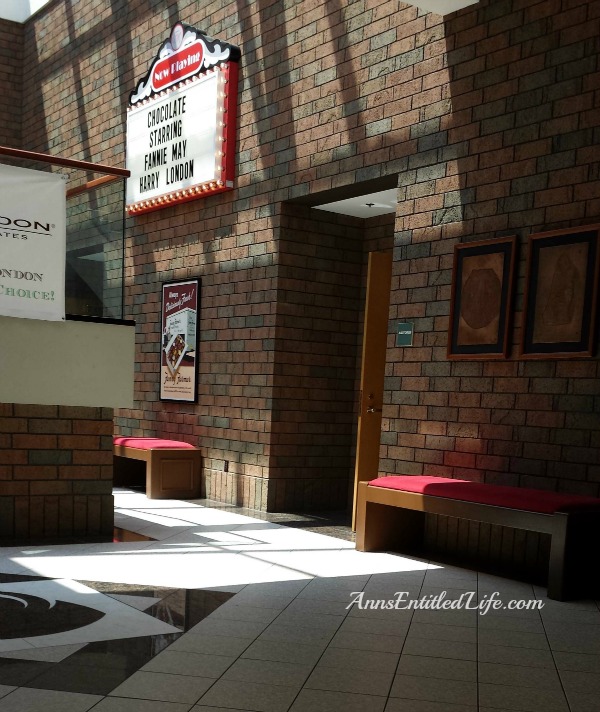 We began the tour with a short biopic of both Harry London – the plant was originally just for manufacturing Harry London chocolates, and H. Teller Archibald, who began Fannie May chocolates in 1920 in Chicago, Illinois. Fannie May isn't named after any single person: Fannie and May were the two most popular names in the early 1900s, and so that was the name chosen (or so said our tour guide whose name I don't recall … irony).
After the short film, we moved down the hall full of dates to mark memorable occasions in both chocolates' history. You are not allowed to take photos on this tour, which is a real shame. Even if not allowed to take photos of the plant, pictures of the timeline and other memorabilia would have been cool!!
We then entered a room where we saw the chocolate tanks. Each tank contained 90,000 pounds of chocolate, or 8,000 gallons; enough to make 8 million pieces of chocolate. The tanks are filled from an (unmarked) tanker truck that comes in and transfers the chocolate to the tanks. The tanks are kept at a steady temp of 105°-120° (hope I recalled that correctly).
After that, we moved on to the Artisan chocolates room. The Artisan chocolates are a longer production process, and much of the labor is by hand. Each day 100 pounds of Artisan chocolate is produced, whereas 2400 pounds of other chocolate is produced on the lines in the factory daily.
We next moved upstairs to the line. This is a combination of automation, and hand-work. Not only is quality control of each piece of chocolate done by a human, but the tops of the chocolates are also hand decorated in many cases. The chocolate is run through pipes by flavor. And there are big yellow boxes that hold different flavors too. We were told chocolate is very porous and absorbs smells if left exposed to a strong smell for any length of time. The example given was that if a vat of peanut butter was allowed to sit open next to a vat of milk chocolate, the milk chocolate would take on the peanut butter smell. Employees aren't allowed to wear cologne or heavy perfume on the job for the very same reason for "No one wants to eat chocolate that smells like Old Spice!"
Occasionally chocolate drops off the line and falls onto the floor. When Hubby asked what happened to that chocolate (I think he was thinking of volunteering for a job as the janitor), our guide told us it is gathered and feed to pigs as feed. Never one to miss an opportunity, Hubby reasoned that those must be the chocolate truffle finding pigs (everyone groan now).
We concluded the tour in the Fannie May Factory Store where we were each given a chocolate, and a sampling of their gelato, both of which were very good.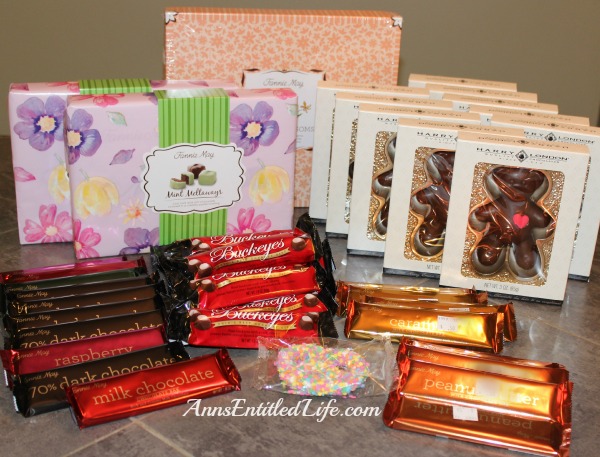 And then it was time to let Hubby loose in a chocolate shop!
Stock varies by time of year. Even in a factory store, there are better deals to be had in the corner. The seconds were a disappointment to Hubby as he remembered Fannie May in his youth would mark the seconds bags (Hubby grew up in Chicago) with the flavor inside. The seconds bags at the factory store had no such marking, so he didn't want to take a chance.
However those little bears in the box? They were 10/$10, each box being 3oz. That worked out to 30oz for $10, or $5.33 per pound. Hubby loaded up on those.
The candy bars were 10/$10 or 50¢ each (only 2 flavors). The melt-a-ways are one of my favorite chocolates, they were 2/$20. The spring pack was $24.99.
Some of the chocolates purchased didn't make the 4 hour car ride home. Hubby was far too eager to sample them for quality control.
The Fannie May Factory is located just down the road from the Akron airport. If you are in the Akron/Canton area, and have a few hours of time, it is worth the afternoon to visit. Not only was it interesting and educational, but it is a chance to get some very nice chocolates for free and cheap(er).
Have you ever been to the Fannie May Fine Confections Brands, Inc Plant and Outlet? If so, what did you think!?
---
● For more Travel posts on Ann's Entitled Life, click here.
● Disclosure: the links in this post may be affiliate links.
---