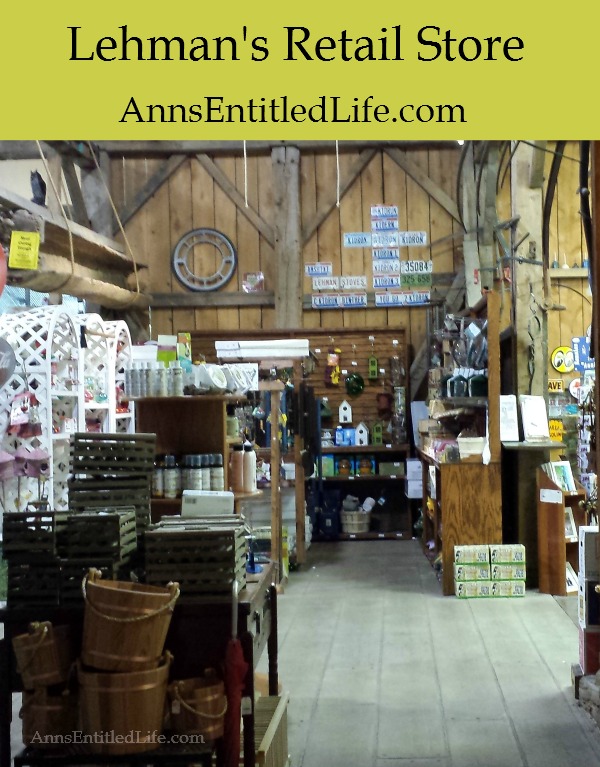 Our visit to Lehman's Retail Store located at 4779 Kidron Road, Dalton, OH 44618.
When Hubby and I went down to Ohio for his trip to Menard's – his favorite store in the whole wide world – we decided to spend some time in the Canton, Ohio area viewing the sites. Since we were unsure of what the May weather would bring, we decided on two indoor activities. One, the Fannie May Factory Tour, was a no brainer for us: chocolate! We both agreed on that.
The other indoor activity we could both agree upon, was a trip to Lehman's Retail Store about 30 minutes down the road from Menard's in Dalton, Ohio. Hubby has ordered "old fashioned" items from Lehman's online, such as our apple peeler (which actually works), and other home goods from time to time, and he'd read it was a great "country store experience". I was defintely willing to give this a go! So, we decided to make the Lehman's Retail Store our second "sightseeing" destination.
It was a cool, but clear day when we arrived at Lehman's Retail Store. They open at 9am (8am 5/27 – 12/31), and we arrived shortly thereafter. There were few other people there, and plenty of parking upfront. Since it was a Monday, no tour buses to contend with!
From the moment we walked in, I knew this was a good choice for us!
Originally called Lehman's Hardware by Jay Lehman in 1955, the original intent was to sell non-electrical products to the Amish community. The business was moderately successful until the oil crisis of 1973 when people started looking for non-electronic products to combat oil and electric shortages. Sales today are mostly to the non-Amish.
The main store is now 35,000 square feet, and feels much, much larger. This expansion was done in 2007. In 2011, the North Fork Creek flooded its banks, and combined with a torrential rain, flooded the store. There is an area in the store that is un-restored and not painted that marks the flood line.
The store is broken up into departments, the stove and appliance section being the largest department. When you enter the store, ask an employee (of which there are many) for a store map. They print them on regular paper, and it really helps to find your way around the store.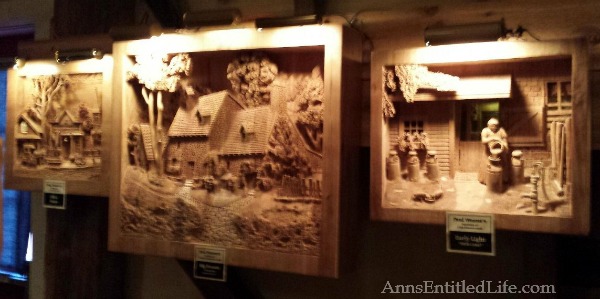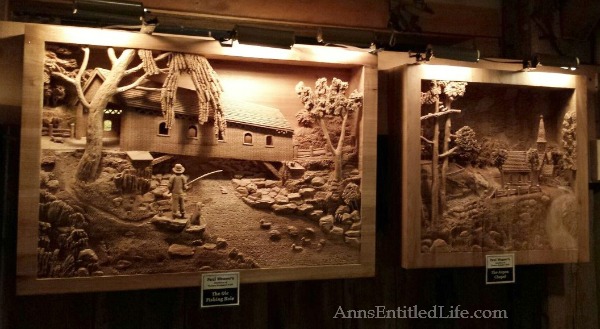 When you enter, the registers are on your right. As you head to the left, if you make a sharp right there is a room of deep-relief woodcarvings on display by Paul Weaver. You can learn more about these stunning works of art by clicking here.
A long hall of puzzles and cookbooks comes next, and then you pop into the "good stuff". Camping and cooking leads to baking and bread-marking (I have never seen so much bread making equipment in my life!), then onto candles, household cleaner, clothing, children's toys and just about everything you can think of in between.
On the walls and up top are antiques and vintage appliances, plaques and markers. You could spend hours just reading all the little postings and looking at the old fashioned home making goods. (The one above was taken in the gardening department, and with my phone. Excuse the quality!)
There is also a fudge sampling station which Hubby "had" to try!
When you walk out the back of the building and cross the (small) parking lot, there is the Lehman's Outlet Store. This seems to be full of returns, slightly damaged merchandise, as well as discontinued products. I wasn't impressed, and neither was Hubby. Maybe it is hit-or-miss? In any event, since it is literally a two minute walk from the main retail store to the outlet store, do stop in to the outlet. You never know what they have to offer.
I think Hubby and I spent about $100 on our trip to Lehman's Retail Store. It would be very, very, very easy to spend more. There really were a lot of cool things on display, and ton of workers to help you with any questions, and in my opinion, it was worth the time to go there, at least once!
Have you ever been to Lehman's Retail Store? What did you think?
---
For more Travel posts on Ann's Entitled Life, click here.
---