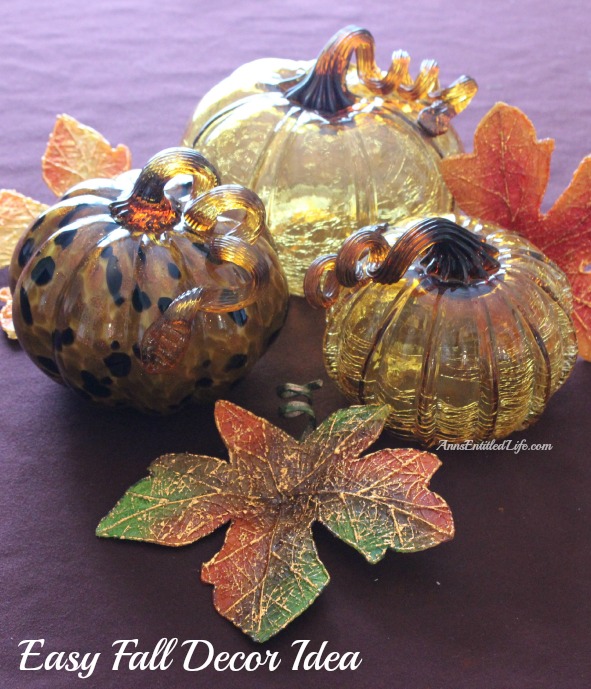 Easy Fall Decor Idea
Easy Fall Decor Idea – all it takes is six pieces of decor to make a beautiful fall arrangement – no assembly required.
If you are anything like me, creativity in the form of sewing, knitting, crafting, crocheting, etc just doesn't happen. I even have to watch myself with a glue-gun putting together artificial flower arrangements and wreathes. While I know what I like when I see it in the store, at a craft fair or in an art studio, getting my hands to duplicate a craft or artwork just doesn't work.
This means I have to figure out easy decor ideas for different seasons that don't involve much artistic talent. While I love fresh flowers, sometimes I just want table top decor that I don't have to swap out for an entire month. My table top decorations are usually in my dining room. We don't eat in there very often (we use the kitchen table, or eat at our desks), and I find having table decor keeps the dining room table fairly clutter free. Believe me, without table decor it would groan under the weight of papers, computers and "stuff" that needs to be put away.
Last week Hubby and I were out running errands. On the way home we passed by Pier 1 Imports and saw the "Summer Clearance, 50% off" sign in the window. Our vehicle mysteriously made a turn into the Pier 1 parking lot, and Hubby and I got out to browse.
Now, I love Pier 1. It has a lot of current household do-dads for moderate prices. Until you add up all those moderates. Then it can get a tad pricey. Nevertheless, I do like what they have to offer in nicknacks and decor. Unfortunately, there wasn't much in the summer clearance that I wanted. The sale seemed to be a lot of outdoor garden decor (which I do not need). Happily, they had their fall decor out. They also had some Halloween items available.
Now, I have to tell you: I love autumn. It is far and away my favorite season. I love the moderately-warm days and the mild nights. I love the autumn leaves as they turn colors; fall foliage is nature's most beautiful canvas. I love pumpkins and cider and the smell of a new fire as the evenings begin to cool down. I love the harvest abundance from the bounty of the gardens as they give one last hurrah before the winter snows start to fall.
Yes, I do love the fall.
As I was perusing the aisles, my eyes quickly went to a glass squash in an amber color. I thought it was unusual. I then noticed pumpkins in the same material. And, as I wandered the store, I found other pumpkins in glass in slightly different coloring. Close at hand were leaves that I am sure were supposed to be napkin rings. Pfffft to that. To my eye they screamed complimentary table decor, no napkin needed.
That is what I ended up buying: three glass pumpkins and three colored leaves. I made sure these varied – all three leaves are different, and the three pumpkins are too – in color an in size.
Long ago I read some home design book where it had been documented that nicknacks in uneven numbers are generally more pleasing to the eye. So, three of something on a table is a great number, five of something is a good number. On a personal level I like three items generally. In this case, 3 + 3 = 6 which is an even number and so it should be displeasing to the eye, but because I tucked the leaves, they are "part of" the pumpkins. When I took away a leaf to make five, the arrangement looked incomplete. The odd number thing is more of a guideline than a rule.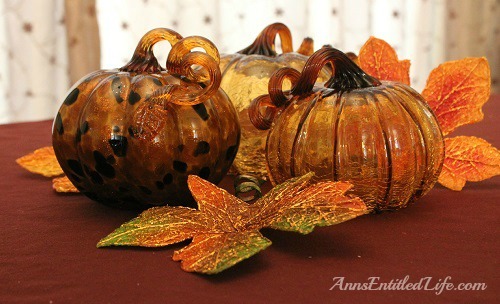 This is how the arrangement looks with the drapes closed.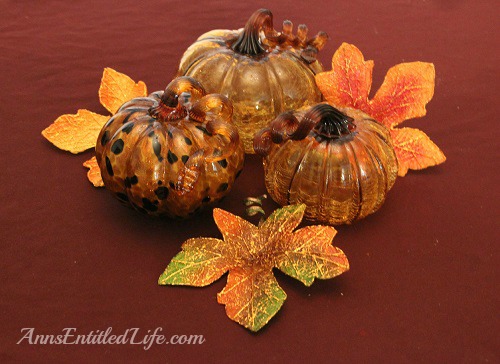 This picture from above shows how simple this arrangement was to make! Just placed three pumpkins and three leaves so they looked good from all angles. The color of the decor is what makes the difference. I love no assembly required!
Do you have any easy fall decor ideas? I'd love to have you share!
---
● For more Library topics on Ann's Entitled Life, click here.
● To follow my Autumn board on pinterest, click here.
---