For the last 10+ years (I have been blogging since 2007!) I have written a New Year's Day post; this is my 10th New Year's Day post on Ann's Entitled Life! I swear it was only yesterday when I started writing this website!
Every year I have the same New Year's resolution – remember to write the current year's date on all correspondence and checks. I aim low and still cannot always meet expectations. Sheesh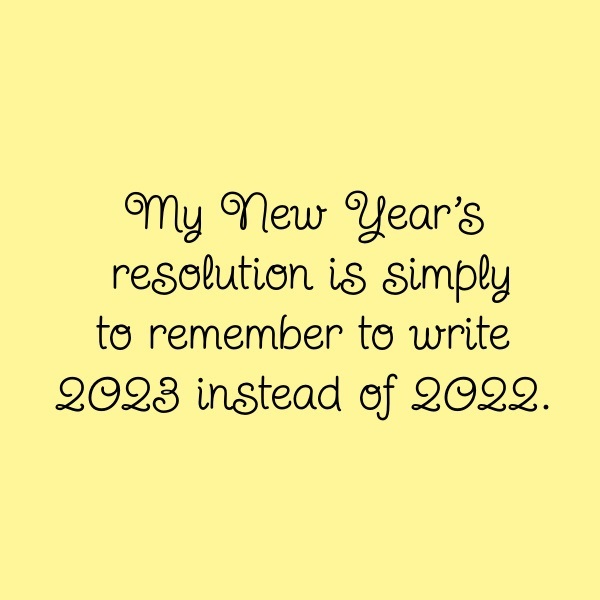 This year, instead of focusing on a blog recap, I am going to focus on what happened in the Ann's Entitled Life household.
Short answer: a lot.
While blogging is now a commercial business in no way resembling a written diary for most "bloggers" or websites, I still consider this blog to be my personal diary. I write it so that in five years, I can remember, "Oh yeah, we took THAT trip" or "Hubby made THAT recipe." For those unfamiliar with this blog, my husband does most of the cooking. He is an excellent cook. I bake and make (and drink) cocktails, he cooks!
In 2021, we spent a lot of time deciding on whether or not to move. We also spent several trips deciding on where to move once we came to the conclusion that it was time for us to leave New York State. If you subscribe to my newsletter, (which is pretty infrequently sent because… lazy) you got all the details.
In 2022 we sold the rest of our properties in New York State as well as our house, and moved to Florida.
It has been interesting, to say the least.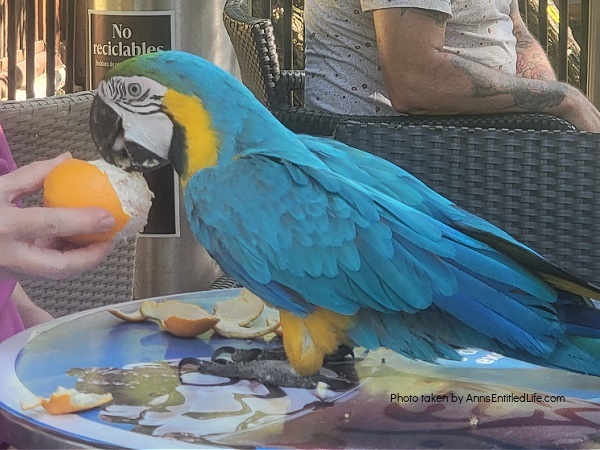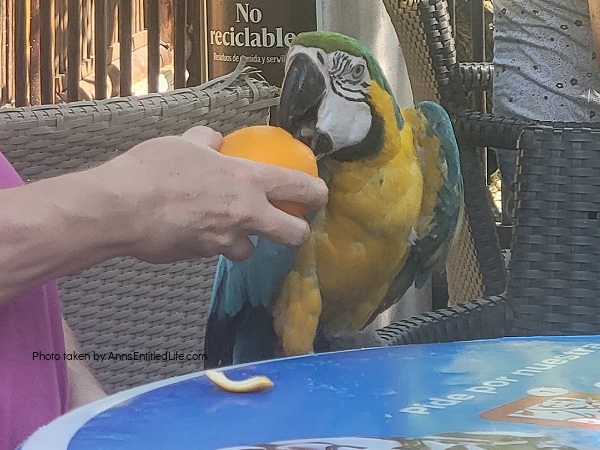 We went to Cartagena, Columbia, and as we were sipping a coffee at the Juan Valdez coffee cafe, a parrot got very interested in a woman's backpack. He smelled the oranges she had inside. The lady pulled one orange out, peeled it, and held it out to the parrot, where he proceeded to suck the juice from it!
We moved in May, got some things settled, and then went away to Italy and a transatlantic cruise for a few months beginning in September. We got home and then turned around and went on another cruise in December. I told Hubby no more of this nonsense. We moved to Florida, and the time to travel away from Florida is May – September, not September through April. This reminds me, we have another cruise coming up in February. That one is with my mother and my aunt, and my mother will be returning with us to see our new home and visit for a while.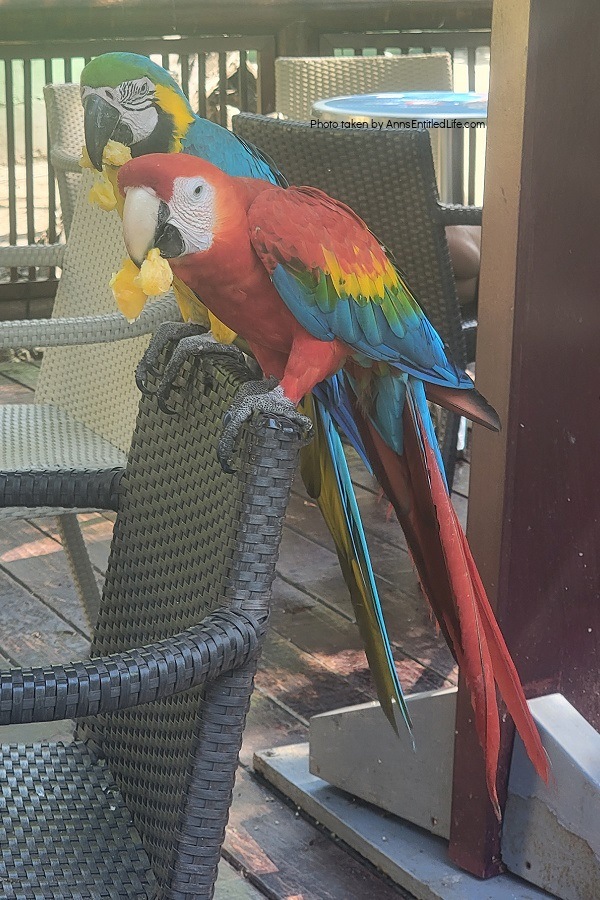 Our parrot buddy had a friend come over. While the blue guy was dominant, the red guy got some juice, too.
Sonny-boy and his wife will be in South Carolina for a few months. She is a traveling nurse, and they are trying to determine where (and if) they would like to move south, and how far south. I will be surprised if they don't end up in North Carolina as he has a lot of family there (on his father's side), and they have oodles of friends sprinkled over NC.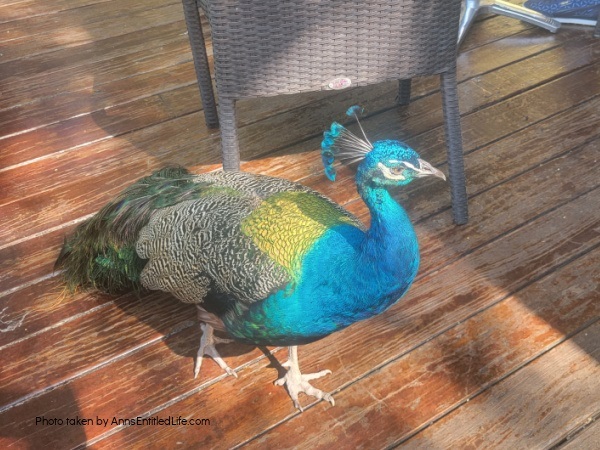 And a peacock strolled by…
Anyway, they will be headed this way in January, and we are going to try and see them in Hilton Head in March before they head back to Buffalo.
My brother and his wife are visiting next week, so that is nice. We can be the place people visit in the winter, and then we can head north in the summer.
These are albino peacocks.
As far as what trips we have planned in 2023? Not much yet. We are behind on planning. We want to do a month away in a mountain cabin in the summer (maybe two different areas), and if that doesn't pan out, it is back to Europe, this time Ireland, Scotland, and Wales.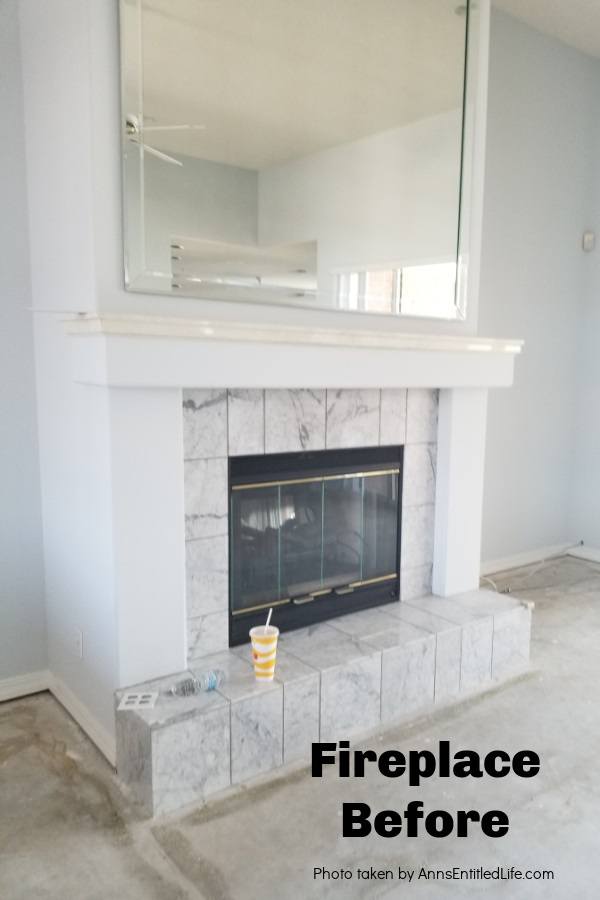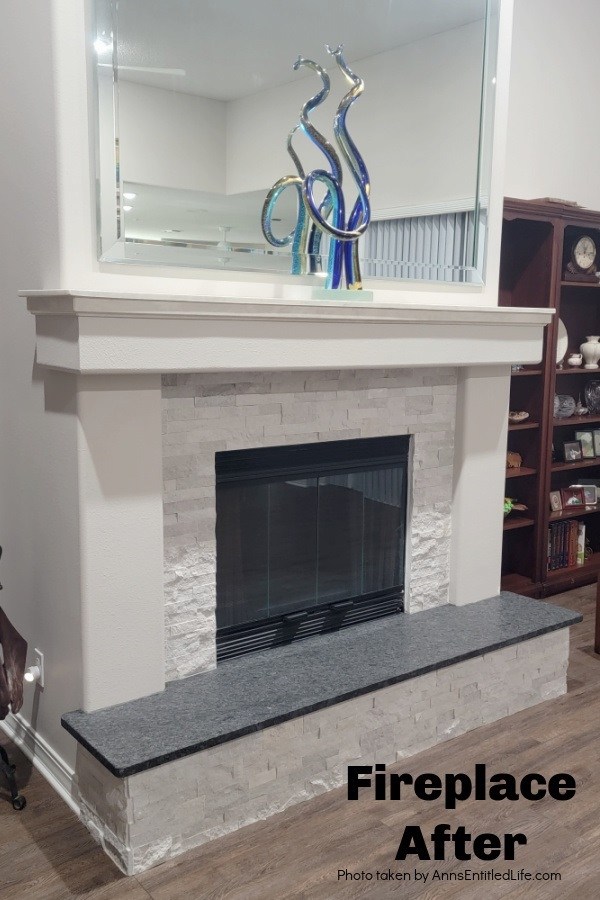 Now, regarding getting our new house in shape, there was new flooring installed, and the inside of the house was painted before we moved in. We had a few months after closing before we moved. The fireplace was redone as the exterior was hideous with mismatched marble and no hearth, and the interior had a broken firebox. It now looks lovely. We are still awaiting the hurricane windows we ordered nine months ago!
We are having the landscaping redone. For me, less is more. We want a few fruit trees, but I want all the flowers, annuals, and anything that hides snakes, or I have to clean up after the season, gone. Within the lanai, I would like a few dwarf plants or trees (looking at lemons, limes, and prickly pears). We are looking at a whole lot of new hardscape and fixing some drainage issues.
I need to figure out this 8b/9a growing season. Growing in July and August is most likely out. The spring and fall will be prime growing time for me, and I know I want herbs and tomatoes, but how much more I'd like to grow? I am unsure. I gave away all my earth boxes to my niece (who really should live on a farm instead of in a city) and only brought down my tall planter. I am pretty much starting from scratch, which is fine as I plan on growing within the lanai, and I need to make special positioning decisions once the landscaping is redone.
The master bath plans came back, and I hated all the choices (and there were six!), so now we are reconsidering what to do. I do not care if Hubby does the CAD and GCs the project; I just do not want to spend all year with a torn-up master bathroom. However, I do want the huge master bath redone. It is a bunch of useless space as it is currently configured.
We are still awaiting the living room loveseats. The kitchen table and chairs are in. However, we were on a cruise when they wanted to schedule delivery. While we have a service that checks on the house while we are away, accepting a furniture delivery was more than I was comfortable with them doing. So, now we await the "next time they are in our area" (we traveled to North Carolina to order furniture).
That about brings me up to date for life in Ann's Entitled Life household. We moved and are slowly working our way through this house to make it our home, and we have done a fair bit of traveling in 2022 with smaller trips planned for 2023.
I hope you had a fantastic 2022 and wish you nothing but happiness, health, and wealth in 2023.
---
I want to thank you all for reading Ann's Entitled Life. I would not mind if you all commented more. I love interacting with people who read Ann's Entitled Life and I would like to get to know you all, too. Please feel free to comment on the blog.
● Subscribe to the Ann's Entitled Life Newsletter
● And I can always be reached through the contact me page or by emailing me directly!
---