Good Morning and welcome to 2022. Thank goodness 2021 is in the past.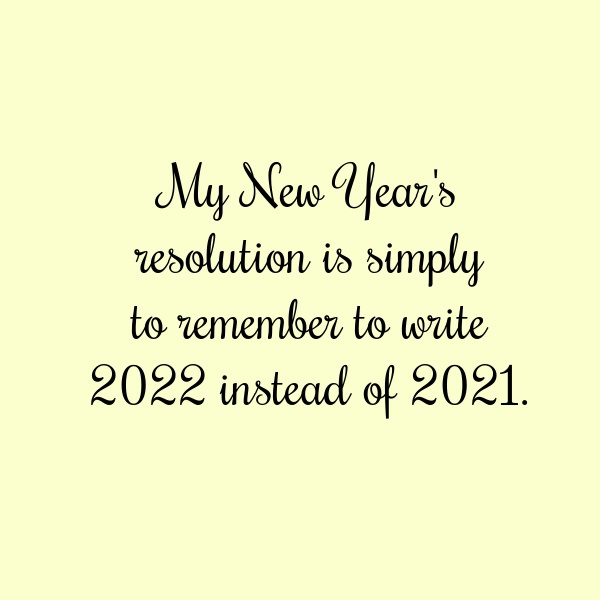 For the last 10+ years (I have been blogging since 2007!) I have written a New Year's Day post. And every year I have the same New Year's resolution – remember to write the current year's date on all correspondence and checks. And it is still not the easiest resolution to fulfill.
This year, instead of focusing on a 2021-blog-recap as I did in 2019 I am going to focus on what happened in the Ann's Entitled Life household.
While blogging is now a commercial business in no way resembling a written diary for most "bloggers" or websites, I still consider this blog to be my personal diary. I write it so that in five years, I can remember, "Oh yeah, we took THAT trip" or "Hubby made THAT recipe" – notice I wrote, "hubby made?" For those unfamiliar with this blog, my husband does most of the cooking. He is an excellent cook. I bake and make (and drink) cocktails, he cooks!
Hubby and I spent most of 2021 deciding on where to move. If you subscribe to my newsletter, you are familiar with the process we took to make the decision. If you don't subscribe… why not??? (sign up now!) here is a brief synopsis:
I love Western New York. I was born and raised in the Buffalo area and never moved away. While we had second residences in Utah and Florida, they were never primary (Utah was for Hubby since he commuted to Salt Lake City for a number of years and I only went occasionally, Florida was an ocean condo after he 'retired'), our home for our entire marriage has been in a Buffalo-area suburb.
Without getting too political, we decided, not lightly, as many, many of our friends and family live here, that we have had enough. Between the taxes and where we see things headed, we made the decision to leave.
Once we made that decision, it then became a question of what we wanted from the next stage of our lives. We made a list of what was important to us. We wanted a lower-tax state. And Hubby wanted a view (either water and/or mountains). Then we decided to check out the USDA growing zone map overlayed with Google maps to come up with a climate we could comfortably live in and I could still garden.
We went away on a few trips in the late spring and early summer of 2021 to investigate various areas. We spent time in the surrounding areas of Columbus, OH; Louisville, KY; Lexington, KY; Murfreesboro, TN; Chattanooga, TN; Knoxville, TN; Pensacola, FL; St Augustine, FL; Greenville/Clemson, SC, Hilton Head, SC, and Concord, NH. I may have forgotten a place or two, but we did cover quite a bit of the area.
All places had positives and negatives, of course. Some places were more difficult to eliminate than others. For instance, I have family in Concord, NH, and it is very beautiful there. However, it is (much) colder than Buffalo and still gets 60 inches of snow per year. I desperately wanted Knoxville, Tennessee. It is beautiful, there are mountains and lakes for great views, and Hubby could still hunt. However, guardrails are optional getting to a lot of the mountain and foothill houses we scouted, and I could not see myself driving in the area in five years, never mind ten years from now.
If all else failed, we figured we would return to St. Augustine. Hubby suggested we return to the area to make sure we got the same vibe as when we had our condo. Unfortunately for us, it is not the same place we left just a few years ago. The mass migration to Florida during the last two years, especially off of 95, has leeched a lot of the charm from the area. Bumper-to-bumper traffic just is not what we are looking for at this stage of our lives.
After all our due diligence, we whittled it down to Knoxville and Pensacola, returning to each. That was when I came to the conclusion that driving the mountains of Knoxville was not for me. I also lamented not moving there 10 years ago when it would have been feasible.
We decided upon the Pensacola, Florida, area. It is beautiful, laidback, not too crowded, and has plenty of water! All we had to do is get past the flying cockroaches and the certainty that a hurricane would hit there within the next few years.
So, that is where things stand at the moment. We are purging furniture, clothing, knickknacks, etc. When we furnished the St. Augustine area condo, we did a lot of it through consignment stores. When people move down to Florida and take their good stuff with them, they either find it does not work in their new domicile, or they pass away and their children do not want to ship it home, so a lot of it ends up in those consignment stores. We have a lot of "good stuff" and want to make things less problematic for Sonny-boy when we die, so are giving away whatever we can that will not fit in with our new life.
This past year we have also sold the hunting land, equipment, rental properties, and more. It has been no small task to put our life in order for this move.
We have spent a lot of time this year on this decision. We did not come by it without difficulty, and there are a lot of negatives to this move (leaving friends and family behind being the primary ones). We can always move back if we hate it or move to another area in Florida if we decide the panhandle weather is too volatile for us.
So now, all we have to do is find a house down there on the water. We have already spent time searching and are headed back for more house hunting this month. We then pay the water premium, pack up, and move. Easy-peasy! (Yes, that is sarcasm.)
If we do end up canceling our trip to Spain and Portugal set for February and March – and it is looking more and more likely it will be canceled – we will have more time to pack and find a house. Our plan B is to move down and rent a place while looking for a home while living in the area.
I am hopeful that 2022 will be a better year for all of us. I wish every one of you a very happy, healthy, fabulous New Year. May 2022 bring much success, happiness, and fulfillment to you and yours.
---
I want to thank you all for reading Ann's Entitled Life. I would not mind if you all commented more. I love interacting with people who read Ann's Entitled Life and I would like to get to know you all, too. Please feel free to comment on the blog.
● Subscribe to the Ann's Entitled Life Newsletter
● And I can always be reached through the contact me page or by emailing me directly!
---