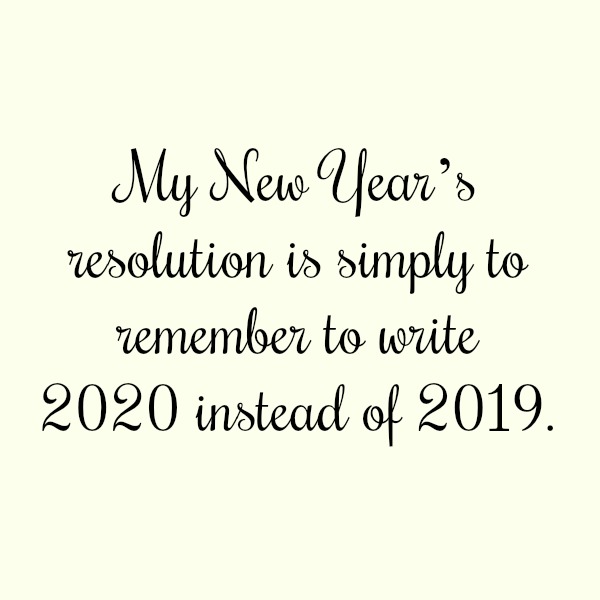 Good Morning and welcome to 2020!!!
For the last 10+ years (I've been blogging since 2007!) I have written a New Year's Day post. And every year I have the same New Year's resolution – remember to write the current year's date on all correspondence and checks. I aim high!
A new decade is upon us and once again I think… WTH did the time go? It seems like just yesterday I was programming for the (non-existent) Y2K meltdown. My how time flies.
I want to start off with a short recap of what happened in 2019 to the Ann's Entitled Life household, and what we have going on in 2020. After all, no matter how "commercial" blogging appears to be today – and make no mistake about it, it is extremely commercial these days, I still consider this blog to be my personal diary. I write it so that in five years I can remember "Oh yeah, we took THAT trip" or "Hubby made THAT recipe" – notice I wrote, "hubby made"? For those unfamiliar with this blog my husband does most of the cooking. He's an excellent cook. I bake and make cocktails, he cooks!
Soooo with that in mind:
Last year was a better year than 2018 (which was pretty grim).
I have wanted to travel for a number of years now. Due to Mr. Max's health issues, traveling wasn't possible for nearly five years without taking him along. 2019 was the start of fulfilling the travel-bug:
In January we went on a Panama Canal cruise. I took over 600 photos on that cruise, as I was going to do a big write-up about the locks. I was out on the "secret deck" at 6 am with a bird-eye view. Annnnnd then I could not find the photos. I blamed hubby for not uploading them correctly to his computer and resigned myself to not doing the post. Wellllllllll guess what I found mislabeled in my photo albums yesterday? (Honestly, YESTERDAY!)
I had always wanted to see the Panama Canal. My mother told me before we left that it was like the Welland Canal. And darn it, it was. This was also the first cruise we ever took Dramamine on. It was rough sailing. We missed one of our ports due to weather conditions (the captain felt it was unsafe to dock). On an excursion we overhead a lady saying that this was her 28th cruise and the worth sea conditions she ever encountered. I guess it was bound to happen! (It was our eighth cruise.)
We drove down to Ft. Lauderdale for the cruise as we decided to spend some time exploring Florida afterward. We had never done the west coast of Florida, so off we went through Alligator Alley (which was cool although I'd never want to break down there), on to Naples ($$), up to Ft Meyer (er, Sanibel Island is pretty), up to St Petersburg (we LOVED it!), and over to our old stomping grounds in St. Augustine.
On the drive home, we stopped in Savannah. All those years we had a condo in St. Augustine and never once did we stop in Savannah! This was another place I had always wanted to visit. And now, I have.
After that, Hubby and I spent some time around the house with typical household duties, and he planned a 6-week trip to Italy.
We have now been home since mid-October and the holidays whizzed by!
We are soon off to Australia and New Zealand. This is a trip Hubby and I have chatted about for many years. We always knew we would do New Zealand via a cruise… they drive on the wrong side of the road and the stops are fairly close, so, we decided to use the cruise ship as a floating hotel room. Hubby has several days of Hobbits planned, he wanted to do a Zena excursion (insert eye roll) but found out there was nothing commercial to be had. I think he's pretty disappointed.
Our Australia time is mostly in Sydney, and then a cruise to the Great Barrier Reef. This should be interesting with all the smoke and fires.
After we return home from Australia, we turn around in a week and head out to Spain. We have also have a side trip tentatively planned to Morroco when Sonny-boy and his SO join us.
Also planned for this year is a Noric Fjord cruise (and some time somewhere beforehand… not quite nailed it down yet although the cruise is booked), as well as a Canadian Leaf-Pepping tour in the fall.
And after that, hubby and I will have a fight about getting more dogs. I am still not over Max – although I might be as the second year without him comes to a close – and truly do not want a puppy at my age. I also have a few more trips I'd like to take that are not short (including Antarctica and Eygpt), and leaving a dog for a month is not a great idea, in my opinion.
Busy, busy, busy is the name of the 2020 game for us!
As far as the blog goes? I finally broke up with Facebook. It was a long time coming, but when everything is 'spend this, spend that,' to get seen on Facebook and since I am mostly sharing crafts and recipes that do not pay for themselves (I recently called this blog my money pit, and it is a pretty apt description), Facebook is not worth the effort.
Oh, occasionally I drop a link to Facebook, however, the content is simply not scheduled out like it used to be (none of the blogs you follow have an organic Facebook page… it is all planned and scheduled).
I gave up on Instagram too. It is owned by Facebook, and I can see where that is headed. 'Nuff said.
I started up on Twitter again. I just cannot quit Twitter, the sewer that it is. My Twitter account is all hearts and roses and unicorns, however. Pro tip: stay out of Political-Twitter. It ain't for the weak of heart.
So, that leaves me with Pinterest and my newsletter. And, I am fine with that. I like the newsletter the best because it is chatty, and people send me email responses! Pinterest? My account is a top 10,000 Pinterest account, so I am tied at the hip to it. We never sold our Pinterest stock either, so I have a vested interest (literally!) in seeing it succeed.
That's about it for now. I want to thank you all for reading Ann's Entitled Life. I wouldn't mind if you all commented more. I love interacting with people who read Ann's Entitled Life. I'd like to get to know you all too. So please feel free to comment on the blog!!
● Follow Ann's Entitled Life on Pinterest
● Subscribe to the Ann's Entitled Life Newsletter
And I can always be reached through the contact me page or by emailing me directly!
Do you have any New Year plans? Resolutions? Goals? Ideas?
I wish you all a very happy, healthy, fabulous New Year. May 2020 bring much success, happiness, and fulfillment for you and yours!
---
● If you enjoyed this post, be sure to sign up for the Ann's Entitled Life weekly newsletter, and never miss another article!
---