This is a recap of our out-of-state move including what movers we used, how we packed, and how long the moving process took us to move from one state to our home in a new state. A long-distance move can be daunting, but with careful planning, it can be smooth and easy to accomplish.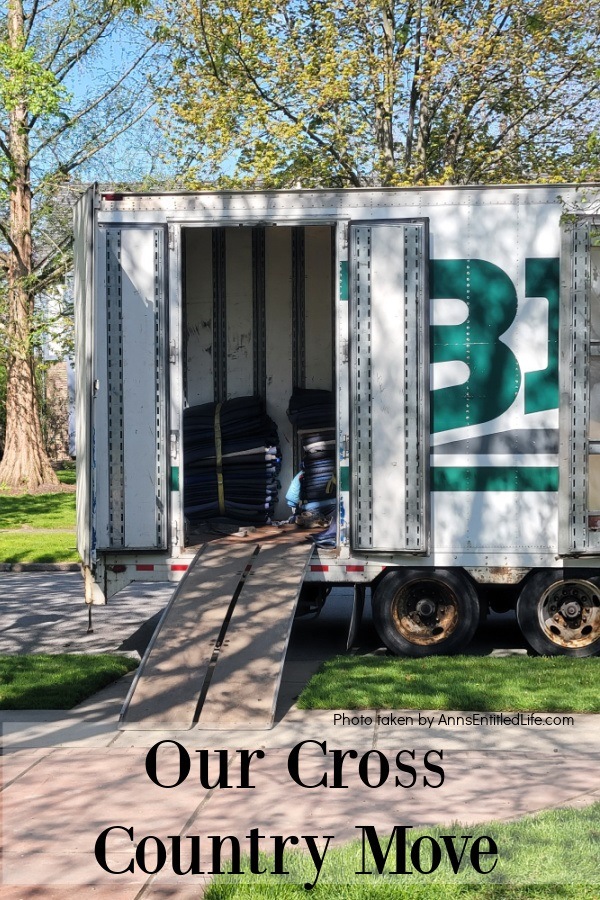 If you have been reading my newsletter, you know that Hubby and I have been looking for a house somewhere other than New York State. We put a lot of effort and energy into deciding where to move. The saga of how we decided to move to Florida and our great purge can be found here.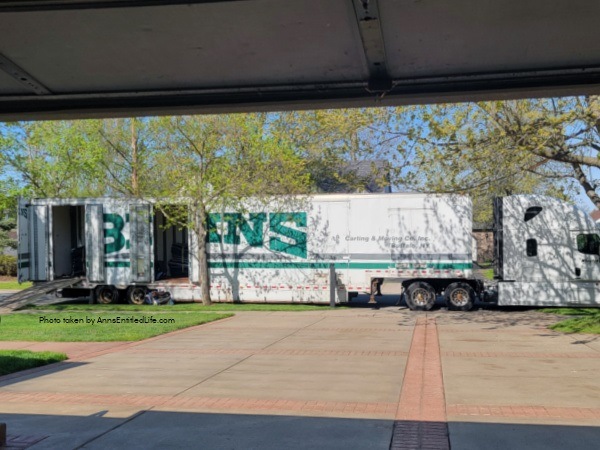 Hubby and I knew we were going to use professional movers. There was no way we were moving all our household goods on an interstate move. When choosing a moving company, we ended up using Bekins Van Lines for our move. In the Buffalo area, there are four national moving companies that will give a quote and move you long distances (out of state). National Van Lines and Mayflower are operated by the same company in the Buffalo area. While they were both close in cost (approximately $15K for our move, which depended upon the final destination (distance traveled) and moving size (boxes + furniture)), we went with Bekins. Finding a reputable moving company can be a challenge. You can check with the better business bureau in your area, look at online reviews, or use word of mouth (a friend or family member's recommendation can be a good option!) for reputable interstate movers.
I do not know the average cost of a move using full-service movers (as part of additional services (at a cost) they would have packed for us, too, but we needed to purge. Next time? Professional packing all the way!), especially during this time of high gas prices. A large moving truck costs thousands of dollars to fill (we chatted with the driver upon arrival in Florida). The best way (well, at least our way) was to contact three moving companies, have them come out to the house and survey our contents, and then give us a home estimate.
Our moving company gave us a moving checklist, and a moving quote (that was not to be exceeded provided we did not add whole rooms of furniture to what they saw when they walked the house (home estimates), which worked out well for us as gas prices surged between the time of our quote and the time of our move) a move date, and an unloading date. Moving dates may not be set in stone, although our was. If you need a specific pick-up date, and a specific unload date, your best bet is to be very clear with your professional movers about your dates.
Customer service for these national moving companies was excellent. Each warned us to use reputable cross-country movers and not pay in advance. There are a lot of "long-distance movers" that are scam fronts in the "moving industry" so you need to be very careful when you hire a professional moving company for your interstate moves (or your intrastate moves). In my opinion, the best cross country movers are the national lines. They have years of experience with long-distance moves. They will not ask for money in advance. Bekins (who we paid through a portal using a credit card) expected to be paid after our household items were loaded on the moving truck, but before our household goods were unloaded at our new place.
I did add insurance coverage to our quote. Hubby thought it was overkill and I thought it was a good idea. The last time we drove to the Buffalo area from Florida we saw a semi cut in half with all the worldly goods from a household strewn over the highway. I looked at hubby and said, "And that is why we are getting insurance!"
It turned out we did not need moving insurance as nothing was lost or damaged in transit. But, insurance is there for a catastrophe. It was worth the $380 for my peace of mind to add that to the moving costs!
Once they gave us the quote, that was the total cost. There would be no additional charges regardless of increased fuel costs or labor costs. The flip side is if fuel and labor costs decreased, we would also be bound by that cost of the move.
On moving day, the moving crew had someone dedicated to marking all items. Everything got a numbered and colored sticker, and when they unpacked the moving those stickers were checked against the manifest to be certain all our boxes and goods arrived. That dedicated person also discussed with us what items we had that were worth more than $100/lb (as part of the insurance). While much of our furniture fell into that category, the artwork and sculptures were what they really wanted to be noted (if something happened to those items we would receive replacement cost, not the $100/lb).
For us, pro movers were the way to go. This was far too large a job for two older people to pack and move. The next time we move (since we are purged) we will take advantage of the full-service packing (for a fee) offered by a full-service moving company, even if it is only a local move using a local moving service. We are not getting any younger, and this was a lot of work!
Would you like to move your household across state lines? Check out my article on how we did a long distance move using a moving container service. It was a good experience for us, and I recommend it for small moves.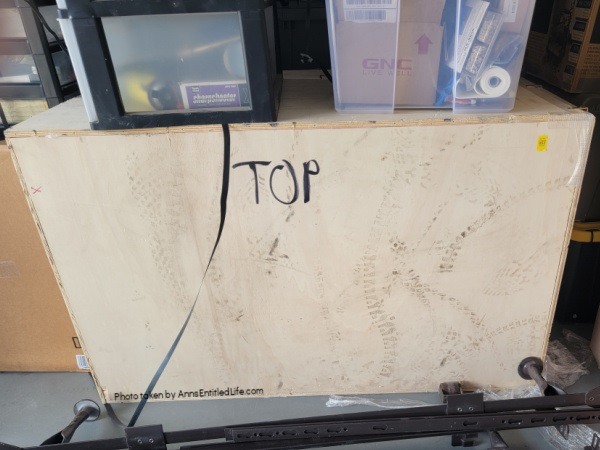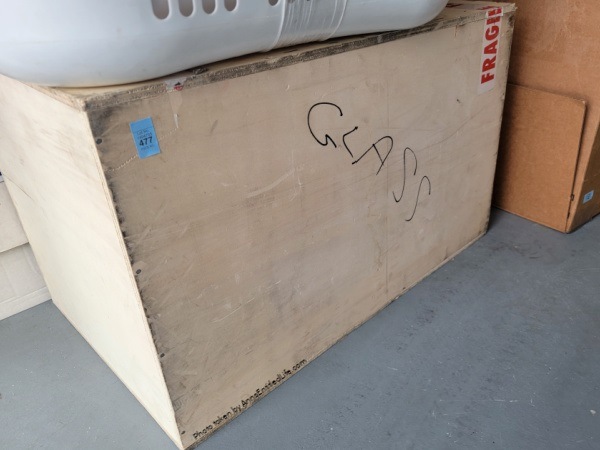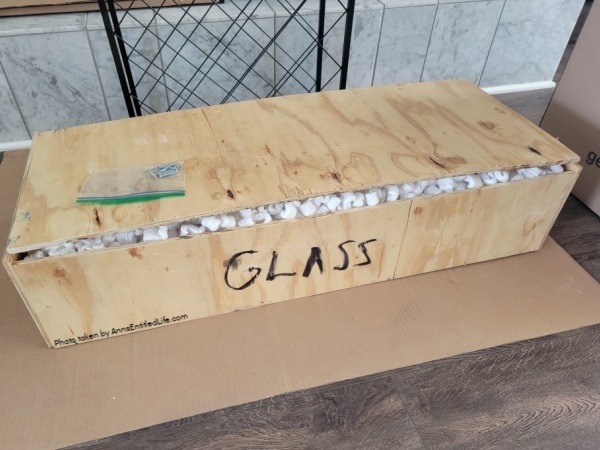 Hubby built wooden crates for fragile items such as glass shelves and glass sculptures. When we went to Italy the last time we bought several sculptures at Murano glass. We kept those crates having an idea we would be experiencing a big move "soon." Well, soon finally arrived. He built two other crates based on the ones that shipped glass across the world. It involved a lot of bubble wrap, plastic shrink wrap, and packing peanuts as well.
A few reminders: take your important documents with you. If it applies to you, ask about am mo or g un transport. Hubby is a hunter and so we needed to know about these things. (I go further into wine shipping below.) Liquor, flammables, and full gas cans they would not transport. Ask your moving company what they prohibit from their trucks on a cross-country move in the United States.
I started packing up the built-ins in January. Hubby laughed at me that I was packing so early, but the week prior to our move I was sitting on my butt, only helping him when he asked as everything I was responsible for packing was packed and ready to go.
Hubby took a different approach and left everything to the end except the basement. The basement he emptied out, packed, donated, and sold stuff over the course of two months. When I say our basement was packed, I am not kidding. My stuff was organized, including excess kitchen items on shelves, holiday-decorated boxed color-coded and on shelves, and my wine room. Even though I was organized, it still was time-consuming to give away or pack all those things.
Moving wine is interesting. Some movers have refrigerated trucks and storage services and will ship the wine for you (at a cost). Other movers tell you they will ship it, but it will go in the truck with everything else. We chose to move the wine ourselves in two loads. The first load went down in Hubby's truck in March. We left his truck at the Florida house as well as the wine so we didn't worry about moving a vehicle.
I left enough wine in New York State to enjoy during the two months before we would return to Florida, plus two cases I would be moving back to Florida. I am happy to report I did such a good job "enjoying" that on our final trip down to Florida we only had to transport one case of wine! It was a job well done if I do say so myself.
We gave away a lot of "stuff." From good, heirloom-quality furniture to earth boxes and patio furniture to the shelving we used down the basement we gave away a lot of goods. I was on a first-name basis with the worker at the Goodwill truck. And, our garbage cans were packed for weeks.
It is amazing that when faced with moving cross-country to a smaller house with no basement and no extended family functions, what you no longer "need" and can part with.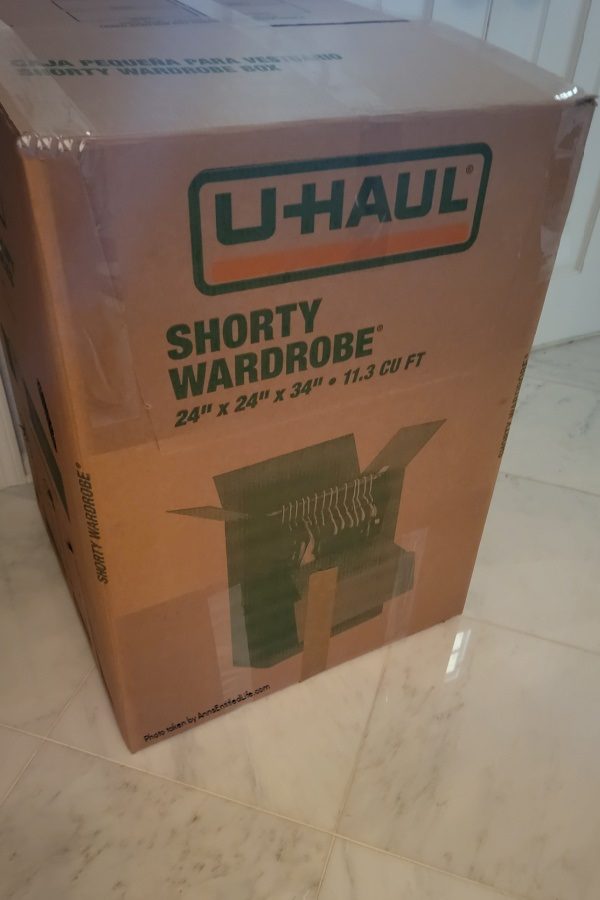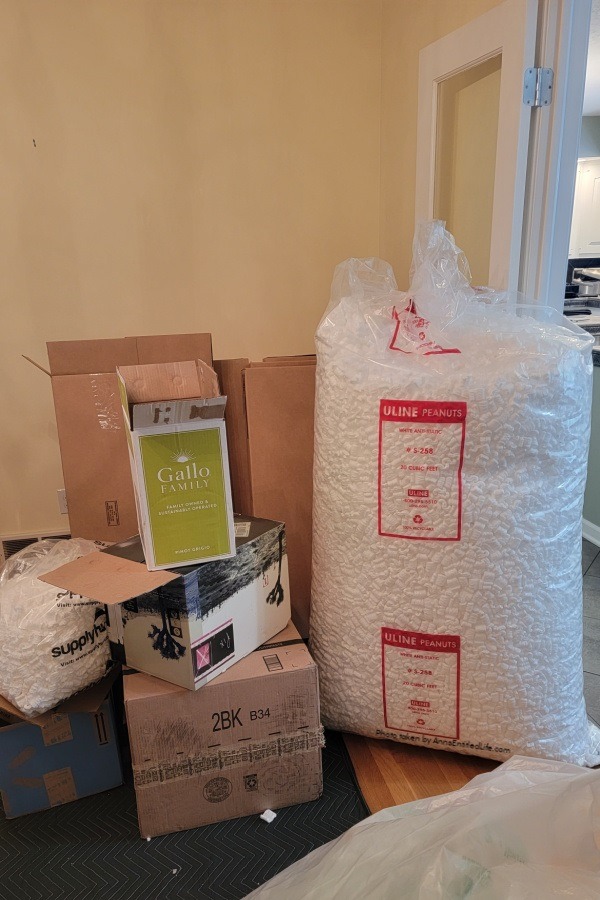 As part of our packing supplies, we bought good boxes, wardrobe boxes (short and tall), packing tape, stretch wrap, packing peanuts, packing pillows, foam and cardboard corners. Hubby also purchased very large rubber bands to make sure those corners stayed on. I packed a lot of fragile and valuable items in bubble wrap and foam sleeves.
Hubby figures he is going to have to do another round of purging as we unpack (we have already taken one load to Goodwill, Salvation Army gets the next load). There simply isn't the room we had at our house in New York State, but we will not know exactly what will and will not fit until we unpack everything.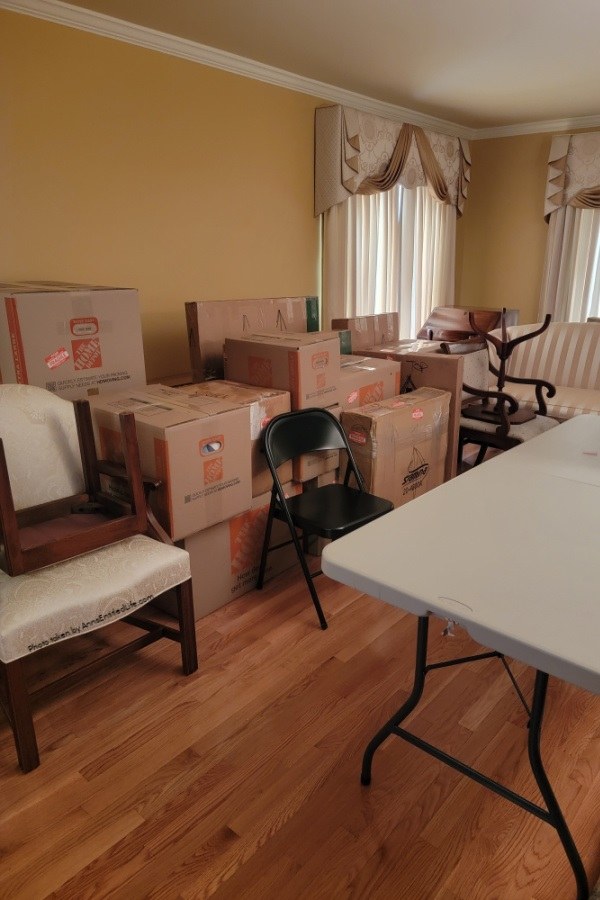 While we were packing up the old house in New York, the new house in Florida needed a little bit of work plus regular maintenance.
When we were in Florida in March we interviewed contractors for pest control, painting, flooring, carpeting, alarm company, electrician, window replacement, and fireplace work.
We do not have hurricane windows at the new house, and since the Pensacola area gets whacked with hurricanes frequently, I was insistent upon them being installed. We had a number of windows with the seals broken, so it was either repair those, or replace everything. Hubby knew what I was choosing and did acquiesce to my request.
We need a few electrical upgrades, so Hubby interviewed electricians. They did whatever work was on his list while we were away.
I engaged a lawn care company to cut the lawn. I decided to wait on the sprinklers as it rains all the time in Florida and the grass could thrive without it (St Augustine grass which isn't really what I think of as grass).
I also engaged a pool company to fix a few things, change the sand, and do weekly maintenance. Yup, me, the pool hater who never owned a house without a pool (shesh) and filled in my last pool has purchased another home with pool. Just like in our New York State community, there is a community pool that is part of the HOA. However, we never used the community pool in New York State, so I knew we wouldn't use the community pool in Florida either. If we had purchased a house without a pool on the water (the ultimate goal) I would have been fine with it, just like having a pool at a house on a golf course I am fine with.
The fireplace had a crack in the box. We needed to fix that or replace with an electric insert. Our area currently does not have natural gas but is getting it soon. After going back and forth (I would have done a gas fireplace insert) we decided to simply repair the box, and update the façade and hearth.
The house we purchased was owned by a "little old lady." Her husband had passed away over 10 years ago. He daughter helped her sell the house. The interior of the house was pink (hey, it's Florida) when she lived there, but had not been painted in a while. After they emptied the house, they decided it needed to be painted. They chose a bluish color that we could have lived with. Unfortunately, they paid for builder grade flat paint throughout the house (including kitchen and baths!) and did not paint the ceilings.
Sooooo we had the ceilings done (including two minor repairs) and had the whole house painted with better quality paint in colors and sheen of our choosing. While hubby is fully capable of painting the house and doing a good job, it was easier done while empty.
We ended up choosing the people to paint who also owned the company that laid "most" of the new flooring. The house is one story and flows very well. There was carpet and tile in the house, and they replaced "most" of that carpet and tile with new flooring. However, they stopped the new flooring at the eat-in area of the kitchen and it looked ridiculous, so we had them finish that out. I also had them do the office that we will be making our TV room with the same new floor – luxury vinyl… I am not convinced, but it is being installed everywhere, and I called my friend Denise who is a rep for Shaw's and she told me she wished she had installed it instead of hardwoods, soooo we shall see.
Hubby likes wall-to-wall carpet in the bedroom. I "almost" talked him into replacing the wall-to-wall flooring in the spare bedrooms, but in the end, I caved. We ran around trying to find a carpet we liked in the bedrooms (the stuff in there was probably original to when the house was built in the 90s) when we were there in March and did find one we thought would work well.
And, to finish off hubby had the ducts cleaned. We did this regularly at our old house (recommendations are every five years if you don't have a pet, every three years if you do). The best thing about it? I swear there is no dust for the first year after the ductwork is cleaned!
How did we handle all this from 1200 miles away?
Well, Hubby is really aces when it comes to supervising construction. He installed a Kwikset digital lock that had Wi-Fi capabilities. (He said get the one with the mechanical touchpad, not the fingerprint or touchpad.) That way, he was able to let people in the house remotely, or give someone (such as the painters who were there for five days) a code so they could let themselves in and out.
That meant we had to have internet set up when we were there in March. We also had the water put in our name and the electric.
He had the alarm company install a doorbell camera compatible with alarm.com. We already used alarm.com in New York State, so we decided to stick with what we know.
Our Realtor was also willing to stop by and check on the work in progress for us. This was extremely helpful when the pest control company could not get one of the sliders to close. Bob went out there for us and got the slider sliding again and closed.
The pest control company was an interesting hire. The woman we bought the house from had a transferable termite bond. Only problem? Terminix no longer issued termite bonds and would not honor that transfer. We had a termite inspection when we bought the house, and Hubby had to find someone to do the termite traps.
Then Hubby was only going to have us sprayed every other month. Yeah, uh-huh. That got upgraded to monthly tout de suite.
There was no way I was moving to cockroach heaven and not getting sprayed as often as possible. I hate bugs (so of course I moved to Florida).
There are more things to do to the house including lighting upgrades inside and out and fan upgrades, inside and out. Hubby is also going to put up cedar walls in the master closets and then install new closet units.
Long-term plans? If we are there in a year, the master bath will be redone (it will happen sooner and I already have an appointment with one firm). It is an enormous bathroom and the space is very poorly utilized. We are shower people and are used to an enormous shower in our New York State home. The Florida shower is dinky-twinky. We had an English soaking tub (don't ask, I didn't install it) in the New York State house that we did not use once in 17 years. The Florida master bathroom is dominated by a tub. Let's just say that it could use an upgrade… as in gutted to the walls, redesigned, and completely revamped.
If we are there in three years, the kitchen will be redone. It is nice looking but had some functional issues. We may be able to work around them with minor tweaks and never redo the kitchen. However, I don't want it to be just "ok." If this is our "forever" home, I want to love it.
Why the years away plan?
Hubby would like to buy a home on the water. That was our goal when we originally came down to the Pensacola area. And, there is a lot of water in the Pensacola area. We looked in Perdido Key, but that was limited single home supply as so much of the waterfront is condos. We looked off 98 but there is a lot of traffic, and more housing is being built which won't help those back-ups, etc., etc. Combine this with being 1200 miles away… we just figured it is easier to look for a house when you already live in the area.
I also know that, based on the search that took us to Florida, it might be a long time before we find that mythical house that is "perfect" for us. So, I was very clear about the renovations and my timeline to Hubby. It gives us a chance to move in, get used to living in those rooms, find an architect, and then a contractor to do the renovations. That and pouring out the money on the master bath might motivate him to look harder for that house on the water before the pricier kitchen renovation happens. There is a method to my madness.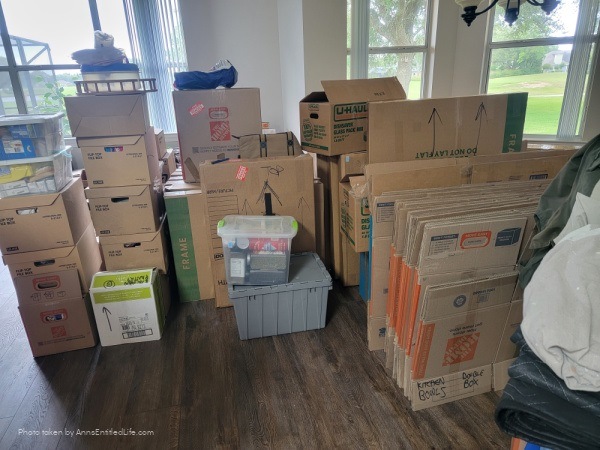 Currently, we are finishing up unpacking the moving boxes. (Tip: order lots of shelf liner and ventilated shelf lines so you can line drawers and shelves and put away unpacked items immediately.) We will then need to do some shopping for a new kitchen table and chairs (I gave away my dining room set and we moved the kitchen table + sideboard + cabinet to this dining room), two love seats for the living room (a trip to Hickory or High Point, NC might be in our near future!), a sofa for the family room, and outdoor furniture and grill.
I gave away the "right" amount of furniture to make what we had left work. I was worried I had kept too much, but nope. That furniture purchase list is pretty much what I expected to have to purchase.
So, that is what the Ann's Entitled Life household has been up to for the last nine months: searching for a new area to live, deciding on the area, purchasing a new home, packing and moving, and then selling the old home. Busy, busy, busy.
● 10 Great Moving Tips
● 50 Tips That Will Make Moving Easier
---
● If you enjoyed this post, be sure to sign up for the Ann's Entitled Life weekly newsletter, and never miss another article!
---