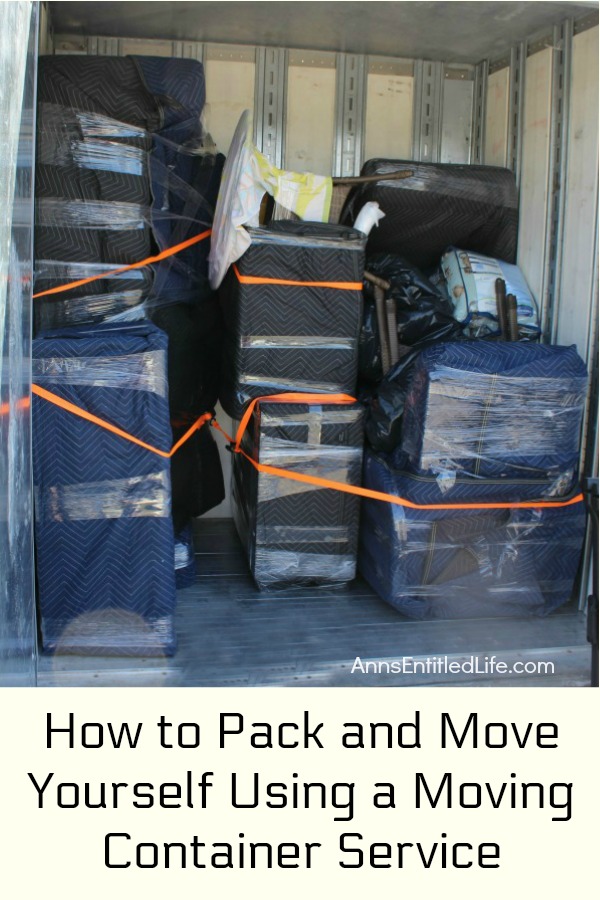 How to Pack and Move Yourself Using a Moving Container Service
This is how we moved our household long distance from Florida to New York State using a moving container service! I've also included some tips on packing, packing the moving container, the details of how we tracked our moving containers, and our experience with the entire process.
Hubby and I closed up our Florida condo and put it up for sale recently (it has sold). We decided to pack up some of the "good stuff" and take it home instead of donating it all. We had a few decisions to make before going forward; mainly what did we want to take, and how much were we willing to pay to have it transported.
I knew I wanted my dishes (fiesta!), we wanted some of the artwork (oil paintings – St. Augustine is an artsy community!), and there were a few pieces of furniture I wanted to take home (including a sofa bench Max used to sleep in that I knew from the day I bought it I wanted to take it home and have it reupholstered). Hubby had a ton of stuff tucked away in the closets, some nice kitchen goods, and some tools he wanted to bring back home.
Our Realtor wanted us to leave the condo staged. We compromised on semi-staged (leaving some living room furniture, the dining room table, and two bedrooms furnished) and taking the real estate photos before we packed up anything. That worked out well.
Once we knew what we wanted to bring home, Hubby had to guestimate how many packed boxes we would end up with, and measure the furniture we would be taking home, to come up with the cubic yards we would need to get it all in a container for transport.
He called several moving container places for two different quotes: one quote for one moving unit, the second quote for two units. Every place has a different size unit, some units were too small and too expensive, some were too large and too expensive, this one ended up being just right.
Hubby called quite a few places, but for price, size and ease of working with them, he went with ABF U-Pack ReloCube. The first unit was $1200, for two units it was $1500. They measure the units by cargo space. Since ABF trucking network is so large, and they go everywhere in the country, moving a u-pack unit appears to happen when space is on a truck (so the units are shipped in stages from one city to the next until they make it to their final destination).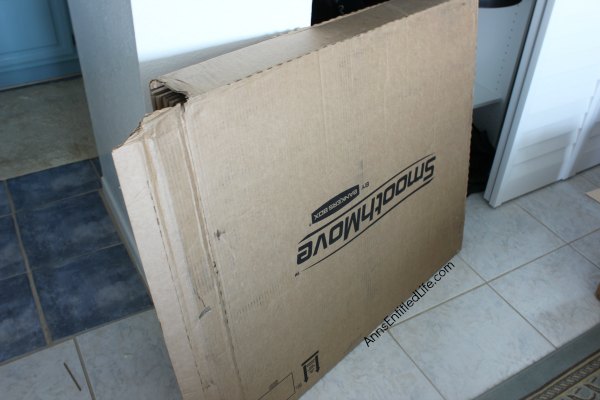 So, with the small incremental cost of a second unit, Hubby and I decided to take home: the sofa-bench I wanted, my small desk, a wicker chest (really cool!), the TV (do not ask me why, we do not watch much television, and Mr. Max already has a TV), large paintings, a recliner (it does not fit in with our decor up here, but I paid $900 for it last year, and damnit I was not leaving it behind if we had room to bring it home!) and the sleeper sofa (which had been used once!!) Hubby also managed to nab the office chairs at the last minute when he discovered that the moving containers were not quite full.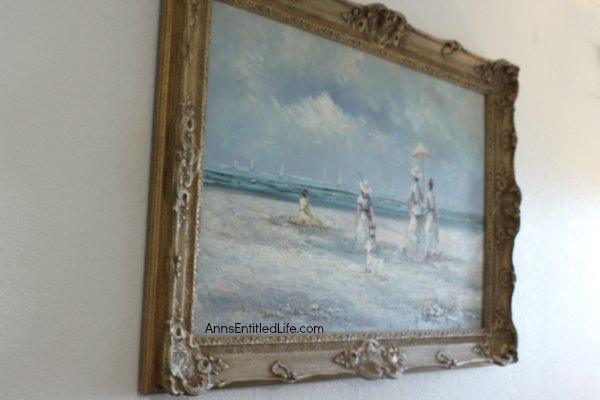 We had a few paintings (as well as the TV) to be packed.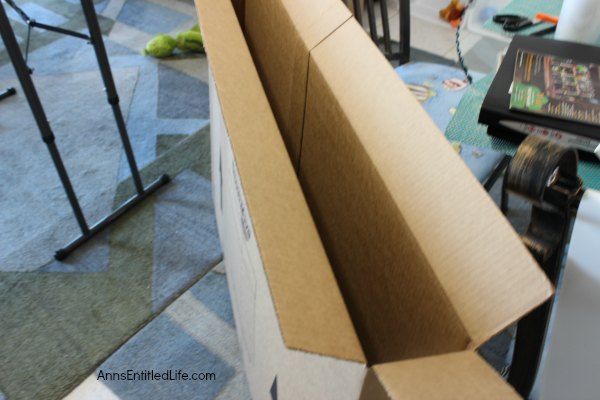 The painting and TV required special boxes.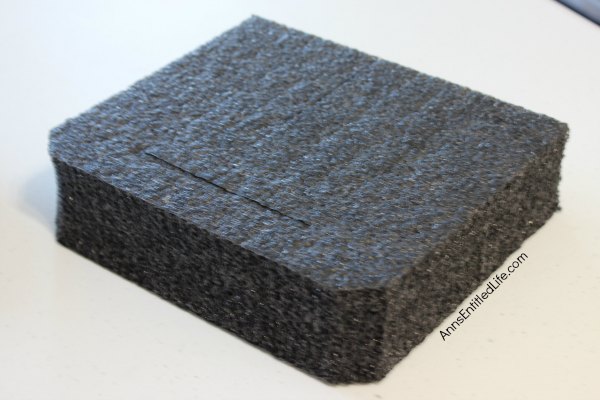 These are TV edge protectors.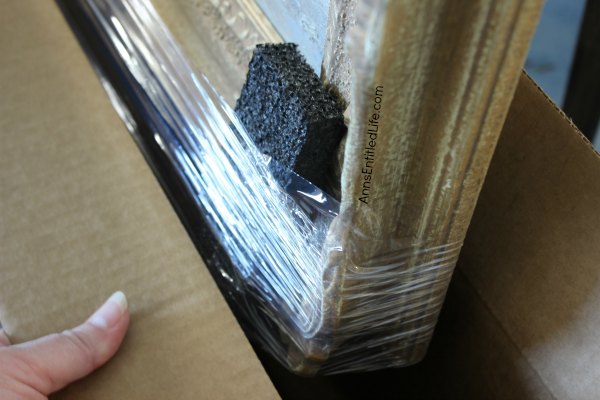 We also adapted them for use on the paintings.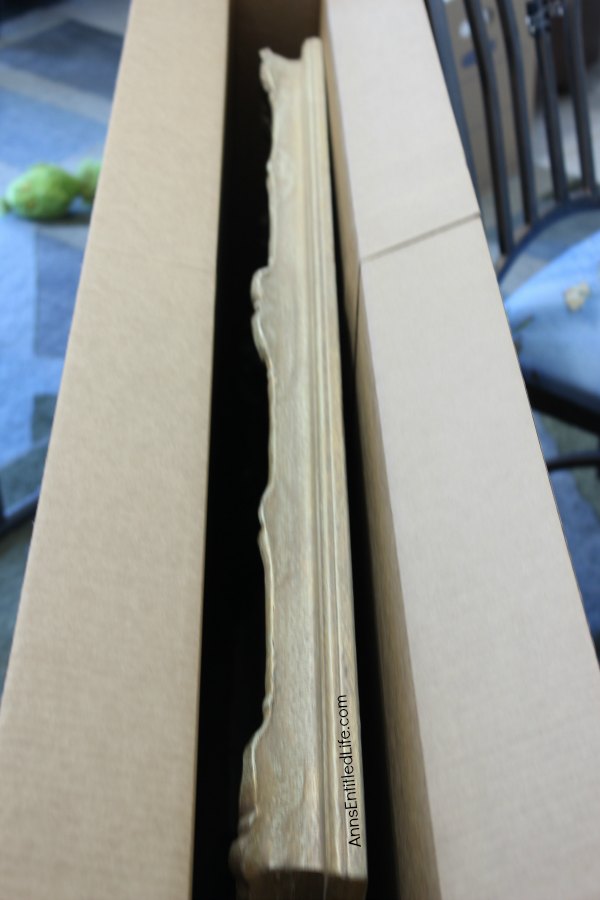 It was well worth buying these specialty boxes!
Hubby bought a ton of banker moving boxes from amazon in small, medium and large sizes. This turned out to be a brilliant move for carrying, loading, and different size needs. Since we hope to buy a new home in our current area of New York State, these boxes will just be reused. We used 6″ stretch wrap to close the boxes instead of tape. This ensured that the boxes did not tear or rip when we opened them (and it really worked – we only lost one box, and that was due to a leak).
We marked the boxes fairly well while packing them too, including an H for home (more on that later).
Hubby also bought 15 moving blankets, and we used every single one. After spending a lot of time watching youtube videos, he decided to tape those moving blankets closed around the furniture instead of using the 6″ stretch wrap I convinced him to do both which was good as the 6″ stretch wrap held up better. Hubby bought a number of art boxes, as well as a TV box too. Sometimes, the right box is needed to do the job correctly.
To recap, what we used to pack our belongings:
● Banker (brand) Moving Boxes
● Painting and TV Boxes
● Edge Protectors
● 6″ Stretch Wrap
● Marker
● Bubble Wrap
● Tape
● Packing Peanuts
● Towels, Blankets, Pillows, etc was used as wrap and padding where appropriate.
Watching Hubby pack is interesting. He prides himself on being a great organizer (wish he'd do some of his organizing in our basement) and packer. I packed a few boxes with Hubby in the same room and every single one of them were unpacked and then re-packed by Hubby as "not being right". The only time I got a decent amount of packing done was when Hubby took Mr. Max to the groomers. I packed most of my stuff up in those few hours, and left the rest to him (I truly left the rest to him).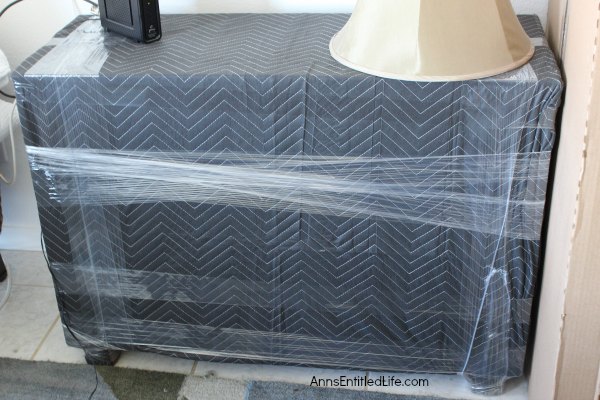 When it came time to wrap the furniture with blankets, I wasn't even allowed to man the 6″ stretch wrap. LOL I was the dummy end (holding the handle and not moving), and I needed to remember that!! Anyhoooo… for the most part Hubby's packing was very, very good. He didn't listen to me about the sleeper sofa and that had to be rewrapped outside before loaded onto the moving container, but that was it (and to be fair my idea may not have worked either).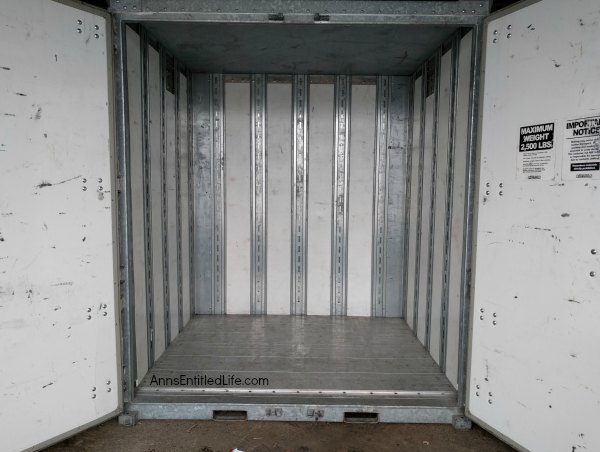 The units were delivered to our condo's parking lot within the timeframe Hubby had scheduled them to be dropped off. The unit deliveryman called when they were 15 minutes out, and then again after they got through the guardhouse (the association has a maned guardhouse). They loaded the units on a forklift, and deposited both of the units side by side with the doors facing out so they could be easily loaded. Hubby also asked if we needed to be there for pick-up of the units, and we did not. This helped as we decided to leave a day early for home. We had five days from unit drop-off to calling for pick-up to load those units. That worked great for us!
We had talked over whether or not to run the boxes and furniture from our condo to the units ourselves. If it had just been boxes, it would have been feasible, but once that sleeper sofa came into play there was just no way I could lift and maneuver it with Hubby, and he certainly could not do it by himself (where was Sonny-boy when we needed him!?) Hubby went to craigslist where he found two young men willing to come out on a Sunday morning to transport the boxes and furniture from the third floor condo unit to the moving units for a few hundred dollars. Sold!
The box movers were excellent! They got everything from a third story end unit, down to the elevator, through the garage, to the parking lot where the units were waiting for Hubby to pack, all within 3 hours, and with no breakage. MUCH better than I could have done!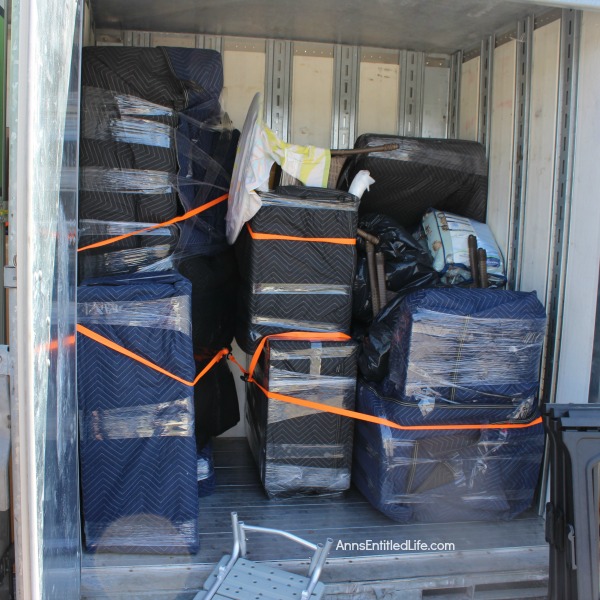 Hubby packed the units, and then strapped down anything loose. We had tossed pillows and bedding that was not packed in boxes (for padding) into large construction bags, and then put them in the units for extra padding in case of shifting.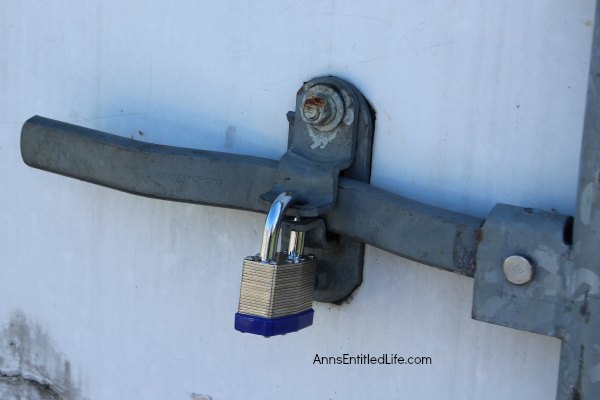 We did need to supply our own locks for the ABF U-Pack ReloCubes. You can get by with one lock per unit, but Hubby decided to take advantage of both locking mechanisms and purchased one set of ok locks and once set of excellent, heavy duty locks for transport.
We left for home Monday after tossing the last of the bedding into the ABF U-Pack ReloCubes. Hubby called ABF U-Pack to pick up the units when we were on the road Monday. He was able to track those units, and by Tuesday they were already in Atlanta. The next stop was Ohio, and then they made their way to Western New York. They sent text message updates every step of the way (you could also login online to track a container(s)).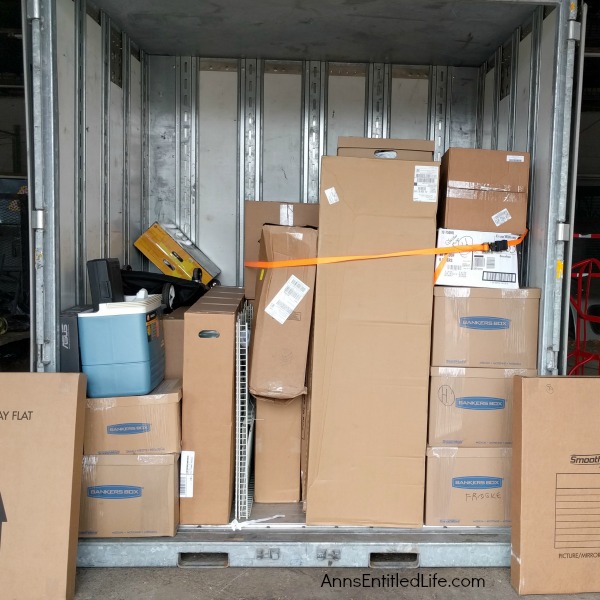 When the moving units arrived in our area, ABF U-Pack texted Hubby and he scheduled a drop-off date for those units (we had a five day window to choose from). Since we knew we did not want all the contents of those units at our house, we had the ABF U-Pack driver drop them off at one of Hubby's properties. The ABF drop-off person drove the forklift right into the garage, and dropped the units down gently (you can drop off to your driveway, this was just move convenient for us). When we were hit with unexpected precipitation, Hubby was still able to unload in a dry space. We did have the option of having one unit delivered to the house, and one ReloCube to the storage property, but the upcharge along with how it would change the way we packed made us decide against that option. It took Hubby three trips to get everything we had marked for home to our house, and he has an 8′ bed on his pick-up truck!
Once unloaded, Hubby called to schedule an empty unit pick-up. The dispatcher was super nice and gave Hubby a narrow window to pick them up from inside the building (so Hubby would not have to wait around all day). If the units had been were outside, ABF could pick up with no one "home". They arrived for that pick-up on-time and we were done.
Now I have to be honest- I had very little to do with this whole process. It was all Hubby – from research to packing to unloading. He RAVED about how good ABF U-Pack was to deal with every step of the way. If you knew my husband… well let us just say I can probably count on one hand how many times he has been this pleased with a product and/or service in the last 14 years. Hubby is a tough one to satisfy. He felt that ABF U-Pack really, really has it down pat for a very reasonable price.
Now my two-cents… these units are small. We packed up very little furniture (7 pieces + 2 office chairs) and that filled ¾ of one unit. If you have a large house to pack and move, this may not be the most economical way to do it. However, if you are looking for a small, long distance move, I too would agree that ABF U-Pack is a good choice to make.
Do you have any moving container tips to share?
● 50 Tips That Will Make Moving Easier
---
● Disclosure: the links in this post may be affiliate links.
● For more Library Reading on Ann's Entitled Life, click here.
● If you enjoyed this post, be sure to sign up for the Ann's Entitled Life weekly newsletter, and never miss another article!
---