Planning a move? No matter if it is cross country or around the corner, these moving tips will help make for a smoother move. Here are 10 moving tips to make the packing and relocation of your household goods easier.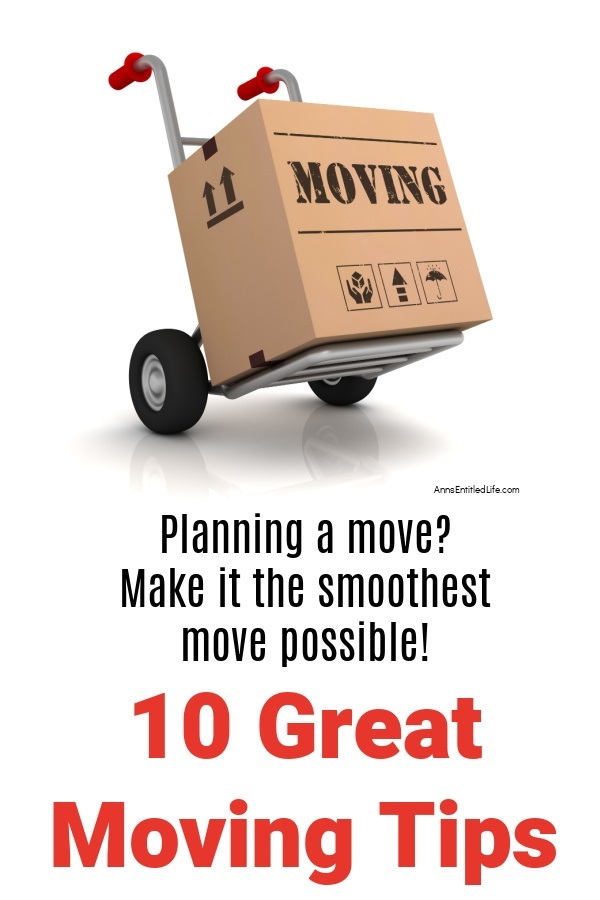 Hubby and I have moved a number of times. Of course, we moved to our current residence 16 years ago… well, 17 years for him. He moved in about 9 months before I did. I lived in the city of Buffalo while Sonny-boy finished high school, and Hubby moved across the state to our new home. Hubby used to move regularly before he met me – at least 10 times in 12 years!
We also move across the country from our second residence in Utah, and up RT 95 from our second residence in Florida. The Utah move was just a vehicle, some "stuff" that fit in our vehicle for the drive home as well as in my husband's vehicle that was shipped home. (How to ship a car details here.) The rest of the goods were donated – mostly to the cleaning lady and her extended family. That was terrific as they came and got everything, and we didn't have to move a thing we did not plan on saving for ourselves.
When we moved from Florida, we packed what we wanted to keep for ourselves into a moving container and then the cleaning lady came and got the rest of the furniture. Her son was moving out and it was serendipity that they could use the contents we had no further use for! We packed the boxes and furniture and then hired a local moving company to pack the moving container for us.
Now, all these years later, we are finally moving from our primary residence to a new place. This is the home I have lived at for the second-longest of my life. I only lived longer at my childhood home (where my mother still lives. That home has been in our family for almost 100 years as it was my paternal great-grandparents before my parents bought it.) Needless to say, we have accumulated a lot of "stuff" in our time here.
Hubby is also a bit of a pack-rat. He's sold buildings that had approximately 10,000 sq feet of warehouse space. The first building was smaller and he was able to easily sell big items and condense the rest into the second building. The second building required two online auctions to clear – which he did not run. He hired a company that took 30% of the proceeds, and in my opinion, was worth every penny.
Some of the stuff from that "shop" came home. And, now we are in the midst of packing for a move to Florida.
The moving process is never easy or fun. And, to add to our current moving issues, we have "heirloom furniture" and a lot of it.
When we set up the condo in Florida, we did a lot of shopping at consignment stores. We noticed a plethora of beautiful furniture and accessories. Either the furniture moved down to Florida with the owner and did not fit the new residence, or the owner died and the children did not want to ship home all the furnishings, and it ultimately ended up in a consignment store.
Due to the type of furniture we have, I decided to make life easier on Sonny-boy and palm it off er, give it to him now. Some stuff also went to my brothers and nieces. It is better that they could enjoy it now than have to deal with it after we pass away. We gave him our entire dining room, wing chairs, leather couches, and chairs, as well as other miscellaneous items!
I have one more major furniture dump for him before we move away. I have used local movers for these furniture relocations and that has worked out great! My mother originally came up with this idea when my brother moved out of the family home and left his "stuff" at the family home for years after moving out, always claiming he'd get it "next week." Well, she finally had enough and hired a small local company. Sonny-boy pulled the same thing on us, and that was when I first used them. I have done this several times since. It simply is not worth the time or energy to try and coordinate friends' and family members' schedules, not to mention Hubby and I are no longer spring chickens when the local movers are only a few hundred dollars, and they work fast.
We have packed our own goods, and then have professional movers handle the rest.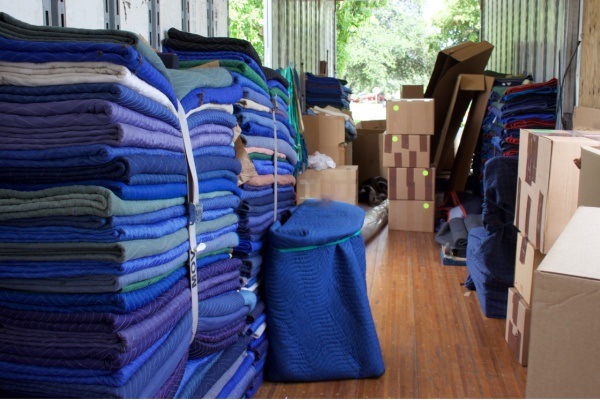 If you are packing your own goods, here is a list of handy packing supplies and packing materials you will need to safeguard your possessions on your move:
Note: the best places we have found to purchase packing supplies is Uhaul and Home Depot. Other places (mostly for specialty items) that we have used are Amazon and Uline.
Boxes = cardboard boxes (predominately), and also plastic boxes; especially if you have plastic storage boxes at home already.
● Small Boxes
● Medium Boxes
● Large Boxes
● Portrait Boxes
● Flat Screen TVs Boxes
● Packing Paper
● Packing Tape
● Plastic Wrap – both a handheld roll and the large roll
● Plastic Bags or Tyvek Bags
● Packing Peanuts
● Sharpies
The basics of packing a box for moving are:
● All items are destined for one room (easier said than done when you are using towels and pillows for cushioning).
● Heavier items go on the bottom.
● Lighter items go on the top.
● Pack breakable items separately, cushion them well and mark the box fragile.
● Smaller boxes are great for heavier items. For instance, if you are packing books, a smaller box is weight manageable to move.
● Larger boxes are better for lightweight items, although they may also be used for larger items such as lamps.
● Make sure you pack personal items and valuable items separately and transport them yourself. Important items should not be left to a moving company that may inadvertently lose them.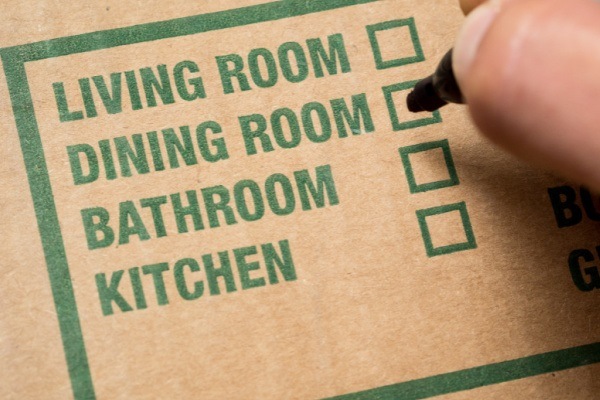 10 Great Moving Tips
If you need to move soon, these great, in-depth tips are some of the things we have found that work over the years. Hubby and I have moved locally, across the state, and across the county. I hope you find these tips helpful.
● This is a great opportunity to get rid of clutter. Go through your basement, attic, store areas, and make hard decisions on what you no longer use. Have a yard sale, freecyle or craigslist old furniture, household goods, sports equipment, etc a month or two before you move. Not only will this get rid of infrequently used items, but it will also free up space so you will be able to see what else you have to pack/move. Deciding not to take infrequently used items with you also saves on moving costs. Not enough for a dumpster? Try The Bagster. Very convenient, and pick-ups can be arranged online.
● Schedule your moving truck or movers (make sure they are bonded and insured) in advance. Avoid peak season if possible as that time of year will add to costs. A good time to try and move is in the middle of the month and the middle of the week as it will be easier to schedule movers or rent a moving truck. If you are using a mover, may delay the arrival of your truck. At the same time, schedule your utility shut-offs and turn-ons.
● If you are moving yourself (as opposed to hiring a moving firm), head to the local liquor stores or paint store for free boxes. Buy a few dish pack boxes for breakables and fragile items if you don't want to wrap everything. Check your local freecycle or craigslist for moving boxes. I used some liquor boxes for the glassware I donated. This allowed me the ability to not have to wrap everything. Instead, I simply slid them into each open bottle space, taped, marked, and donated. It is a good idea to mark donations for not only contents but whether or not they are fragile. This was a great way to box up my fragile glasses for donation.
● If you are packing yourself, use bubble wrap (you can buy this at a packing or office supply store), blank newsprint (to prevent black ink smudges of the printed newspaper), or packing peanuts for breakables. I love these packing sleeves. While listed for plates and glassware, I have used them to pack small knickknacks and photos, too. Use your towels to pack away larger breakables, or as cushions between furniture. Get a few moving blankets to prevent furniture dings. You will be glad you did.
● Do not pack more in a box than you can lift. Seems obvious, but sometimes people look at the empty space in a box and just fill it up. If there is empty space and you have packed your weight limit, fill the rest with towels or other lightweight, unbreakable items or use packing pillows.
● Label every single last packed box with a sharpie … kitchen (kitchen dishes 1/30, kitchen silverware 2/30, kitchen gadgets 3/30, etc), bathroom, Sonny-boy's bedroom, etc. If you have movers packing for you, follow them around and label better than they do (kid A's room, Kid B's summer clothing). Label essential kitchen items as "kitchen essentials box 1/30" so you are not digging through 30 boxes to make a pot of coffee. Have those boxes and your bed (pillows, sheets, blankets) loaded last on the truck so they are first off the moving truck and you have a bed you can set up to sleep in that first night in your new home, and a cup of coffee the next morning. Keep a master list (moving checklist) of all boxes, and how many per room (kitchen 30 boxes, kid's room A 15 boxes, etc). If using a moving service, photograph your boxes with a timestamp. If any boxes are crushed upon arrival, inspect for damages so you can file a claim.
● If you have movers that are also packing for you, designate a "do not pack" room, and tape signs to the close door stating that (mark the trash cans "do not pack" – some services will pack your trash!). In that room store medicines, toiletries, jewelry, electronics, food, personal papers (important documents such as birth certificates, mortgage papers, car ownership, passports, etc), towels, and bed linens, as well as a suitcase full of clothing. Move these items yourself. Set up a second suitcase or box with "first day" items such as toilet paper, light bulbs, a set of towels for each family member, soap, and garbage bags.
● If you have a mover, follow the movers around, and have them mark off any dings and dents in your furniture. Take a timestamped photograph at that time (a newspaper with the date and a picture of the mover marking the item further confirms proof that those were the only furniture dings and dents at the time of the move). This will help you with any damage claims. Go over every stick of furniture as it is unloaded (or better yet on the truck if there is room and light) and look for new damage immediately so you can file a claim. Bring it to the mover's attention when they are unloading.
● Make certain your beds are the last pieces of furniture packed on the truck. They will be the thing first off the truck and immediately set them up. Put linens and pillows on the beds as soon as possible after set-up. At the end of a long moving day, it is nice to have the beds ready and waiting! As soon as you walk into your new house, unpack your towels, toilet paper, and bathroom toiletries, and deposit those suitcases full of clothing in each room.
● Unpack a box completely, and put everything away. If the movers unpack for you, they do just that… unpack and leave it in the middle of the room. They do not put anything away. They will, however, take away all the boxes and wrappings. To get rid of excess boxes, freecycle them. Just leave them on the curb for the interested party.
Other moving tips:
● We have an extensive red wine collection. We have saved wine shipping containers as well as used liquor store boxes for this collection. Wine cannot be packed onto a moving container for shipping. Since Florida is our destination, we decided to pack the collection and rent a climate-controlled storage container. The cost was worthwhile.
● We have some very nice glass artwork we got in Murano Italy. We happened to save one of the wooden crates and reused that for one item. Hubby had to build a wooden container for the other one, and then we had a friend come over (who worked for UPS for 10+ years) and she packed it for us. If you don't have a friend who can do this, packing peanuts, straw, tape, and a double container to absorb shocks is a good place to start.
More moving tips and advice?
● How to Pack and Move Yourself Using a Moving Container Service – this was how we moved our Florida condo content up to our house in New York State
● 50 Tips That Will Make Moving Easier – short tips for moving.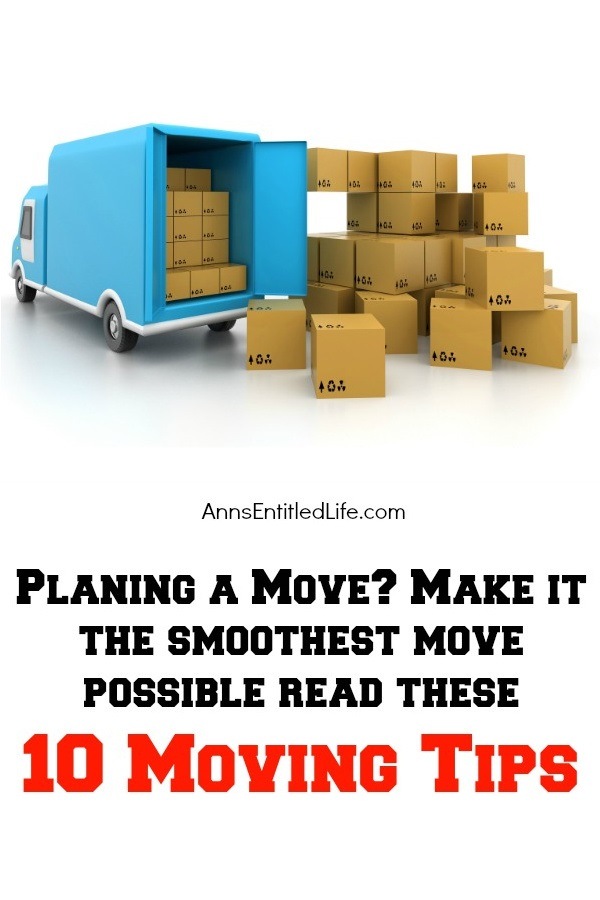 ---
First Published: July 31,2013 Last Updated: February 03, 2022
● For more Library Reading on Ann's Entitled Life, click here.
● If you enjoyed this post, be sure to sign up for the Ann's Entitled Life weekly newsletter, and never miss another article!
---