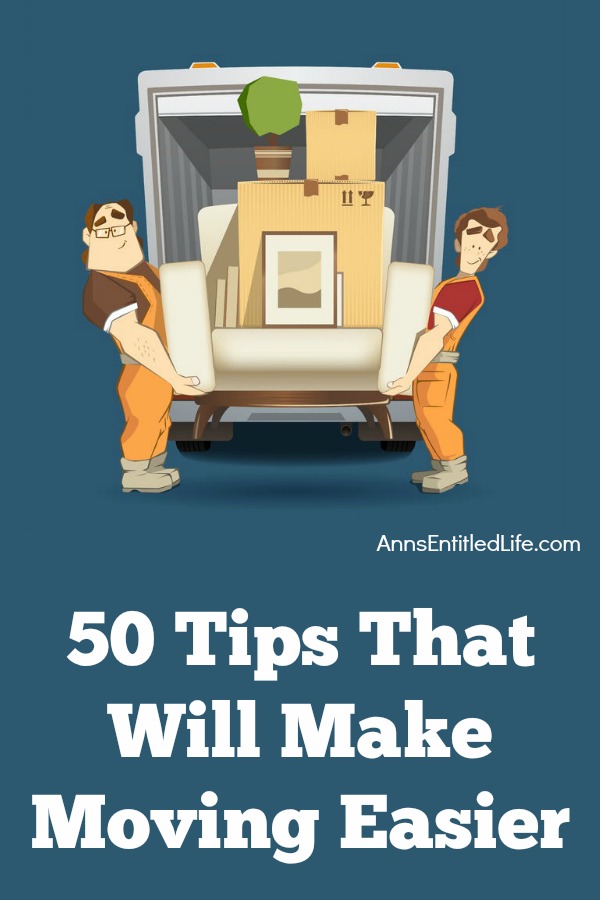 50 Tips That Will Make Moving Easier2>
Are you getting ready to move? Moving is one of those things that literally takes everything you have. If you will be moving over the next few weeks, you need to keep these tips in mind. Moving no longer has to take every ounce of energy you have. Here are 50 tips that will make moving a breeze.
Make Packing a Breeze
1. Start packing early. The earlier you start, the less stressed out you will be.
2. Ask for boxes at your local paint store or liquor store. They are usually clean, and can hold heavy items.
3. Rent a storage unit or pod for those boxed up excess possessions.
4. Pack up the stuff you do not need right away. Take your time with the other stuff.
5. Invest in some good tape for packing up your boxes.
It will be worth it in the end.
6. Make certain you tape your boxes shut. You will be sorry if you skip this step.
7. Use unprinted newspaper,
towels, wash cloths, sheets, pillowcase – anything soft that can be used as padding for breakables.
8. Do not shop at the grocery store for staples for at least a month before you move. Eat up what you already have in the house so you are not paying to move (or moving yourself) groceries.
9. Have a garage sale to get rid of the extra stuff you do not want to pack up. Earn some extra cash while purging items you will never use.
10. Do not take clothes off the hangers to pack them up. Keep them on the hangers to make moving clothing a little easier. If you have a wardrobe moving box,
they will hang in there easily. Otherwise, pack your clothing that is on hangers in a garment bag, or cover with an old plastic from the dry cleaners.
11. When you know you are going to move, pack a box day one. Pack two boxes day two, three day three, etc. If your move is tight or you know you have a LOT of stuff, start by packing 10 boxes, and double that daily until you are packed.
12. Have your kids help you pack up the house, there is no sense in you doing it all yourself.
13. Make sure you mark what each box is using a permanent marker.
This knowledge comes in handy when you are putting things away.
14. Always pack boxes with heaviest items on the bottom and lightest on top.
15. Always stack boxes from heaviest to lightest.
16. Label the big stuff too. This will help the movers or even you to remember where to put the items once moved.
Make the Move Easier on Your Pets
17. Have a friend keep your pet on moving day, so you do not worry about s/he running away, getting stepped on, or overly stressed by the commotion of the day.
18. Wait to pack up your pet's belongings till moving day. The slightest changes can stress out your pet. (When we head down to Florida, Max's stuff is the last of the items packed, and his bed is the last thing loaded in the vehicle. Pets can get really stressed by change.)
19. Have a new vet in mind if you plan on moving quite a distance away. Having a vet already lined up with help in case your pet has any issues with the move or immediately thereafter.
20. Do not forget to request your pet's veterinary medical records! The vet's office can fax them or email them to your new vet quickly and easily (we do this all the time with all the vet's that Max sees).
21. Show your pet lots of love! The last thing you need is for your pet to get stressed about moving. Showing them a little extra attention goes a long way toward soothing them when they are stressed.
Make the Move Easier on Your Children
22. Talk to your children about the move.
23. Include them in the move as much as possible.
24. Allow them to help you out as much as possible.
25. Try not to stress out because children can feel your stress!
26. Plan on ordering pizza or keeping meals simple during the days immediately before, and after, your move.
Plan Logistics of Moving
27. Call ahead to schedule movers.
28. Call ahead to reserve moving truck if you are DIYing your move.
29. Make sure everything is packed before moving day, do not spend the actual moving day packing. A final suitcase of clothing and toiletries should cover what was used the day before.
30. Call all utility companies ahead of time to prepare for shut off and activation at the old house and the new house.
31. Know who will watch or help with your children. Expect delays if you do plan on moving with your children there.
32. Plan ahead for what times you will be moving on moving day.
Make Unpacking a Breeze
33. Before you unpack, do any cleaning necessary. It is harder to clean when you are already unpacked.
34. Unpack the essentials first! Unpacking that toilet paper will come in handy.
35. Put beds together first, a good night's sleep is necessary.
36. Do unpacking-a-thons. Spend time unpacking until you just can't look at another box. The faster you unpack the easier your life will be in the long run.
37. Set a deadline to have all of your items unpacked by a certain date. It is best to make small goals for yourself but to have an end goal in mind as well.
38. Whenever you unpack a box, put everything away immediately. It will save you time and clutter in the long run.
39. Unpack to music to help you be more productive!
40. Save the electronics for last. Electronics are quite frustrating when moving, so saving these for last may be a good idea.
41. Do not move items into the basement that don't belong there, you may never retrieve them again.
42. Commit to getting rid of clutter. Now that your house is free of clutter, commit to keeping the clutter out of your home.
Asking for Help and Miscellaneous Steps
43. Ask neighbors, friends, and family members for help on moving day and the weeks to come. If they can't commit to several things, ask them if they can commit to one thing.
44. Make sure you schedule your mail to be forwarded and your bills to all be switched over to your new addresses.
45. Freecycle all empty packing boxes you will not be keeping.
46. Flatten the boxes so they take up less room.
47. Reward anyone that may have helped you with the moving process. Pizza and beer after a long day of moving, flowers or cards for those who helped with the before process are all nice gestures of thanks.
48. Contact any contractors or services with your new address for final bills.
49. Tie up any loose ends at your old home.
50. Pop open a bottle of wine and enjoy!
Moving is one of the most stressful things we can do in our lives. While the new is exciting, and you may be sad to leave the old, the process itself is time consuming and taxing. Packing, unpacking, cleaning and dealing with all of the details of a move is not easy. When it comes down to it, it's better to make things as easy as possible when moving. Break everything down into simple steps; it will make moving easier.
---
Related Posts:
● 10 Moving Tips (much more in depth)
● 10 Tips To Prep and Market Your House For Sale
● 10 Tips For Hiring a House Cleaning Service
---
● Disclosure the links in this post may be affiliate links.
● For more Library Reading on Ann's Entitled Life, click here.
● If you enjoyed this post, be sure to sign up for the Ann's Entitled Life weekly newsletter, and never miss another article!
---