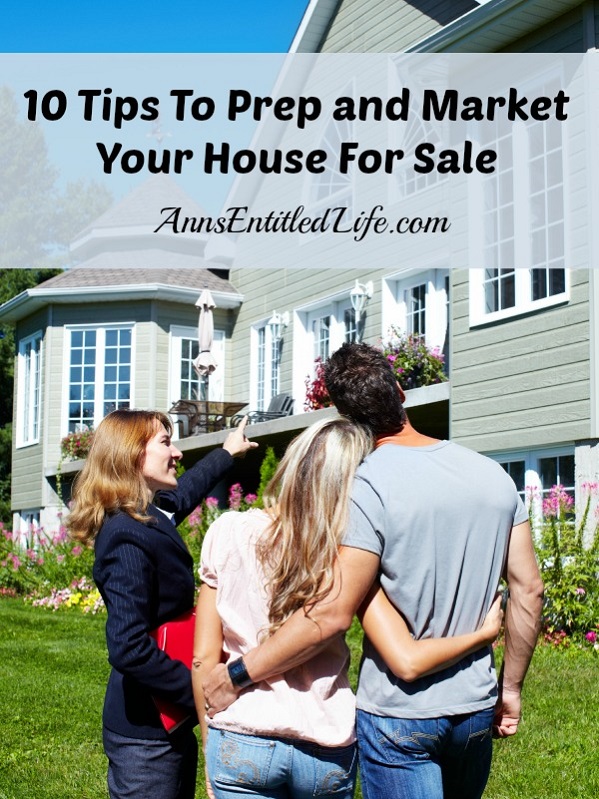 10 Tips To Prep and Market Your House For Sale – tips and advice to prepare your house for sale, as well as ideas and tips on how to market the house once it is ready to be sold.
Hubby and I have been quasi-looking for a new house since last year. We want a very specific area, with a very specific house. It may never happen because our criteria is so specific. But, if it does, we will be prepared to sell this house! Hubby has been involved with a lot of commercial real estate transactions over the years, but I am the one who lists residential real estate as a serious hobby.
Just the other night we were talking about what we'd do to sell this home, and how we'd prep it and market the house. Since we always sell fast, and I have very definite ideas on how a house should be "staged"; hint: it isn't about furnishing, it is about lack of work for the potential owner, I thought I would share my 10 Tips To Prep and Market Your House For Sale!
● Divorce yourself from your house the moment you decide to sell. Seriously. It is no longer your home, it is a piece of property you are selling. This is business, not personal. Look at your house with fresh eyes. Would YOU buy this house as it looks now at the price you hope to receive? No? Well then get cracking!
● Clean, clean, clean, clean, clean. Everything else is secondary. Forget baking cookies, vanilla scented candles or cinnamon potpourri. You know what a prospective buyer wants to smell? Nothing. That's right, no animal smells, cigarette smoke, burned dinners, damp basements or anything else associated with house problems or lack of cleanliness, or possible animal allergies. So do yourself a favor, and clean your house (or have a cleaning service do it) from top to bottom, and keep it clean during the selling process. That includes making the beds daily, having the dishes done, the coats hung up, and paper and clutter put away.
● Curb appeal matters. You don't have to repaint your house or replant the gardens, but make sure the lawn is mowed, the weeds are pulled, light bulbs all work, and any chipped paint has been touched up. If you will be living at the house while it is on the market, flowers in the garden or in pots by the door can add a wonderful, lively pop of color.
● Paint is your friend. A fresh coat of paint in a builder's beige can freshen up a room and provide the biggest bang for the staging-buck. Not every room needs to be painted if you don't have time – just paint the main rooms people will walk into, the ones immediately seen. I once sold a house with raspberry paint in one bedroom, and orange paint in another bedroom. It didn't matter. By the time the couple got upstairs, they were already in love with the downstairs, and painting the upstairs didn't concern them. A good first impression can sell your home.
● Purge, purge, purge, and then purge some more. Box up and store your excess possessions, including furniture. This really does include that wall of photos of your children from birth through to their marriages. You want a prospective buyer walking into your house to see it as their home, not yours. Get rid of the decorations, the self help stickers, the awards and distractions. You want a perspective buyer to get a sense of space, not a dark, dingy hovel. Square footage sells so take advantage of yours and make it visible. Rent a storage unit or pod for those boxed up excess possessions. You are fooling no one leaving all those boxes out in the garage. People just assume your house is too small, you don't have enough storage, you don't keep your house clean and tidy, can't fit a car in the garage, etc. when you leave those packed boxes in the garage.
● Create a punch list of items that need to be fixed, and then make the repairs before you go on the market! The more move-in-ready to a perspective buyer, the better. The more move-in-ready, the closer to asking price you should receive.
● Decide whether to go FSBO or list with an agent. Because of the recent down turn in the market, many people backed away from selling their own home (for sale by owner). For others, precisely because the market crashed and they couldn't afford to pay a 4-8% commission to the realtor, they listed on their own. In many areas FSBO sell as quickly as Realtor listings. And sometimes you can get on the local MLS by paying a flat fee to a Realtor (YMMV). Recognize that many Realtor's will not bring a client through your home unless you are willing to pay at least one end of the commission to that Realtor (you can sign a single view/buyer contract for that if you aren't giving a blanket commission to a buyer's Realtor). There is a different marketing strategy with both approaches – can you sell your house to someone else as their home? Or are you better off having a third party do it? Only you can say for certain.
● Hire a Real Estate Photographer Unless you are a professional photographer yourself, have a pro take the photos. Good photographs get people inside your home just as poor photos have people scroll past your place when they look at houses for sale online. Hand the Realtor those digital images. You'd think with all the photographs Realtor's take they'd be better at seeing the dirty counter, the dogs humping in the backyard (there is an infamous real estate photo where an expensive house had two frisky dogs outside the window clear as day in the second photo of the listing), unmade beds…. and what is with all those photos of the corner of a room? A toilet? Just do yourself a big favor and have those photos professionally taken. Do a Google search for "unbelievably bad real estate photos" and you will see why I suggest a Professional Real Estate Photographer.
If you have a higher end home, make your own marketing pamphlet. Leave them on the counter, give your Realtor a large quantity to pass out. And regardless of what home price point, fill the single sheet flyer box outside. People rely on the Realtor to do this, and I find that silly if you are living there. Make a few hundred copies (sure the Realtor should do it, but how badly do you want your house to sell?) and refill as needed realizing the first 50-100 will go to snoopy neighbors.
● Buy your address' url. Upload 6-10 photos – not all the photographs taken, and certainly not photos from every room. You don't want someone to dismiss your house from photos or have them think they've seen it all from the 32,813 photos of every crack and crevice of your house that you uploaded online. You want your photographs to entice someone to see your house in person, enabling them to fall in love with your house when they walk through the door. Make sure your marketing material is online. List the url on your Realtor's blurb, as well as the sign on your front yard. Like everything else, online is the place to be, so marketing your home via the street url online is an excellent way to present well, get information, and avoid the lookie-lous tromping through your house.
● Work your connections. There are bulletin boards at many places of work where you can post a flier of your house for sale. This may sound crazy, but I can tell you that many of the houses on my street were sold through a local hospital bulletin board. Tell everyone you know your house is for sale – you never know who is looking, or who knows someone who is looking, for a house just like yours.
And two bonus tips:
● Safe guard your meds, guns and jewelry. Regardless of how diligent you, or your Realtor, are things go missing during an Open House or private showing. Make sure your medications, guns, jewelry and any important, personal papers are locked up and not easily portable by a thief. Some people pack them in a suitcase, and lock the suitcase in the trunk of the car in the garage during a showing if they don't have a heavy safe or bolted gun case to store valuables in. That way they have access to the meds immediately after the showing is over (since a suitcase can be brought in and out of a house with ease), but they are not a temptation as a crime of opportunity. There is more than one story of people posing as perspective buyers just to case a house for later (or rob it right there and then). Be smart and lock away your valuables where they can't be easily found or stolen.
● Don't wait to sell to freshen or remodel your home. Enjoy those upgrades yourself!
What tips to prepping and marking your house for sale do you have?
---
● 10 Tips For Hiring a House Cleaning Service
---