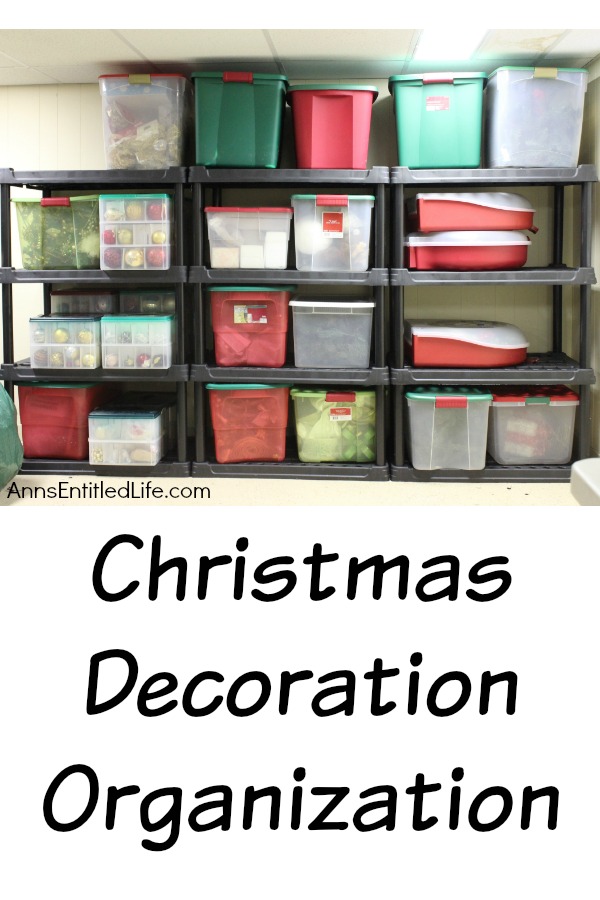 How to organize your Christmas decorations and decor so you can find things! Organizing your Christmas decor so it is easy to find and does not get damaged. Christmas Decoration Organization Tips, Ideas, and instructions.
Christmas Decoration Organization
I am not the most organized person in the world on a day-to-day basis. I am, however, a pretty organized person when it comes to holiday decor. My containers are color-coded (green and red for Christmas, orange for Halloween, etc). I now pay for the containers with the flip closures so nothing tumbles out by accident (been there, done that, not at all fun), and I make use of the right storage containers, bubble wrap, and markers! I make sure alike items – such as banister decor, sparkly decorations, tree decor, ornaments, etc are stored together. That way, if I don't decorate the banister one year, I don't need to haul up those boxes!
Christmas Decoration Organization Tips:
Buy plastic containers with flip and snap closures to prevent spills.
If you have old containers, use them until they break before replacing them with snap closure bins (I certainly do), but don't overfill them so they don't burst open.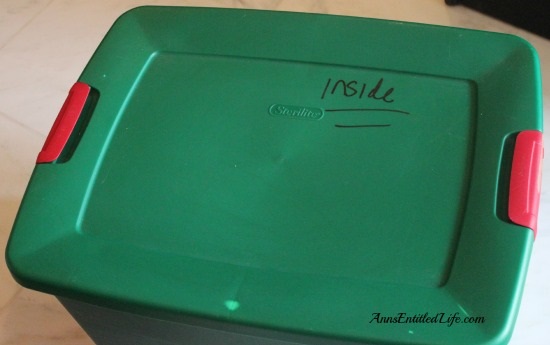 Make use of plastic containers in an alike color scheme
for each holiday so you will always know which box belongs to what holiday.
Green = Christmas
Red = Valentine's Day
Purple = Easter
Blue = Patriotic
Orange = Halloween
and so on and so on. Whatever color schemes you use, try to stick with one color for that specific holiday. You don't really need St. Patrick's Day decor when you are decorating for Christmas.
Label your containers where appropriate.
I have indoor and outdoor lighted garland, and simply label my containers inside and outside so I know which is which.
Sooooo worth the money! No broken ornaments! I have dropped these before (not that I recommend dropping the bins) and just pick up the bin and no broken ornaments. YMMV, of course! These are also stackable. I stack them two high on the top shelf of my Christmas organization shelves.
Buy a Christmas Tree BOX.
I tried the nylon softshells – believe me, a box is better. However, if you have a very large tree and have to haul it a distance from storage, the nylon softshells may be a more practical decision. The nylon bags have also come a long way in the past 10+ years, so rips are not as big a problem. However, with the box, you can store bins on top of it if storage space is tight.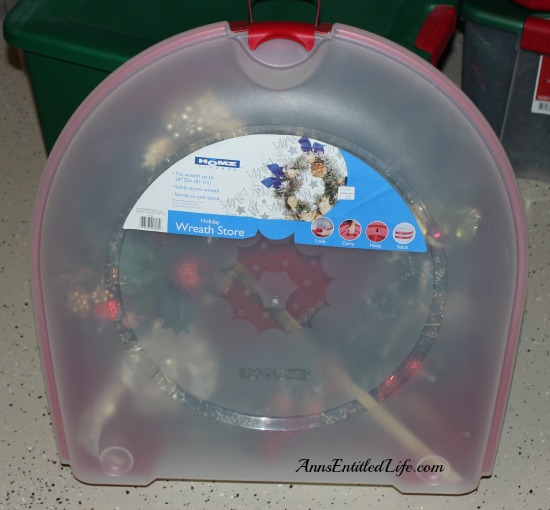 Buy hard wreath containers.
The hardcases prevent the ribbons, bows and other wreath embellishments from being crushed. I have nylon wreath containers and the attached accessories do get crushed. I have saved the cardboard boxes from wreath purchases online, and believe it or not, those do hold up well, too!
Wrap your breakables in bubble wrap, or tissue paper
This will prevent breakage when saving the original box isn't an option. I don't advise printed newspapers as the print can (and will) rub off. If you can find unprinted newspaper rolls, get those! They last forever and can be used for many things. If you can't find newspaper rolls, you can always buy newspaper sheets.
Store alike decor in the same box.
This is a must for me – that way, if I don't decorate the banister one year, I don't need to haul up those boxes from the basement! Labeling the outside of the box makes it super easy to know what type of decor lurks inside.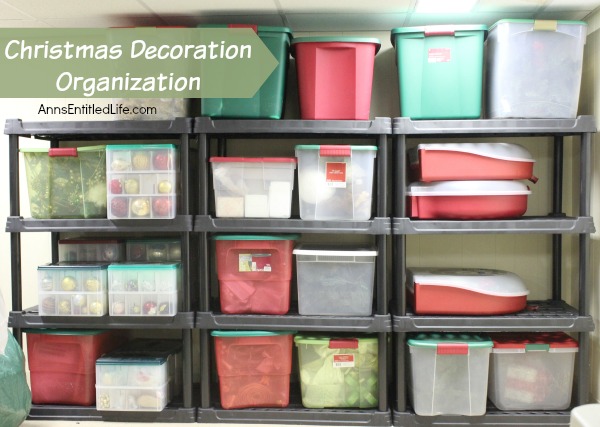 Store your packed holiday decor in the same area.
It doesn't have to be pretty if no one goes in that area, you just have to be sure the boxes won't fall, they are out of the way, and most importantly, you can find and get to the decor when you need it!
I first wrote this up many years ago. I have used this organization for my Christmas (and Halloween) decor for quite some time now. I have many holiday boxes of decorations for the holidays, and this system makes Christmas decorating, and holiday cleanup, a breeze!
What Christmas Decoration Organization tips do you have?
---
First Published: January 02, 2014 Last Updated: January 02, 2021
● For more Library Reading on Ann's Entitled Life, click here.
● If you enjoyed this post, be sure to sign up for the Ann's Entitled Life weekly newsletter, and never miss another article!
---