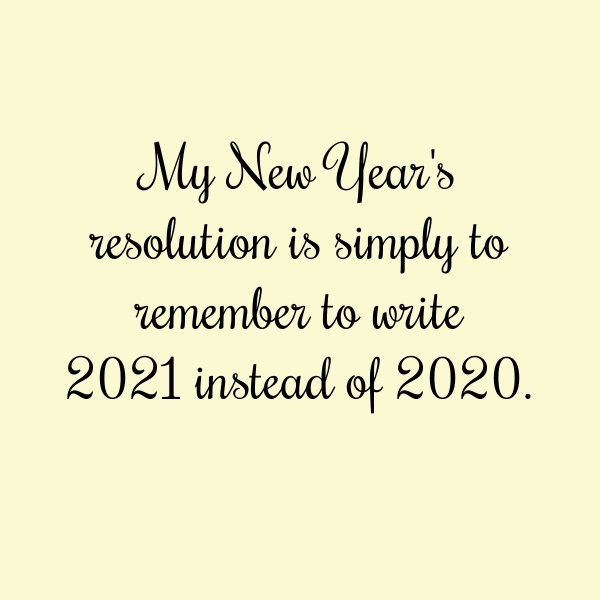 Good Morning and welcome to 2021. Thank goodness 2020 really is in hindsight.
For the last 10+ years (I've been blogging since 2007!) I have written a New Year's Day post. And every year I have the same New Year's resolution – remember to write the current year's date on all correspondence and checks. And, it is still not the easiest resolution to fulfill.
This year, instead of focusing on a 2020-blog-recap as I did in 2019 I am going to focus on what happened in the Ann's Entitled Life household. No matter how "commercial" blogging has become, and make no mistake about it, it is extremely commercial these days, I still consider this blog to be my personal diary. I write it so that in five years I can remember "Oh yeah, we took THAT trip" or "Hubby made THAT recipe" – notice I wrote, "hubby made?" For those unfamiliar with this blog, my husband does most of the cooking. He's an excellent cook. I bake and make cocktails, he cooks!
With that in mind:
2020 started off well for us! Hubby and I decided to travel and see the world as we had nothing to tie us down. We took off for a six-week vacation to Australia and New Zealand in January/February. We returned home for 10 days, and then it was off to six-weeks in southern Spain.
Well, while we were in Spain the world closed down and we made it home on a moment's notice. We had to self-quarantine for two weeks, but then we were free to move about the area.
Hubby has missed Mr. Max – a lot. I did not want another dog, but then I met Frankie. And that little face won me over. Unfortunately, Frankie developed encephalitis (the same disease Max had), and he was not with us for long.
One of the true tragedies of the lockdowns was how the elderly have been left in isolation. My father had a number of medical issues and entered a nursing home in the spring of 2018. This was at his request as he knew what his prognosis was, and taking care of him at home would have required a move plus 24/7 care. Hubby and I offered to facilitate this but he and my mother decided it would be safest for him at the nursing home.
Fast forward to 2020 and the lockdowns; it has been a horrible nine months for anyone in a nursing home in New York State.
We finally got to visit my father for 30 minutes a week starting in May. Two people were allowed per visit, it was outdoors, and my mother went every time so the rest of us cycled through as her +1.
In August, our governor decided that anyone visiting a nursing home patient needed to be tested for COVID-19. A positive test meant you could not visit. The staff took a test once per week, too. If one of the staff tested positive, the nursing home locked down to visitors for two weeks. This happened several times.
At the beginning of December, 10 staff members tested positive for COVID-19 at my father's nursing home. They spread it to the nursing home patients. They know it was staff because the nursing home had been in lockdown for the five weeks prior to the spread.
My father's wing was severely impacted, and my father caught covid. He passed away five days after catching the virus.
It is always sad when a loved one passes away, especially a parent. My poor father did not deserve the hand he was dealt with his sicknesses and then the enforced isolation. I choose to remember what he was like when we were growing up, the man who taught us so much, the one that put up with so much from my siblings (not me, I was the good kid!) – he was so good-natured, so willing to help people, he was just one of the best people I have ever known.
He is at peace now, no longer in pain, no longer isolated, and back visiting friends and family. At least that is my belief.
Needless to say, 2020 was a terrible year for us. I can only hope your year was better. While hubby and I do not have to worry about a job loss, the emotional toll on what happened to my father while he was in the nursing home, culminating in his death, has been draining.
I am hopeful that 2021 will be a better year for all of us. I wish every one of you a very happy, healthy, fabulous New Year. May 2021 bring much success, happiness, and fulfillment to you and yours.
---
I want to thank you all for reading Ann's Entitled Life. I would not mind if you all commented more. I love interacting with people who read Ann's Entitled Life and I would like to get to know you all, too. Please feel free to comment on the blog.
● Subscribe to the Ann's Entitled Life Newsletter
● And I can always be reached through the contact me page or by emailing me directly!
---