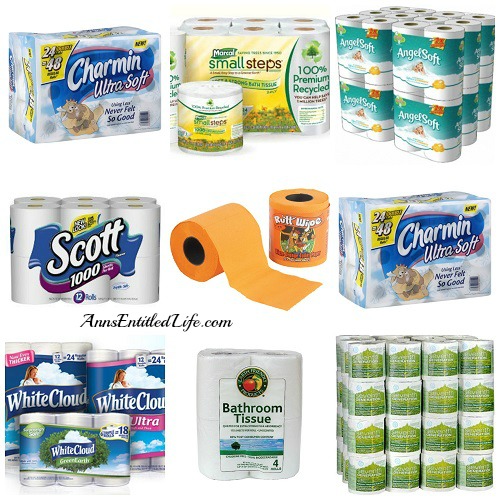 Sonny-boy came over the other day to shop the remains of my stockpile. He asked for paper towels, and I told him where to find them down the basement. He asked for toilet paper, and I started to respond when he interrupted me: "Never mind. You use sandpaper. I'll buy my own."
You see Hubby is brand loyal to Scott toilet paper. Me? I don't really care – although I won't even "buy" Marcal toilet paper for free – may as well use tree bark, IMO.
One thing I will say about Scott toilet paper – it lasts. This week I used Northern cushy-tushy toilet paper in the master bathroom. Now this bathroom is only used a few times a day, yet it seemed that I was replacing that toilet paper roll every other day! I can only imagine that Charmin is just as bad. Soft and gentle, but not too much on the roll.
With Scott toilet paper you seldom replace it because that is one large toilet tissue roll! Either that, or people hate the roughness of the Scott and use as little as possible so it lasts forever from lack of use!>
What toilet paper do you use? Would you recommend your brand? Why?