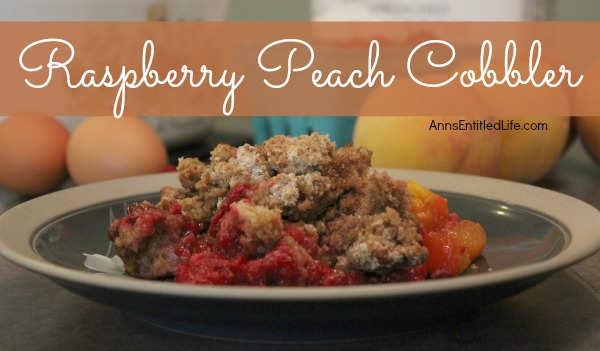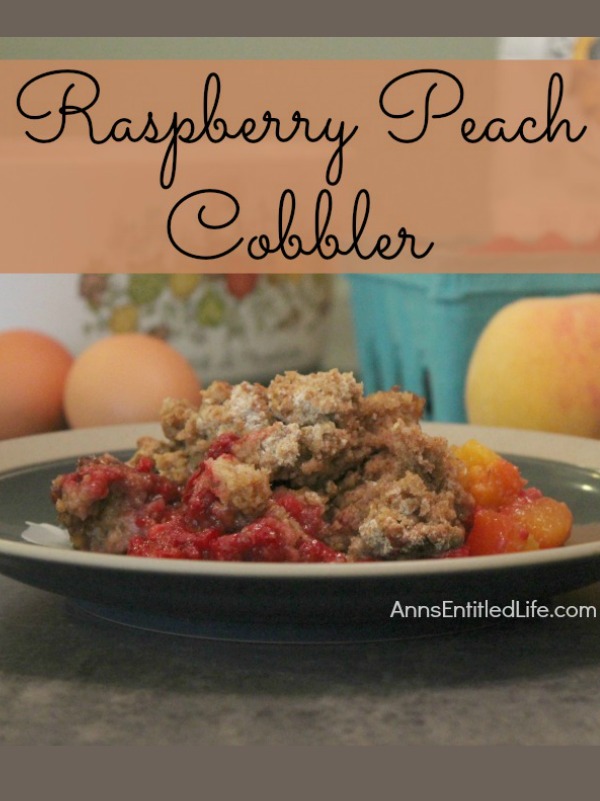 Raspberry Peach Cobbler
By Ann
The sweet taste of plump, juicy peaches and the tart taste of raspberries combine for a lovely cobbler that will have your whole family asking for seconds.
Prep Time:20 minutes
Cook time:1 Hour
Ingredients:
• 4-5 fresh, ripe Peaches, sliced and diced
• 1 pint fresh Raspberries
• 1 cup White Flour
• 1 cup Wheat Flour
• 1 cup White Sugar
• 1 cup Brown Sugar
• 2 tsp Baking Powder
• 1 tsp Cinnamon
• 3 Eggs, slightly beaten
• 4 TBSP Butter, melted
Directions:

• Preheat oven to 350°.
• Mix together peaches and raspberries and place them in the bottom of a lightly sprayed 3 qt casserole dish.
• In a separate bowl, stir together white flour, wheat flour, brown sugar, white sugar, baking powder and cinnamon.
• Add eggs to flour mixture, stir with fork. The batter will be dry.
• Pour batter on top of the peaches and raspberries.
• Pour butter on top of batter.
• Bake for 1 hour until top is brown and sides are slightly bubbling.
Makes 8 servings of Raspberry Peach Cobbler
---
• Disclosure: the links in this post may be affiliate links.
• For more Recipes on Ann's Entitled Life, click here.
• If you enjoyed this post, be sure to sign up for the Ann's Entitled Life weekly newsletter, and never miss another article!
---
---
FOLLOW US ON: