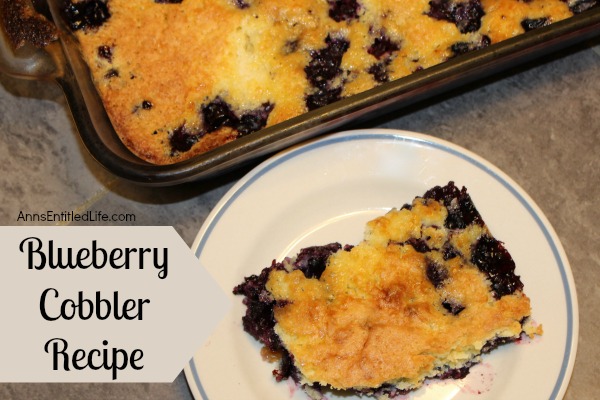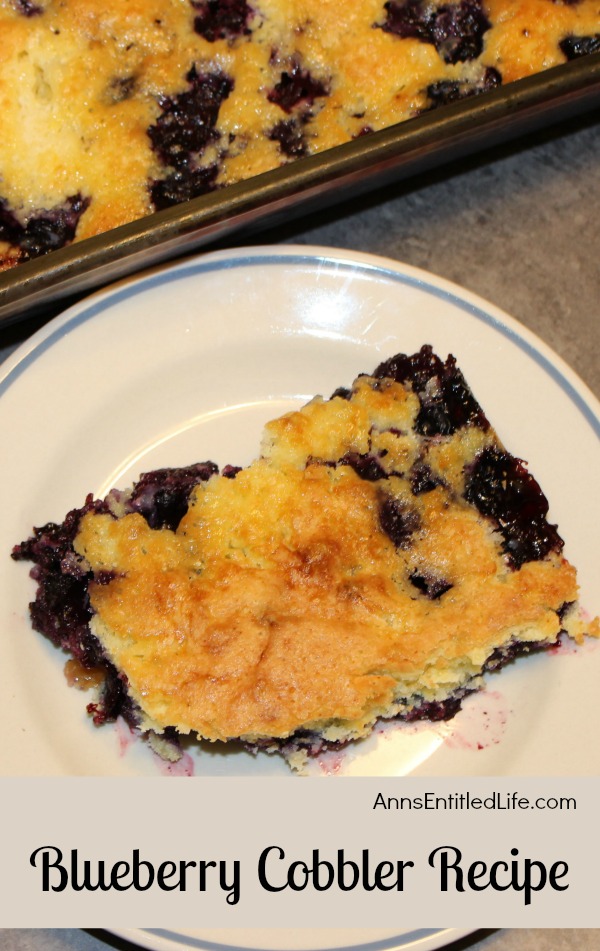 Blueberry Cobbler Recipe
By Ann
This fresh Blueberry Cobbler Recipe is simply outstanding! Easy to make, it is a delicious summer comfort-food recipe that will have your friends and family asking for seconds!
Prep Time:20 minutes
Cook time:35 minutes
Ingredients:
• 4 pints Blueberries
• 1.5 cups Sugar, divided
• 2 sticks unsalted Butter, diced
• 1 cup Flour
• 1 tsp Baking Powder
• 4 eggs
• 1 tsp Vanilla Extract
• 1 tsp Lemon Juice
Directions:

• Preheat oven to 375°.
• Lightly grease a 13″x9″ pan.
• Toss blueberries and 1/2 cup of sugar together until coated, spread into 13″x9″ pan.
• Combine flour, baking powder and 1 cup sugar.
• Cut in butter.
• In a separate bowl, beat eggs, then add them to the butter mixture.
• Add vanilla and lemon juice, mix well.
• Drop mixture on top of blueberries by the spoonful. Allow mixture to cover fruit.
• Bake for 35 minutes until slightly brown and bubbly.
• Serve with vanilla ice cream or sweet whipped cream.

Makes 8 servings Blueberry Cobbler
---
• Disclosure the links in this post may be affiliate links.
• For more Recipes on Ann's Entitled Life, click here.
• If you enjoyed this post, be sure to sign up for the Ann's Entitled Life weekly newsletter, and never miss another article!
---
---
FOLLOW US ON: