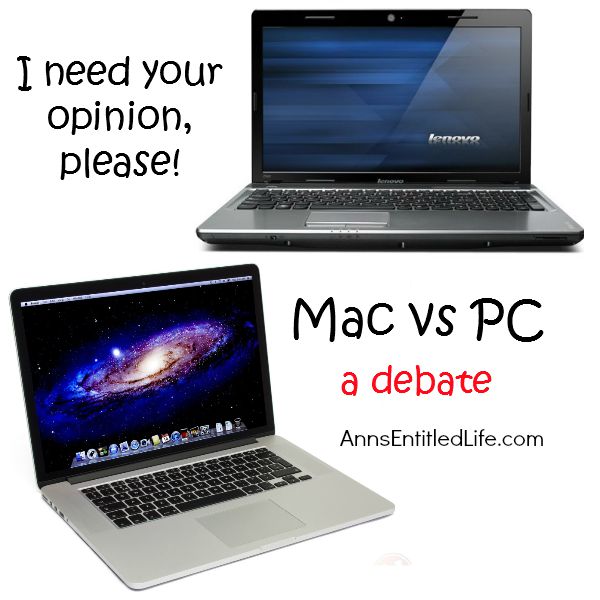 The MAC versus PC debate. Anyone want to weigh in?
The laptop I use daily is fairly old for a PC. I have kept it alive with twine and glue because I didn't want to be subjected to Windows 8 (I have windows 7 professional as my operating system). I wanted to see what windows 10 was all about as Microsoft has a habit of releasing good/bag operating systems regularly: good/bad/good/bad/good/bad. Since windows 7 was a good, and windows 8 was a bad, I had high hopes that windows 10 would follow the pattern and be a good.
Welp, the reviews are in on windows 10, and people are pretty happy (except for the occasional blue "Something Happened" screen). Of course those people happiest are those that upgraded the second windows 10 was released to escape the pain that was windows 8.
Their opinions are suspect.
I have been toying with buying a Mac. I have an ipad retina, and love it. I used it for all things internet when we traveled through Europe, and it met those needs well. Of course I didn't actually blog or do graphics or manipulate photos with it, but I was about to use it to peruse the internet, check email, get on social media, etc., etc.
What is stopping me from running out yesterday and buying a mac are a few thing. The the laptop size of a Mac retina: maximum 15 inches. My current laptop is 17″. Now I can make the determination on size at my local apple store. The trade-off of size versus a retina screen may well be worth those two inches. I will make the trek to the apple store to see.
I also am concerned about transitioning. I understand Parallels allows me to use PC programs on Mac. Will it allow me to get my content over to the Mac too?
So for those of you that had a PC and now have a Mac can you tell me: How hard was it to adjust to a MAC after moving on from a PC? How difficult was it to get your PC content over to your Mac? Any tips or insight you would like to share from this move? Do you regret moving to a Mac?
Thanks for any input!!
---
● If you enjoyed this post, be sure to sign up for the Ann's Entitled Life weekly newsletter, and never miss another article!
---