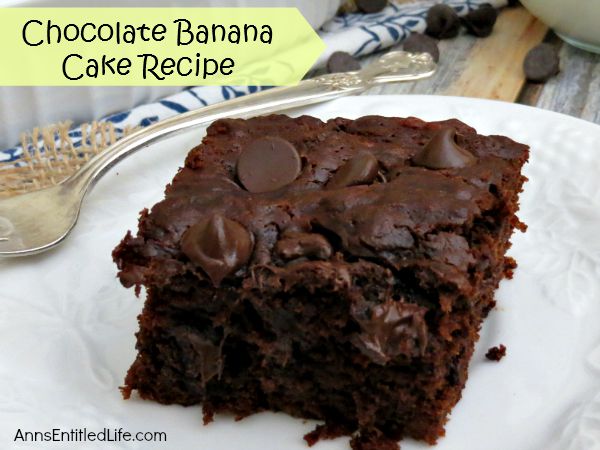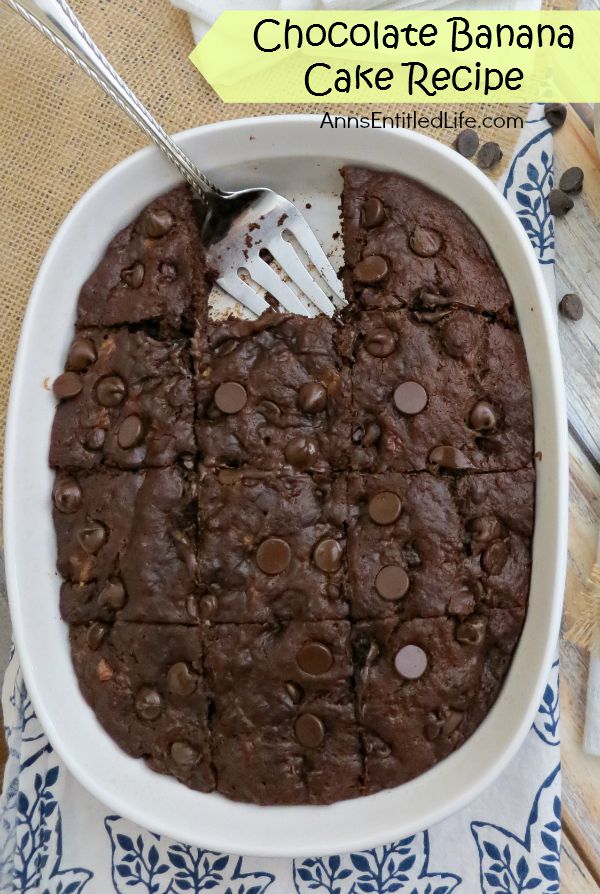 Chocolate Banana Cake Recipe
By Ann
Moist, tempting and delicious, this intense, fudgy Chocolate Banana Cake Recipe is fabulous with ice cream after dinner, or with milk for breakfast!
Prep Time:15 minutes
Cook time:30 minutes
Ingredients:
• 1 ¼ cup Flour
• ¼ cup + 2 TBSP Unsweetened Cocoa
• ¼ cup Brown Sugar
• 1 tsp Baking Soda
• ¼ tsp Salt
• 3 ripe Bananas (approximately 3.5 cups)
• ½ cup Coconut Oil, melted
• 1 tsp Vanilla Extract
• 1 cup Semi-sweet Chocolate Chips, divided
Directions:

• Preheat oven to 350°
• Spray a 1.5-quart baking dish with non-stick cooking spray and set aside.
• In a large bowl, mix the flour, cocoa, brown sugar, baking soda and salt until well combined.
• In a separate large bowl, whisk together the mashed bananas, vanilla and coconut oil until smooth.
• Add the dry ingredients to the wet and mix until just combined.
• Add the chocolate chips and stir until just combined, reserving a few chocolate chips to sprinkle on the top of the cake.
• Pour the batter into your prepared dish and sprinkle with the reserved chocolate chips.
• Bake for 30-35 minutes at 350° or until a toothpick inserted in the center comes out clean.
Makes 12 servings Chocolate Banana Cake
• To print the Chocolate Banana Cake recipe click here.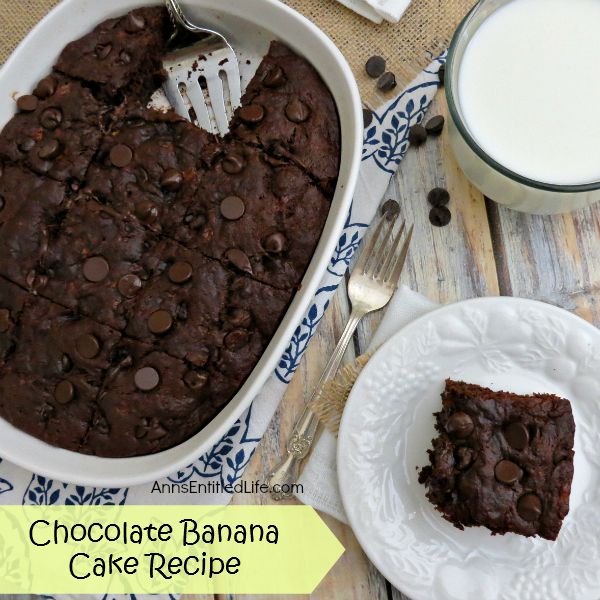 Note:
• It's important to use bananas that are very ripe. Not only do ripe bananas add most of the sweetness in this recipe, but they also help keep it very moist.
• If you don't have Coconut Oil
you can substitute vegetable oil.
• If you prefer your desserts to be extra sweet, you can add 1/4 cup white sugar to the dry ingredients.
• This has a very intense chocolate flavor. If you prefer a milder flavor, you can decrease the amount of cocoa and use milk chocolate chips instead of semi-sweet.
---
• Disclosure the links in this post may be affiliate links.
• For more Recipes on Ann's Entitled Life, click here.
• If you enjoyed this post, be sure to sign up for the Ann's Entitled Life weekly newsletter, and never miss another article!
---
---
FOLLOW US ON: