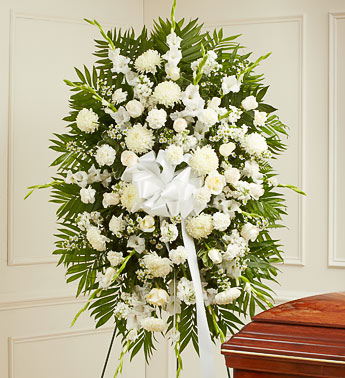 I wasn't sure I should, or wanted to, say anything on this blog about my Grandfather passing away. However, since many of you have been following me online for the last five years (or more), and I have written about Grandpa frequently, my no longer mentioning him may have caused some of you to wonder.
Grandpa passed away last month at the age of 95. No one will ever convince me otherwise, but he took a fall two weeks prior to his passing, and while he didn't break anything (that anyone knows of), to me that was the beginning of the end.
My grandfather was a good man, and we all miss him. Yes, 95 is a wonderfully long life – one he lived without any regrets. Can you imagine!? Everyone has regrets, but my grandfather always said he had a perfect life – great wife, wonderful family, a job he loved, the best of health – his life was one without regrets, and he always said he wouldn't have changed a thing.
No one didn't like Grandpa. His best friend mentioned the same thing to me at his wake… my grandfather had no enemies, and everyone who met him, and those that knew him well, always spoke of him with the highest regard.
My first memory is actually of my grandfather. Back when I was 2 1/2, my sister (who was 1 1/2 at the time) and I crawled into a car in my parent's driveway, and "one of us" (that would be me), released the brake, and we rolled out into the street inside that car.
I recall my grandfather running out the side door after us (yelling, and none too happy) – he was running to rescue us from harm!
When we were sitting around after dinner one night 20 years or so later, the topic of earliest memories came up. I mentioned that incident as my earliest memory. My father and grandfather could not believe I recalled what had happened. I was really only a baby! Clearly it left a lasting impression. No one had ever mentioned what happpened in the ensuing years, so for me to have relayed that episode as my earliest memory was a bit of a shock to everyone. My father and grandfather of course, remembered the incident well.
Hubby and I are already missing the little things about Grandpa – how we'd go out to lunch with him every Friday, how Hubby would make him soup (and wow did he love Hubby's soups), how we'd always look for candy deals because my grandfather was a chocoholic. We miss the little routines we all had with him once he gave up golfing and driving, and became a bit more dependent upon friends and family for day to day living. We do have a house full of things he made over the years to remember him by though. My grandfather was a cabinet maker by trade. His (large) newspaper write up said his title was "mechanical engineer" when he worked on the floor at Kittingers.
My grandfather is the last of my four grandparents to pass away. It seems strange to me to not have a grandparent. I have always had a grandparent around to lend help and support (and believe me, by paternal grandparents lent us a lot of help and support). I miss him. I will probably always miss him. I take comfort in knowing that he is reunited with my grandmother, and that the suffering of his last few weeks is over. He taught me a great deal over the years, but mostly he taught me to be a good person; all I have to do to accomplish that, is to emulate him.
---