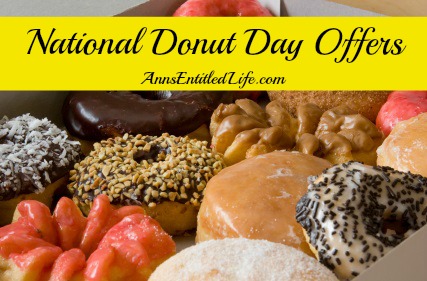 National Donut Day Offers 2013
• Kangaroo Express Donut Day Offer: Guests can stop by any participating Kangaroo Express between 7 and 9 a.m. on June 7 to enjoy a complimentary fresh, delicious donut. (One per customer, while supplies last.)
• Krispy Kreme National Donut Day Offer: Celebrate National Doughnut Day! Stop In For A Free Sweet Treat Stop in to Krispy Kreme on June 7 at participating US and Canadian locations Krispy Kreme Participating Locations for a FREE doughnut of any variety. No purchase necessary.
• LaMar's Donuts and Coffee National Doughnut Day Offer: In honor of Donut Day on June 7th, LaMar's invites you to come in from 10:00-11:00AM, Monday through Wednesday and enjoy a small, freshly brewed FREE COFFEE with your purchase of a donut! Only available at participating locations.
• Shipley Donuts National Donut Day Offer:
Join us on Friday June 7th as we celebrate our favorite holiday- National Donut Day! Visit any of these participating locations from 5 am- 12 pm (noon) and receive one glazed do-nut, FREE! *This offer is only valid at participating locations. No substitutions. Free donut is valid on glazed only. Excludes all filled donuts, iced donuts, rolls, twists, kolaches and donut holes. Not redeemable for cash. No purchase necessary.
• Tim Hortons National Donut Day Offer: Free Donut with any purchase on 6/7/2013. It will be for new and current Facebook fans. Here is the Tim Horton's National Donut Day Coupon Link!
• Tops Markets National Donut Day Offer – free donut with click to card coupon
National Donut Day was first celebrated by The Salvation Army in Chicago in 1938 to help raise needed funds during the Great Depression and commemorate the work of the "donut lassies" who helped make the donut what it is today by feeding the tasty confection to American soldiers during World War I. The donuts became synonymous with The Salvation Army, as well as the American soldiers who were returning home with the nickname, "doughboys."
• In conjunction with the Salvation Army, Entenmann's has this National Donut Day contest.
I originally posted these offers on Coupons, Deals and More