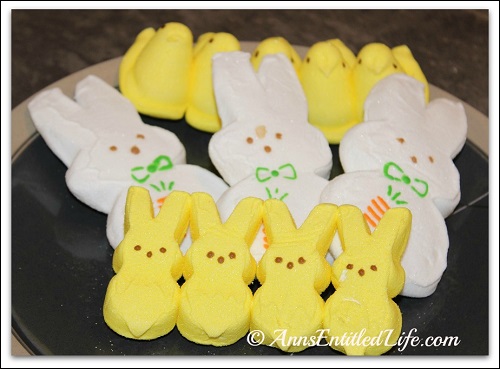 Yeah yeah, some people would say that honor belongs to milk. My opinion? Milk-smilk! Stale peeps have it all over ever other food… except possibly Nutella.
A few weeks ago Hubby bought a load of 90% off Easter candy. Included were a few packages of peeps were included in that haul. I immediately opened the packs to air out, and promptly forgot about them.
Hubby and I went away for the weekend (the infamous hair convention) and when I got home, I had the super pleasant surprise of stale marshmallow peeps!
Made with sugar and corn syrup (yum!), fairly low in calories, marshmallow peeps change consistency when dry. When soft and fluffy, they are like a sugary marshmallow (as opposed to a non-sugary marshmallow I guess). But, when allowed to dry out and go "stale" they take on a chewier consistency. Hubby compared it to marzipan treats he once had in Italy, without the high price.
Whatever, all I know is this is the food of the gods! But only in its stale form. Fresh and fluffy peeps? Just not for me.
Do you have any er, odd, candy likes? Do you doctor-up a candy in some way to make it more palatable? Details please!