I live in wild kingdom. Marlin Perkins could have filmed in my neighborhood. On any given day the area can have: opposum, mice, owls, hawks, skunks, geese, ducks, rabbits, deer, snakes, voles, and probably 10 other animals that I have forgotten to name. Knock on wood, we don't have a racoon problem here, but that's about it.
Oh, but no bear sighting anywhere near us this year. Yet.
Now while I kid that I live in the boonies, I actually live in a very populated area, in a subdivision that is pushing 40 years old, and the main roads nearest to me have tons of traffic daily!
But, apparently the wild life has not gotten the memo that people have taken over their habitats, so we all compete for space.
While some people in my area consider the deer the biggest nuisance – and I agree that they can cause a lot of grief when they dart out into traffic, or destruction when they chew up a garden, for myself I live on the other side of water, and have only seen deer tracks on my street a few times since we've moved here.
The geese are quite another story.
Sometime, maybe four-five years back, the Canadian Geese got lost at the border and decided western New York was "close enough" to Canada, so they took up residence in the area. These pooping, squawking machines can destroy yards, roofs, and leave a giant mess behind on sidewalks and near waterways. An empty field is heaven for these creatures, and hell for anyone wanting to play soccer, take their dog for a walk or just have a seat on the grass and look at nature. Believe me, you'll get a lot of natural-substance on your feet or rear-end if you try walking or sitting when the ducks have been.
Fortunately, my street has a secret weapon: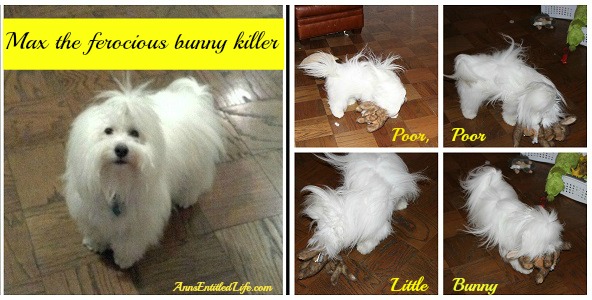 His name is Max.
A few years ago, we had a gaggle of geese on the lawn next door, and apparently I didn't secure Max's leash when I took him out for a walk. He tore-off after those geese like a mutt on a mission!
That was the last of the geese on our street for the remainder of the year.
The geese tried again the following year, and this time I deliberately let Max go after them. Again, geese-be-gone on the street.
The key part of this story is the ground area was clear of geese due to Max. Those damn quackers figured out the dog could not reach the roof, and would land and sit on various roofs in the neighborhood and proceed to do what geese do best: squawk and poop. However, what the geese didn't count on was the fact that at our house they may be out of reach of the dog but they were not out of reach of the crazy-woman with a dozen tennis balls and pretty good aim that also resided there. While the geese would occasionally squat on someone else's roof, they stayed clear of our roof for the rest of the year.
Last year was more of the same with Max chasing off the geese, and the geese coping a squat on some roofs in the neighborhood, but ignoring our roof.
This year, we have seen the geese back on the street-level bold as brass several times. I hesitate to let Max go after them because of his back. The landscapers told us a few weeks ago that we have a nest of duck eggs under our front bushes (we can't see them). We suspect that if there are eggs, they might be goose eggs, and that is why we saw a few geese on the street on more than one occasion. If it is goose eggs … that is bold. Max does go to the front yard on a leash, so why would you subject your little goslings to the terror known as Max?
Which brings me to my dilemma. We are getting a new roof. I have asked for spikes or prongs or something at the top of the roof-line to deter the geese from sitting on the roof. It doesn't have to necessarily be sharp, just something to make it uncomfortable for them to squat – and poop – on the roof. Nothing will wreck a roof quite as fast as goose turds.
Does anyone have anything like this bird spikes on your roof? If you had a goose problem before putting those spikes up at the top of your roof-line, did that solve your goose problem?
Note: I had great difficultly naming this post. The title was Hubby's idea.