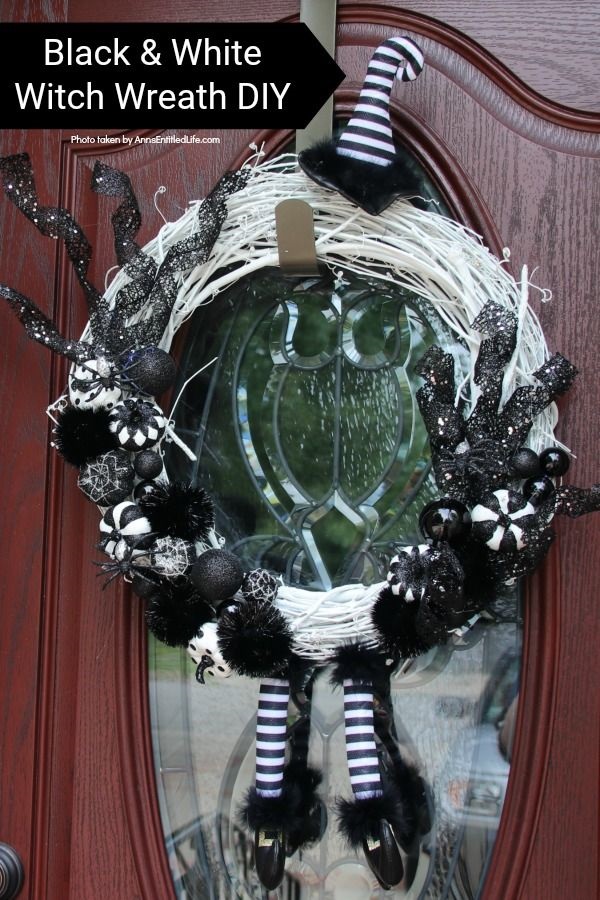 Make your own witch wreath for Halloween this year using these easy step-by-step tutorial instructions. This monochromatic black and white witch's door decor wreath is simple to make and look oh so elegant. Seriously. Elegant Halloween decor! Who would have thought! Get the straightforward instructions below!
Black and White Witch Wreath DIY
This is simply stunning in person. Again a photography fail by me as good photography would have each and every one of you making this truly special Halloween wreath!
Even though this looks complicated, you can complete this black and white Halloween wreath in about 30 minutes.
Notes:
● Grapevine wreaths can be more difficult to work with as the vines can be pretty close together. If your grapevine wreath painted or natural, and the vines are tight, do not let this frustrate you, simply pull them apart!
● This is is an asymmetrical wreath. If you would like it to be symmetrical, simply buy enough alike picks to make it happen. I honestly think this would be gorgeous completely surrounded with picks, but unless you purchase the materials at 75% off after Halloween, that would cost a fortune!
● You do not have to do black and white. Other Halloween color combinations that would work are black and green, black and purple, black and orange, purple and green, etc.
● If you are going with black and white, check out the Christmas section at your local craft store for a white wreath!
● While this is done on an 18″ wreath, a 16″ wreath would also work. A 14″ wreath would be too small. If you can find a larger hat than a pick, you could increase the wreath size to 20″ (but only with a larger hat).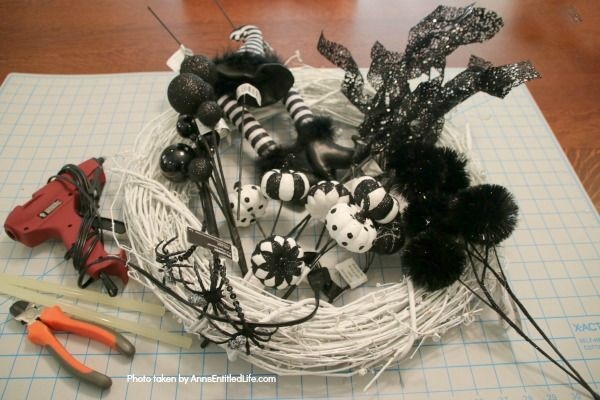 Black and White Witch Wreath DIY Materials:
● 18″ Grapevine Wreath (white was used)
● 3 Ribbon Black Picks
● 3 Pumpkin Picks (3 pumpkins per pick)
● 1 Spider Pick (2 spiders per pick)
● 2 Pom Pom Picks
● 2 Black Balls Picks
● Black and White Witch Hat
● Black and White Witch Legs
● Scissors
● Cutters
● Glue Gun
● Hot Glue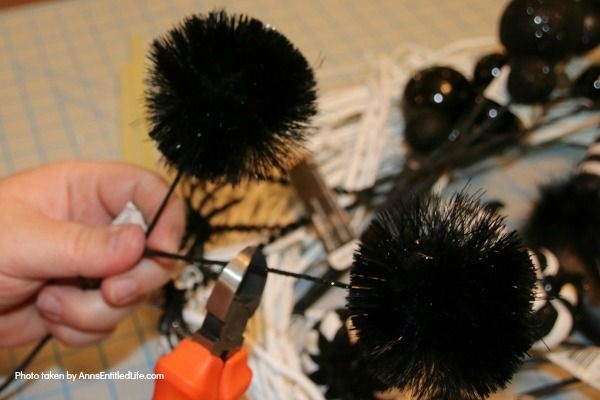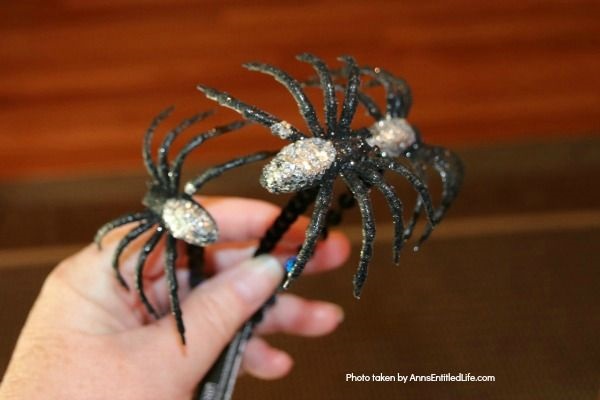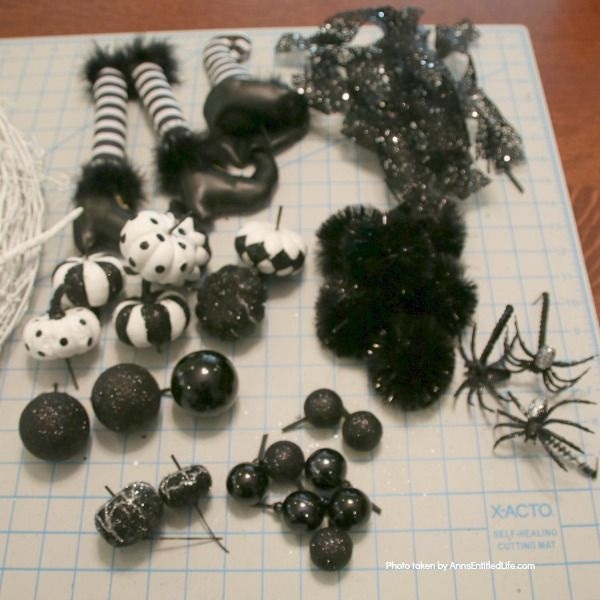 Black and White Witch Wreath DIY Directions:
● Cut down your picks. Because you are working with a grapevine wreath some of the picks may be cut off completely. Your best bet is to do two cutes – one short, and a second cut that is either shorter or off completely.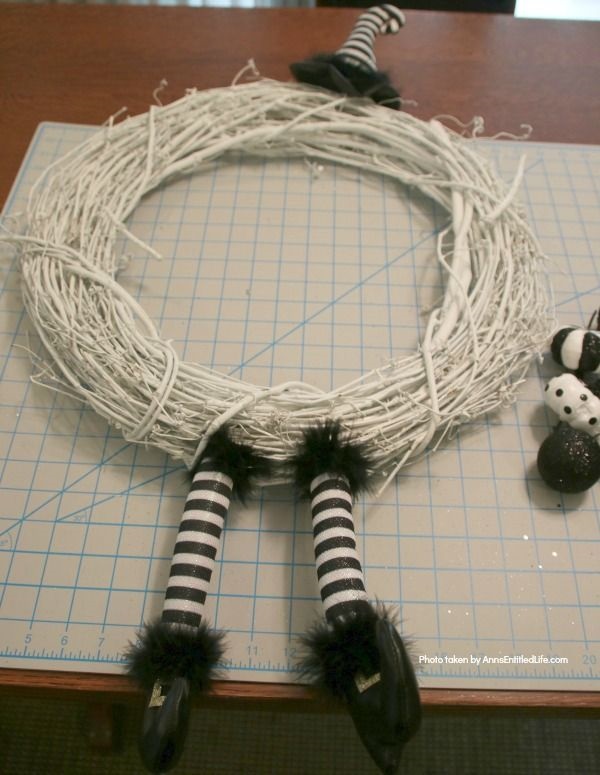 ● Hot glue the hat and the feet to the grapevine wreath. These feet were hot glued straight out. If you are hanging this between a storm door and your house door, position the feet so they lay flat.
● The hat is slightly off center as this is an asymmetrical wreath. Make the wreath off-center to the side where you plan a lighter build up of pumpkin picks.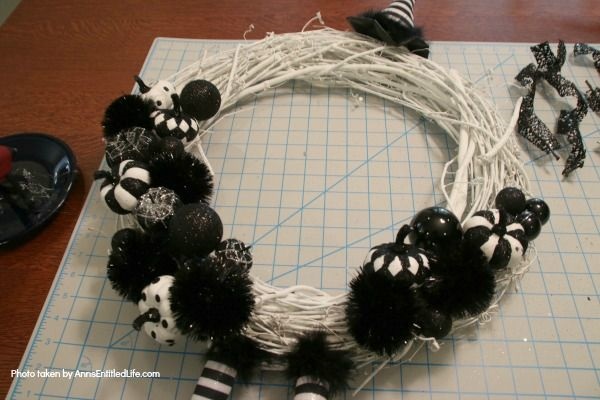 ● Build the pumpkins up the wreath starting from the bottom of your wreath. You want this heaviest at the bottom, un-clumped, and pay attention to the textures, sizes, and patterns of the pumpkins you choose to use. Build higher on the side without the hat.
● Hot glue each pumpkin in place.
● Add in pom poms to break up the pumpkins.
● Hot glue in place.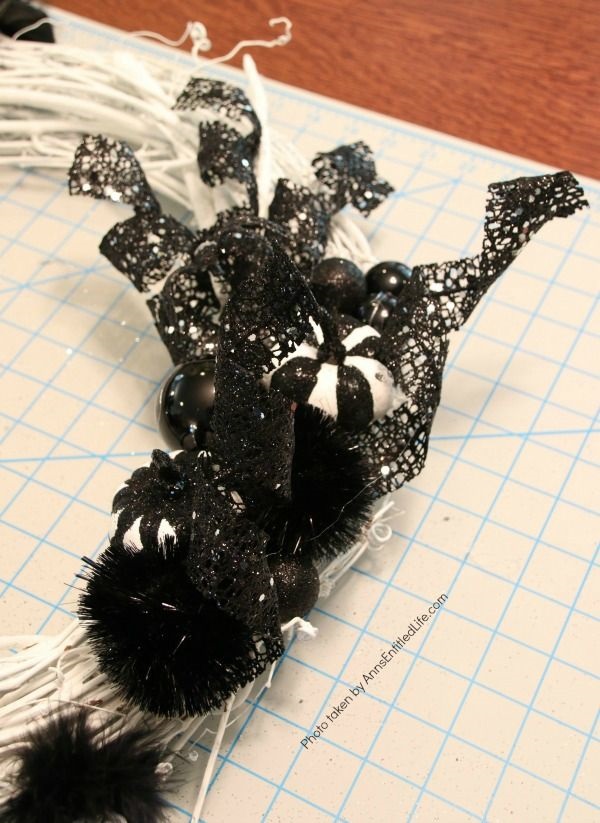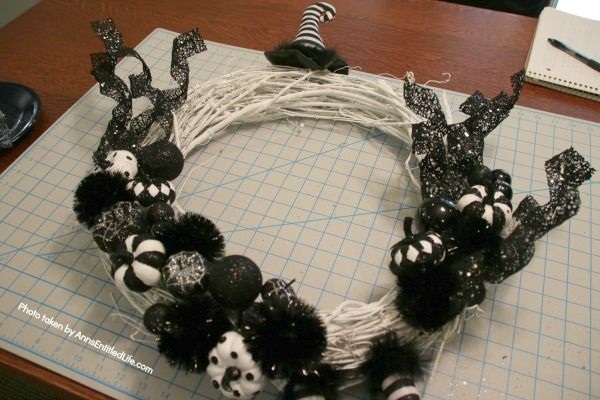 ● Insert the black ribbon spikes at the top-most of your pumpkin trail.
● Hot glue into place.
● The black ribbon spikes are very mallebale for both width and height. Take advantage of that and pull them for added height, compress them to make the ribbon tighter, smaller, and denser.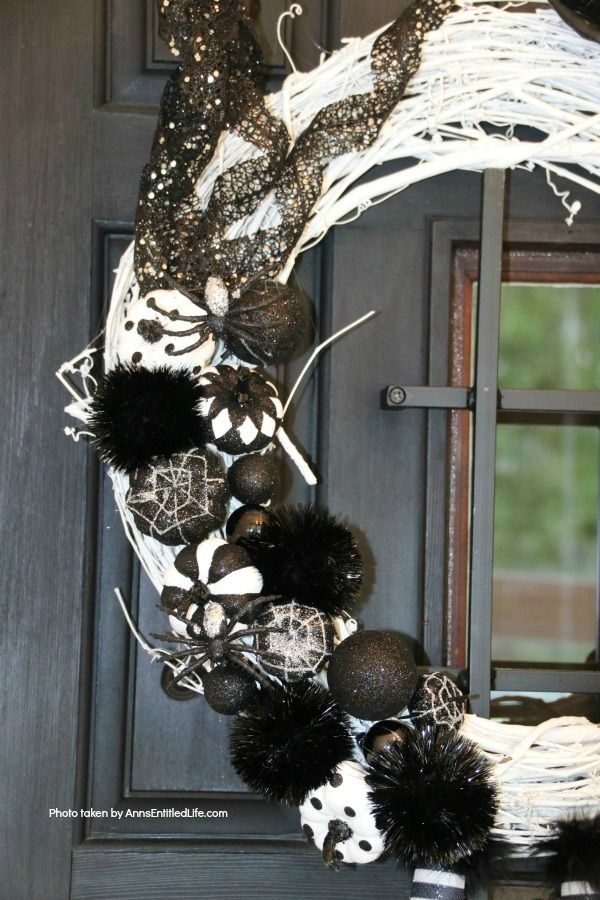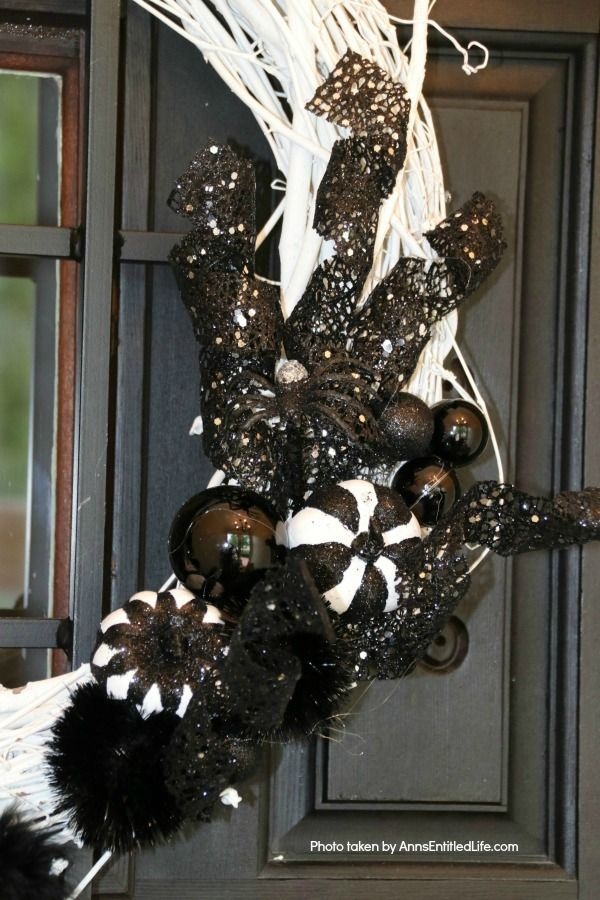 ● And you are done. There is no hanger as this is door decor and not a hanging wreath. If you would like to hang from a ribbon instead of the grapevine wreath, simple add one!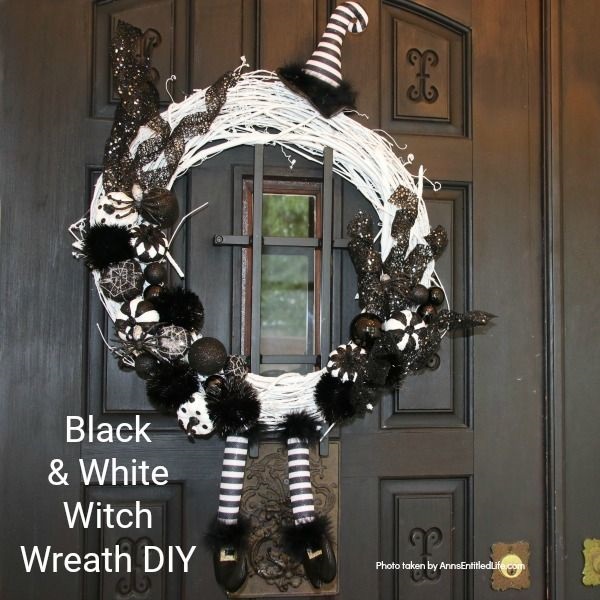 ● Display as desired.
If you would like to make some other fun and whimsical Halloween wreaths, you might want to try these:
● DIY Spooky Spider Halloween Wreath – This simple to make homemade Halloween wreath is spook-tacular – and takes only 15 minutes to put together. If you are looking for easy do it yourself Halloween decor, look no further than this DIY Spooky Spider Halloween Wreath, and make one today!
● Haunted House Halloween Wreath – Ever wanted to own Dorthy from the Wizard of Oz Ruby Slippers? Well, now you can make your own ruby slippers employing these simple step by step instructions.
● BOO-Tiful Halloween Wreath -This whimsical haunted house Halloween wreath is an easy to put together – truly a 15-minute craft! If you are looking for simple Halloween wreath ideas, look no further than this fun haunted house Halloween wreath DIY!
---
● Disclosure: the links in this post may be affiliate links.
● For more Craft posts on Ann's Entitled Life, click here.
● If you enjoyed this post, be sure to sign up for the Ann's Entitled Life weekly newsletter, and never miss another article!
---