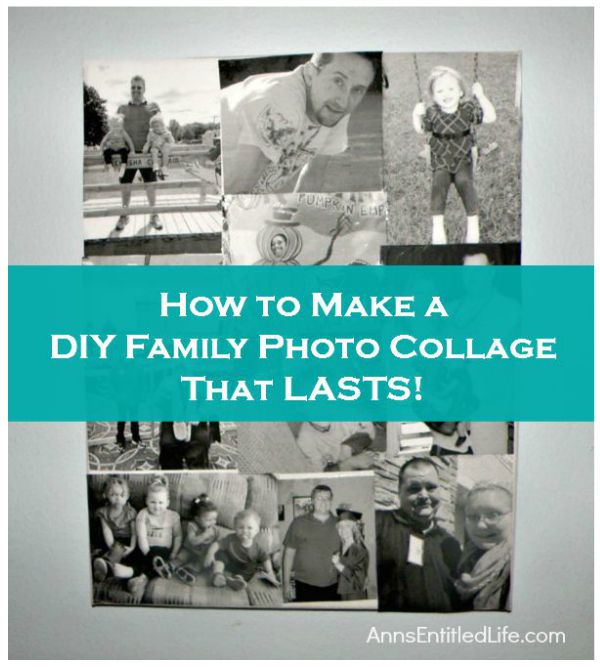 How to Make a DIY Family Photo Collage That LASTS!
Want to make a lasting photo collage that tells a great story about a memorable family event? The trip to the zoo, a wedding, a picnic or simply a lazy day in the backyard playing games and lounging poolside as family are all remarkable and important times you don't want to forget. Creating a do it yourself family photo collage that will last and last, is a wonderful way to keep those extraordinary family moments fresh.
A photo collage can tell so many stories, they can be fun, memories of a family member we have lost, family photos that are your favorite, the possibilities are just endless. When you create your own photo collage you want to plan ahead what you want your collage to say; the story you would like to tell when people view your collage. Once you have an idea of what type of photo collage you would like to make, you can start with these easy steps to create it.
Materials:
● 11″x14″ Blank Canvas (You will want a thicker side to your canvas)
● 1 bottle of Anita's All Purpose Paint (Any color you would like)
● 3 Foam Brushes (The smaller sizes work great)
● 12-14 Photos that you want to use for your collage (On your computer)
● Computer printer (Black ink or Color)
● Mod Podge
● Scissors
Once you've made a photo decision, the next step is to decide on color or black ink. You can use either so it's really up to you which you would like to use. This collage (showed above) uses black ink for a black and white color effect. You can print out your pictures if they are already size you would like them. I use 3″X5″ photos and wallet size for my photo collages. You can resize them with Picmonkey.com if necessary. Pickmonkey also allows you to brighten, darken, clarify and crop your images. Pickmonkey is a great free tool to manipulate photos (I use it all the time, albeit the paid version). If your not sure how to use PicMonkey, this youtube video has great instructions.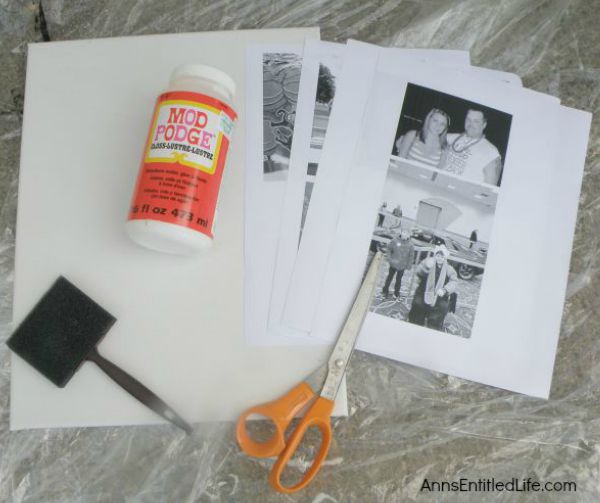 When your edited photographs are the size you would like them to be for your collage, save them on your computer and then print them out. You will have several sheets of paper with your photos on them. Now, cut your photos from the paper, and lay them side by side.
If you plan to paint your canvas to cover the sides or the whole canvas, now would be the time to paint it. If not you will continue onto the next step.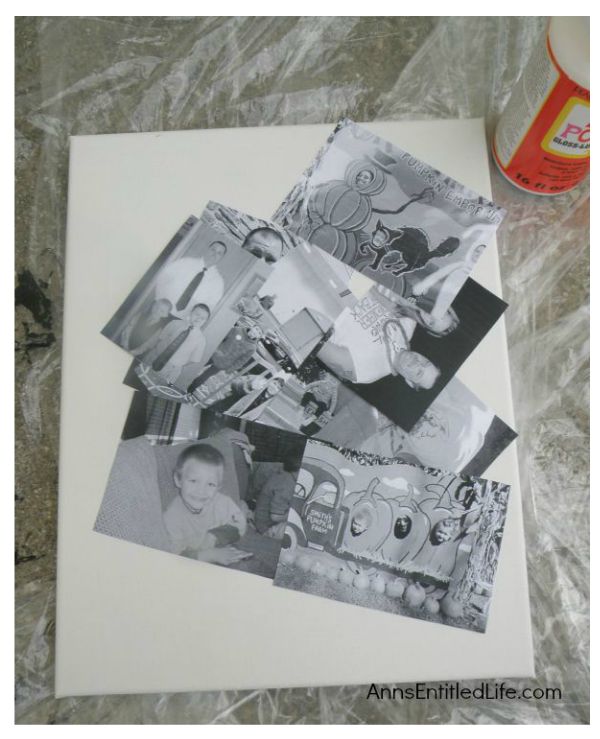 You now want to lay out your photos around to see how they will best fit onto your canvas. While you are moving the photos around you can also trim any photos that need trimming so all the photos fit your canvas. Once you have the layout that you like for your canvas and everything is fits well. You will move onto the next step.
Move your photos off to the side, but in the exact same layout you just finagled in the last step. Make certain the photos are easy to grab as you need them.
Now that you are ready to add your photos to the canvas this step can be a little tricky:
● Place a thin layer of Mod Podge on the first edge of the canvas.
● Now, take the photo that goes on that side and place it on the area. Once you have placed the photo you will need to run your fingers over the top of it so there are no wrinkles.
● Continue this process till all the photos are placed on the collage.
● Now let the canvas dry so that the photos will be adhere to the canvas.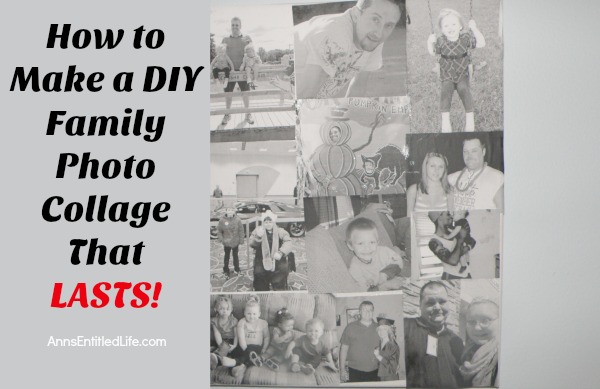 Your last step for the photo canvas is very easy.
● Place a thicker layer of Mod Podge over the top of the photos and then allow it to dry.
● The photos will be white due to the Mod Podge but once it dries it will be clear and leave a shine on the photos.
● This is a nice protective coat to prevent fingerprint damage, smudges, and more.
Your family photo collage should last you a long, long time!
Note: you can do this with shapes and cut-outs too for a decorative art piece.
I would like to thank Debbie Schuster from A Mom's Paradise for sharing her Photo Collage expertise, as well as her family photographs, with us!
---
● Disclosure the links in this post may be affiliate links.
● For more Craft Posts on Ann's Entitled Life, click here.
● Click here for more Library Topics on Ann's Entitled Life.
● Enjoy this post? Sign up for the Ann's Entitled Life FREE Weekly Newsletter to stay connected.
---