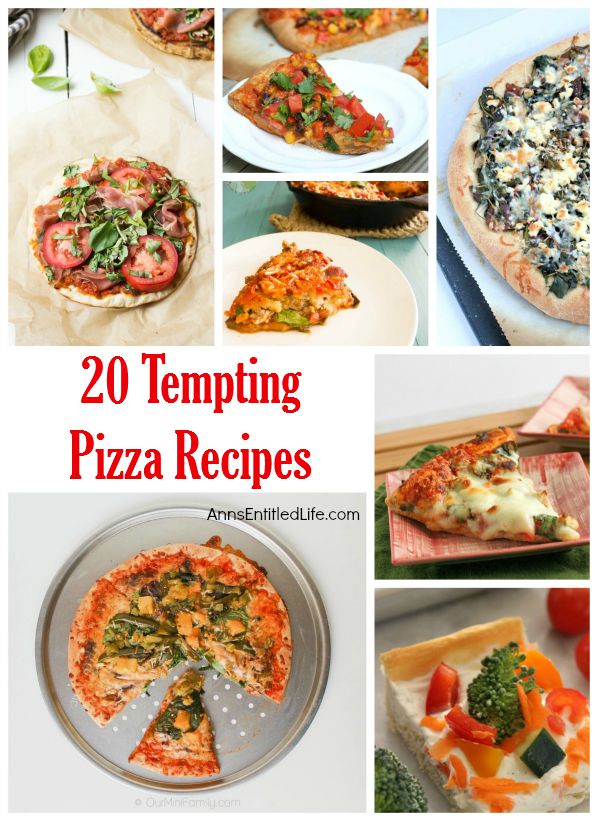 20 Tempting Pizza Recipes
Pizza lovers rejoice! From pepperoni to pineapple, from casseroles to sandwiches, these 20 Tempting Pizza Recipes are oozing with delicious goodness in every single bite!
● Bubble Up Pizza Bites | Hey What's For Dinner
● Buffalo Chicken Pizza | A Family Feast
● Grilled Paleo Pizza | Wicked Spatula
● Grilled Pizza Recipe | Mommy Snapped
● Grown-up English Muffin Pizza Recipe | Our Best Bites
● Kale, Spinach and Swiss Chard Pizza | Crowther Cafe
● One Pot Pepperoni Pizza Pasta | Cincy Shopper
● Paleo Pizza Burger | A Girl Worth Saving
● Pepperoni Pizza Grilled Cheese | Love Bakes Good Cakes
● Pizza Casserole | Sweet Treats More
● Pumpkin Dessert Pizza| A Girl Worth Saving
● Ranch And Goat Cheese Pizza Living Sweet Moments
● Sweet Potato and Chickpea Pizza | Mommy Moment
● Thick Crust Sourdough Pizza | Nourishing Time
● Vegetarian Confetti Pizza | Crowther Cafe
● Whole Wheat Spinach Artichoke Pizza
● Whole Wheat Bread Machine Pizza Dough
---
● If you enjoyed this post, be sure to sign up for the Ann's Entitled Life weekly newsletter, and never miss another article!
● For more Recipes on Ann's Entitled Life, click here.
---