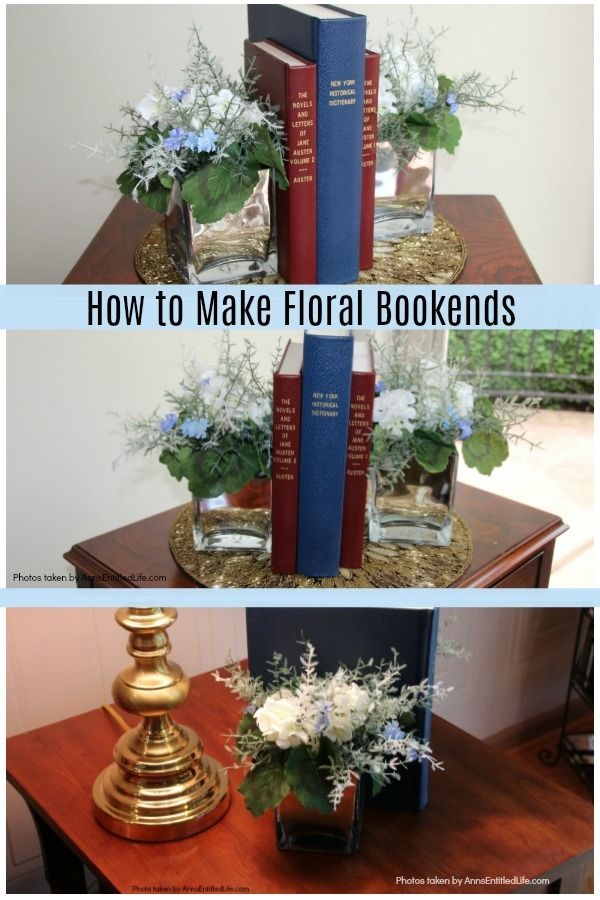 These decorative bookends are so easy to make! In less than 15 minutes you can make a set of unique bookends to match your room decor or to give as a gift (a great teacher gift!). Highly customizable, these step by step instructions will show you how to make floral bookends for any season, color scheme, or decorating taste.
How to Make Floral Bookends
These super simple to make floral bookends come together quickly. The ones in this tutorial were made with "leftovers". The glass containers were leftover from wedding decorations, the floral was sitting in a closet for years. This is a great way to use up the odds and ends you have from prior craft projects.
Of course, you can purchase new. My suggestion would be to look in a dollar store for a container. The ones in this tutorial would cost $15 to purchase… there is no need for that! Make sure your containers have some weight to them. If they do not, plan on filling in the spaces that are outside the floral foam with glass or rock weight.
Notes:
● If the inside is not metallic to match the glass exterior (and from a dollar store it probably will not be), you may want to spray paint it before you begin. You can find metalic spray paint at your local hardware store.
● When making these bookends you want the floral to look as similar as possible. It will probably not be exact, but go for "close".
● You can use any color scheme you like! You can use any season of flowers you like! In this tutorial, geraniums were used. You could also use small hydrangea, Gerber daisies, small sunflowers, etc.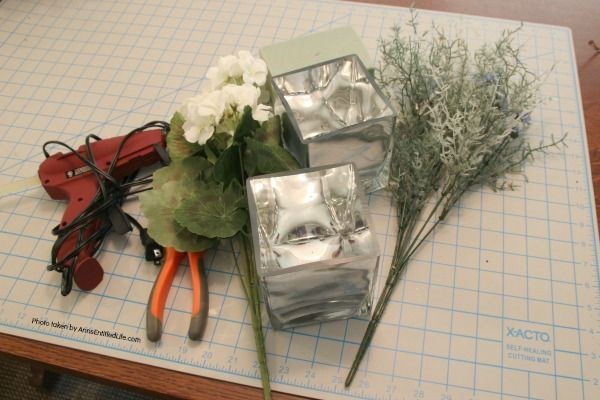 How to Make Floral Bookends Materials:
● 2 alike Glass Containers
● Floral Foam
● Bunches of Small Flowers – one small floral, one wispy
● Glue Gun
● Hot Glue
● Wire Cutters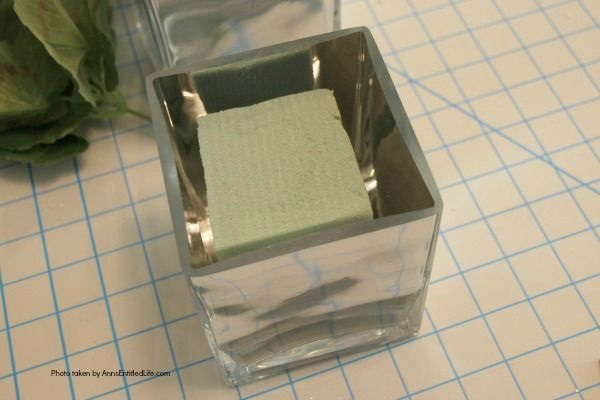 How to Make Floral Bookends Instructions:
● Cut floral foam to fit inside both of your glass containers. Hot glue each piece of foam in place in each of the glass containers. If you need weight to make the glass container heavier, now is the time to add the glass or rocks.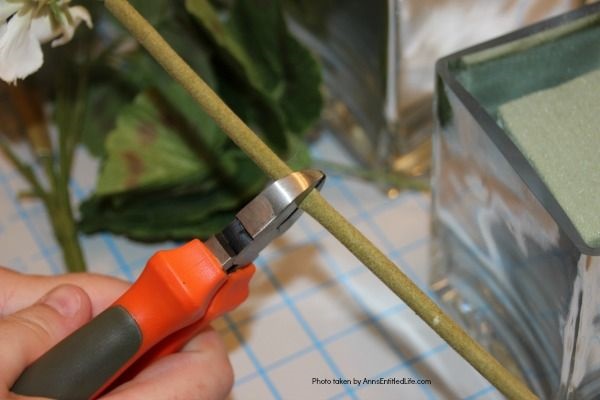 ● Measure your flowers against the glass container. Decide how much of the stem to take off, and clip. This is 2 sets of flowers with leaves, 1 set of leaves.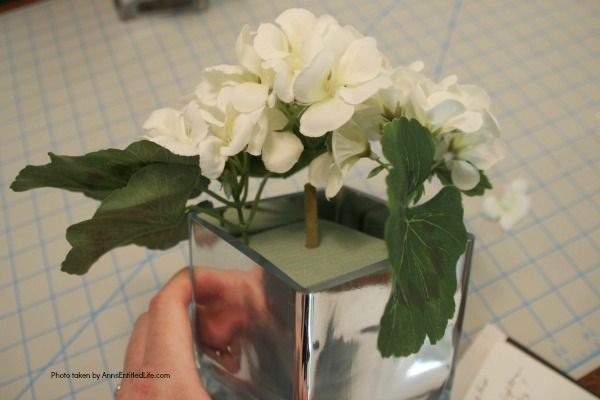 ● Insert the flowers into the foam on a diagonal across the foam. Make sure one side of the flowers is slightly lower than the other side.
● Repeat for the second glass container.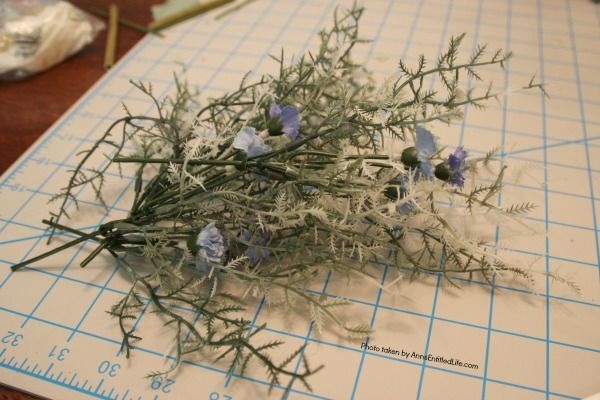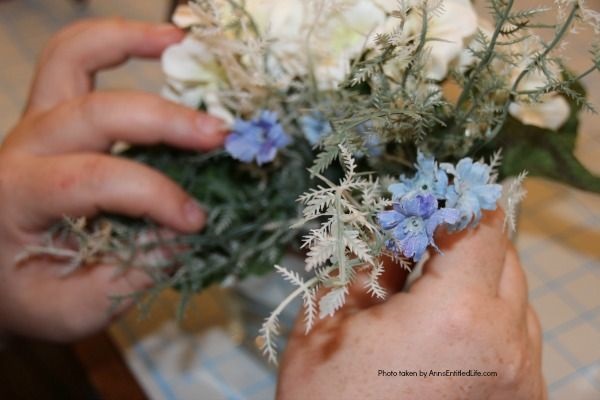 ● Clip down wispy flowers to fill the holes. You are measuring short and longer pieces. And everything is in twos as you are trying to make the floral arrangement as close to a duplicate as possible.
● Insert floral into the foam to fill the holes. Tug the floral so it appears to overlap each flower, and all holes are filled in.
● Repeat the process for the second glass container.
● You can hot glue the flowers into the floral foam (we didn't).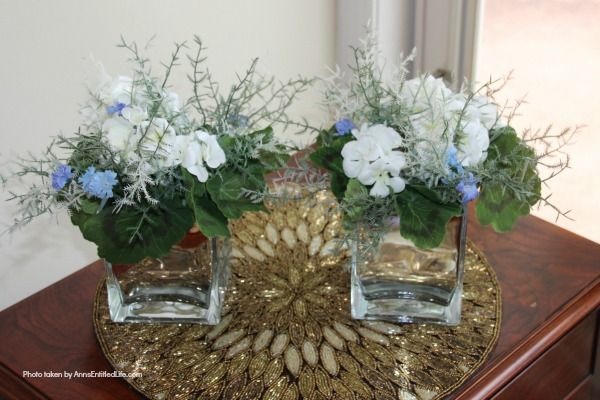 ● Tweak the wispy floral pieces to fill in any spaces.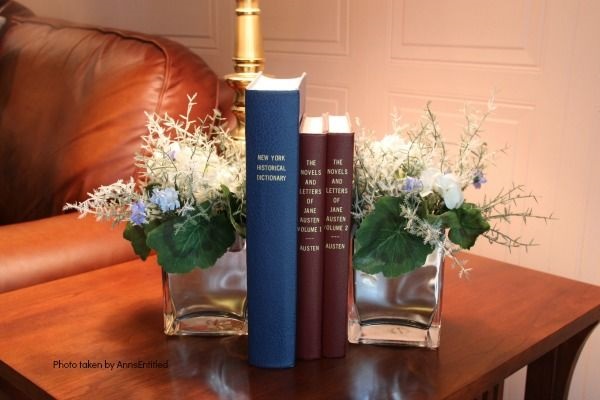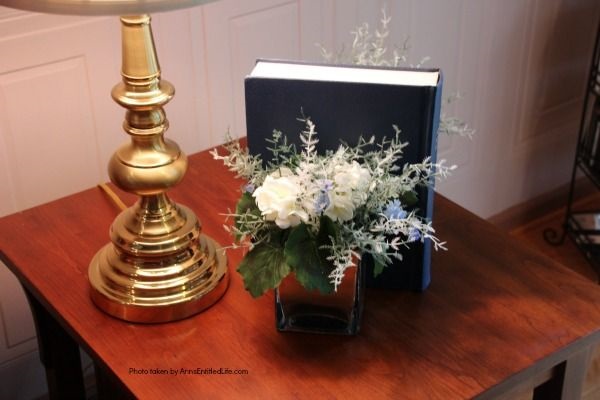 ● Display as desired.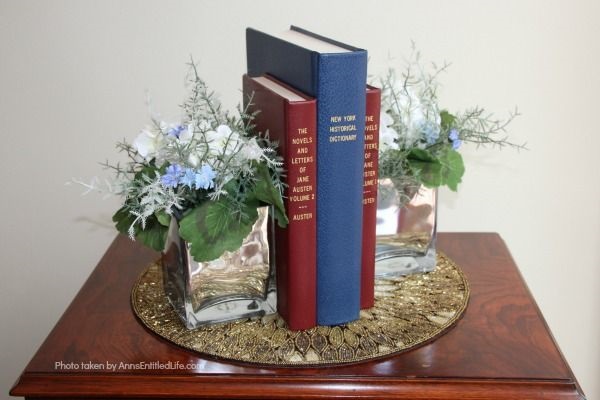 ● My bookends are quite small – I could probably support 6-7 books without worries. Make sure you add one book at a time to avoid the disaster off too much weight and a sliding bookend!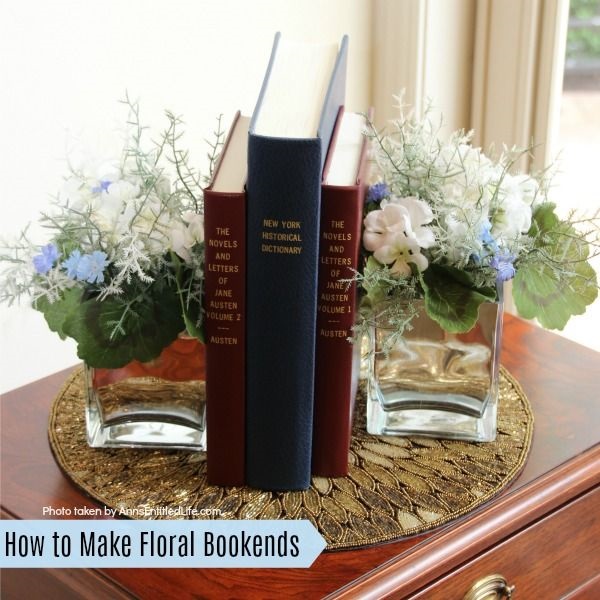 If you enjoy making whimsical book products, you might want to make these:
● DIY Golf Bookends – This fun and charming bookend project is a great craft for a golfer. Whether you are making these delightful bookends to give away, or to add a touch of charm to adorn your own tabletop or bookshelf, these wonderful DIY Golf Bookends will add style and a sense of whimsy to any home decor.
● DIY Graduation Bookmark Memento –
Oh, the places you will go… Whether the nostalgia of a hometown, a high school or college campus location or a fond childhood memory spot, this easy DIY bookmark memento will make you smile as you reminisce.
---
● Disclosure: the links in this post may be affiliate links.
● For more Craft posts on Ann's Entitled Life, click here.
● If you enjoyed this post, be sure to sign up for the Ann's Entitled Life weekly newsletter, and never miss another article!
---