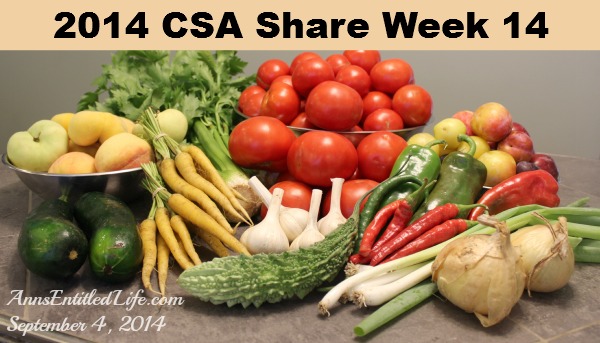 This is the diary of our 2014 CSA share. The cost of our full share is $545 for 22 weeks (this CSA offers a winter share) which will bring us to the last week in October, and works out to $24.75 per week. Western New York weather is such that June is lightest CSA month. September and October will be more than abundant! Usually I feel I don't get my money's worth the first few weeks (which will be predominantly lettuces), but the fall bags more than make up for that.
We also purchased a Fruit Share this year for $180, lasting 18 weeks which works out to $10 per week. The local fruit included in the fruit share starts with cherries, apricots, plums, peaches, nectarines, blueberries, and moves into pears, raspberries and of course apples! This portion of the share begins in July.
---
This week I brought Mr. Max out for a ride with me when I went to pick up the CSA. That meant no u-pick (I sorta planned it that way). Hubby and I spent a lot of time processing produce last week, and I have some excellent recipes coming up in the next few weeks to prove it, but really don't have time to process a lot.
Since my plants went away due to blight, I have to look for tomatoes to freeze elsewhere. I asked Hubby if he wanted to go for a drive for Roma (IMO about the easiest to de-seed and process), but he isn't sure we will have the time this weekend (Max has another Cornell session next week, so we need to get mid-week things done on the weekend). We agreed I would buy more tomatoes at the CSA to be certain we'd have some frozen, and if we got more tomatoes on a ride – bonus!
The fruit is more peaches and plums. I made a fantastic plum pie earlier this week. At first I wasn't going to share the recipe because I had no confidence in what I made. After it had cooled sufficiently, Hubby decided to be the guinea pig (what a guy!), and try the plum pie. He asked me if I wanted pictures before he cut into it, and I told him, "no". He walked away while wolfing his piece of pie down, so I thought that was promising. Hubby can be a tad critical at times.
I served myself a piece of plum pie about 15 minutes later, and then grabbed the camera. Hubby started laughing at me when he heard that! ("I thought you weren't going to share that recipe!?") Yeah, it was that good!
I am making another pie with the plums I picked up this week, even if I just freeze for later.
And yes, I will be sharing that plum pie recipe, but not until September 15th.
2014 CSA Share Week 14
● Beans (green and purple)
● Beets
● Bitter Gourd (hey, it looked interesting!)
● Carrots*
● Celery*
● Chard*
● Cucumbers
● Edamame
● Flowers
● Garlic
● Kohlrabi
● Onions*
● Peaches* (yellow, donut)
● Peppers, sweet and hot*
● Plums* (European, Ozark)
● Scallions*
● Tomatoes*
● Zucchini
* took for share
Do you belong to a CSA? If so, what type? How much? Do you find it as worthwhile as I do?
---
● For more CSA posts on Ann's Entitled Life, click here.
● Mind Your Peas and Cukes pinterest board: All things CSA, Produce, Farmstead Fresh – community supported agriculture, farmstand fresh produce, organic produce, more from all over the United States.
● CSA posts
● Find a CSA
● Porter Farms CSA (we belonged for years)
● Root Down Farm CSA (our 2013 and 2014 CSA)
● NYS Fruit and Vegetable Harvest Calendar
● US Agricultural Data
---