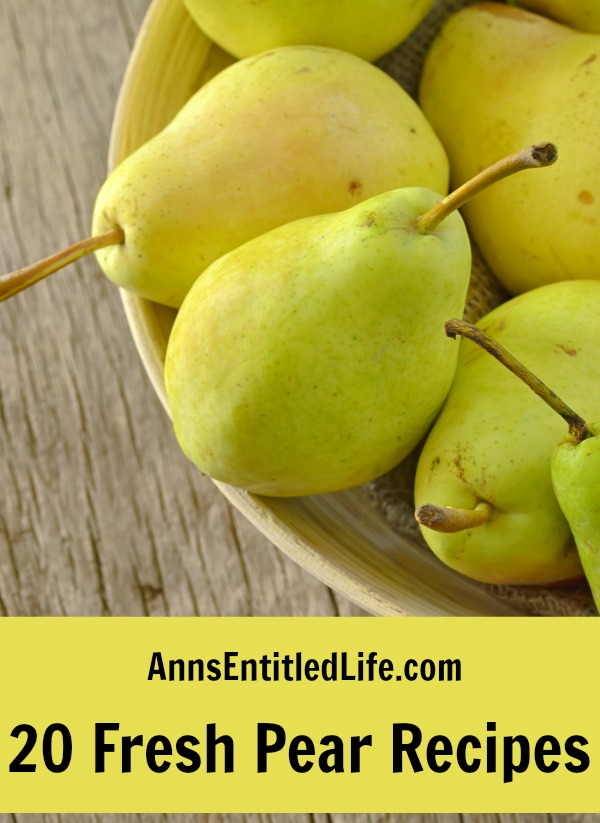 These 20 Fresh Pear Recipes are a sweet taste of fall. Try one of these perfectly delicious recipes for those freshly harvested pears.
20 Fresh Pear Recipes
Pears are fruits grown on a tree and harvested in late Summer into October. There are 3,000 known varieties of pears grown worldwide. In the United States, Barlett, Bosc, Red Anjou, and Concorde are most commonly found in the grocery store.
Pears are used in liquor, sauces, desserts, side dishes, and main entrees. You can make pear butter and pear jams and jellies. There are even bread recipes that feature pears. Many of us eat them fresh.
Below is a list of some terrific pear recipes that you can make from your freshly harvested pear fruit.
● Baked Brie with Pear and Walnuts | Bake to My Roots
● Baked Pears | A Little Claireification
● Canning Pears | Little House Living
● Cinnamon Pear Strudel | Carlsbad Cravings
● Easy Pear Butter | Gimmie Some Oven
● Easy Pear Sauce | Two Peas and Their Pod
● French Pear Martini | Style Me Pretty
● Low and Slow Pear Butter Waffes | Farm Fresh Feasts
● Pear Chips w/ Cinnamon | Frugal Living Mom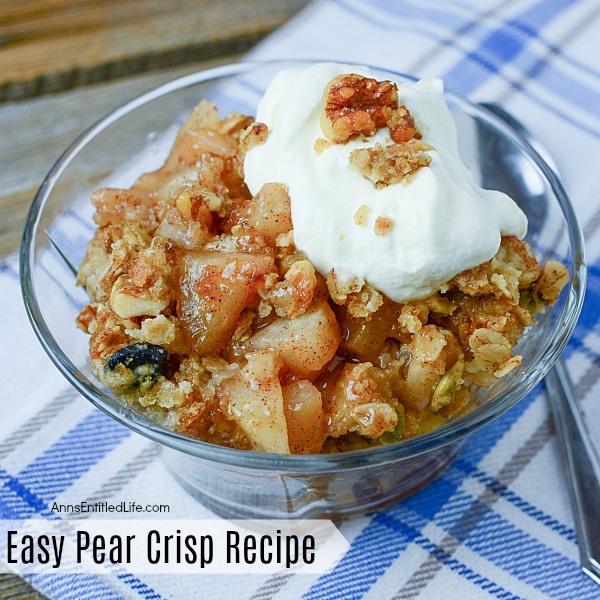 ● Pear Jam Recipe | Larder Love
● Pear Salad | Can't Stay Out Of The Kitchen
● Pear Walnut Crisp | The Kitchen Is My Playground
● Pepper Pear Bread | Bread Machine Diva
● Prosciutto Cups with Pear and Goat Cheese | My Suburban Kitchen
● Spiced Pear and Pistachio Bread | The Wanderlust Kitchen
● Upside Down Maple Pear Walnut Skillet Cake | Call Me PMC
● Vanilla Spice Poached Pears | The Crepes of Wrath
● Wine Poached Pears | Food Renegade
---
● For more Recipes on Ann's Entitled Life, click here.
● If you enjoyed this post, be sure to sign up for the Ann's Entitled Life weekly newsletter, and never miss another article!
---