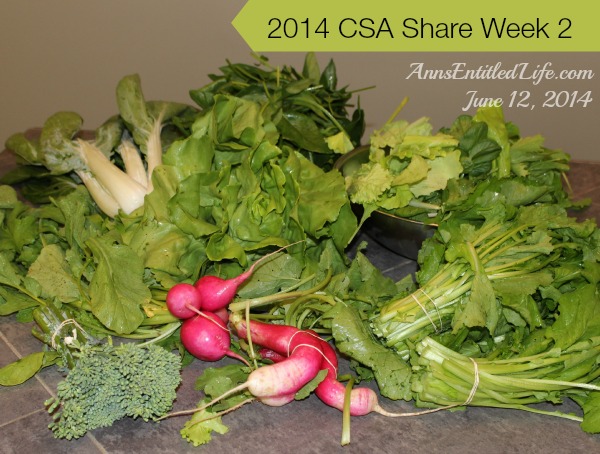 This is the diary of our 2014 CSA share. The cost of our full share is $545 for 22 weeks (this CSA offers a winter share) which will bring us to the last week in October, and works out to $24.75 per week. Western New York weather is such that June is lightest CSA month. September and October will be more than abundant! Usually I feel I don't get my money's worth the first few weeks (which will be predominantly lettuces), but the fall bags more than make up for that.
We also purchased a Fruit Share this year for $180, lasting 18 weeks which works out to $10 per week. The local fruit included in the fruit share starts with cherries, apricots, plums, peaches, nectarines, blueberries, and moves into pears, raspberries and of course apples! This portion of the share begins in July.
---
This week's CSA was basically a repeat of week 1 but with the addition of spinach, and the loss of turnips. Not shocking; I expect a lot of green the first 3-4 weeks, and then more variety the beginning of July.
As soon as I got the spinach home, I got busy deveining it, cleaning, and then sauteing it. I made myself a feta and spinach omelet and then froze half of the remains of those sauteed spinach greens for future omelets, and kept out the other half for one more delicious breakfast this weekend. If we get more next week, I will do a dip or creamed spinach. It is funny – spinach is one vegetable that I'd have never touched when young, and now I love it!
The rest of the produce from this week is for Hubby to make stuff with. He made a delicious broccoli soup last week using up the broccolini and raab. That recipe will be posted soon!
On to this week's CSA pick-up:
2014 CSA Share Week 2
● Bok Choy
● Broccoli Raab
● Broccolini
● Head Lettuce
● Radishes (French and round)
● Red Leaf Lettuce
● Spinach
● Various Greens – including Arugula, Tot Soi, Vitamin Greens and Tokyo Borkan
I still have hope of seeing some Romaine in the near future.
Do you belong to a CSA? If so, what type? How much? Do you find it as worthwhile as I do?
---
● For more CSA posts on Ann's Entitled Life, click here.
● Mind Your Peas and Cukes pinterest board: All things CSA, Produce, Farmstead Fresh – community supported agriculture, farmstand fresh produce, organic produce, more from all over the United States.
● CSA posts
● Find a CSA
● Porter Farms CSA (we belonged for years)
● Root Down Farm CSA (our 2013 and 2014 CSA)
● NYS Fruit and Vegetable Harvest Calendar
● US Agricultural Data
---