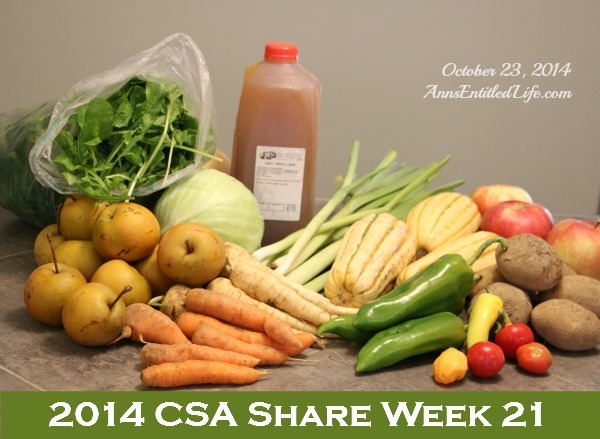 This is the diary of our 2014 CSA share. The cost of our full share is $545 for 22 weeks (this CSA offers a winter share) which will bring us to the last week in October, and works out to $24.75 per week. Western New York weather is such that June is lightest CSA month. September and October will be more than abundant! Usually I feel I don't get my money's worth the first few weeks (which will be predominantly lettuces), but the fall bags more than make up for that.
We also purchased a Fruit Share this year for $180, lasting 18 weeks which works out to $10 per week. The local fruit included in the fruit share starts with cherries, apricots, plums, peaches, nectarines, blueberries, and moves into pears, raspberries and of course apples! This portion of the share begins in July.
---
Well, after complaining all year about little things with this CSA, and getting the renewal notice last week, it was time to do some research to decide if I could get over what I disliked this year, or move on. After a pretty extensive search, we found a few that were quite local.
One CSA I found was a good $300 more expensive a year than our current CSA, so forget that one. Another CSA was about 3 minutes away, offered eggs as an option, and would have been $1.50 less per week. No u-pick though. So, we had to weigh whether or not we got $30 worth of u-pick produce in 2014 and in 2013, and the truth is we did – plus a lot more.
Now that new, close place would also have been bagged. That would have been a perk. And the eggs… definitely a perk. But working with what was offered on what day of the week, cost, and upick options, we decided to stick with our current CSA. While not Porter Farms cheap (what CSA is!?), it apparently is not that expensive either. The pick-up day really works for us. I am hoping the extra, earlier, hour of pick-up time alleviates the congestion and one of my biggest peeves about the CSA this year.
We "locked in" at the 2014 prices, and I dropped off a $735 check yesterday. The $180 for the fruit share was soooooo worth the expense that there was no way we were not buying that. I contemplated half a share (at about 35% less money), but Hubby should be home more next year, and cooking more regularly.
Next week is the last week for our 2014 CSA share. Hubby and I froze a lot of vegetables this year! I hope they will see us through until we leave for Florida in late December or early January.
On to this week's share… The cider we received had a price tag on it from Hall Apple Farm which is pretty close to where we live (they said it was Springer Farms which would have made sense, but that wasn't what the sticker said). And Hall Apple Farm has a store. That sells chocolate!! And baked goods!!! Guess where Hubby and I are going to check out this weekend or next?
2014 CSA Share Week 21
● Acorn Squash
● Apples*
● Asian Pears*
● Beets
● Broccoli
● Butternut Squash*
● Cabbage*
● Carrots*
● Cauliflower
● Cider*
● Chard
● Delicata Squash*
● Fennel
● Kale
● Parsnips*
● Pears
● Peppers, sweet and hot*
● Potatoes*
● Radishes
● Spinach*
● Turnips
● Various Greens*
* took for share
Do you belong to a CSA? If so, what type? How much? Do you find it as worthwhile as I do?
---
● For more CSA posts on Ann's Entitled Life, click here.
● Mind Your Peas and Cukes pinterest board: All things CSA, Produce, Farmstead Fresh – community supported agriculture, farmstand fresh produce, organic produce, more from all over the United States.
● CSA posts
● Find a CSA
● Porter Farms CSA (we belonged for years)
● Root Down Farm CSA (our 2013 and 2014 CSA)
● NYS Fruit and Vegetable Harvest Calendar
● US Agricultural Data
---