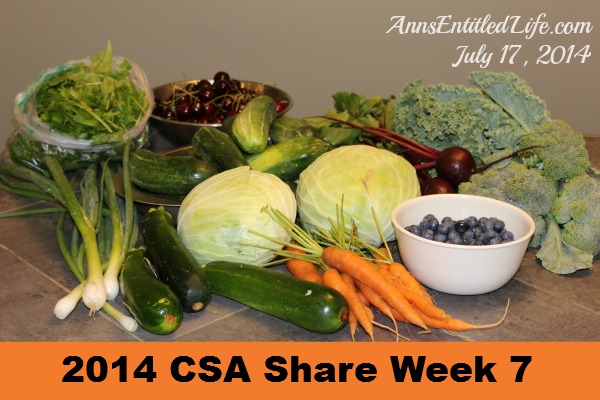 This is the diary of our 2014 CSA share. The cost of our full share is $545 for 22 weeks (this CSA offers a winter share) which will bring us to the last week in October, and works out to $24.75 per week. Western New York weather is such that June is lightest CSA month. September and October will be more than abundant! Usually I feel I don't get my money's worth the first few weeks (which will be predominantly lettuces), but the fall bags more than make up for that.
We also purchased a Fruit Share this year for $180, lasting 18 weeks which works out to $10 per week. The local fruit included in the fruit share starts with cherries, apricots, plums, peaches, nectarines, blueberries, and moves into pears, raspberries and of course apples! This portion of the share begins in July.
---
I left my CSA on week 5 most unhappy with the share. We didn't pick-up week 6 as we had a bit of a crisis with Max. This week when I picked-up, I was fairly pleased with the choices available, and what I chose.
I was smart enough this week not to grab cucumbers as part of my share after the last time. I picked up a $2 basket of cukes on the way out. I received 13 for that $2!! Last set I bought like that, I made easy freezer pickles (mmmm), and creamy cucumbers.
I had wanted to make the creamy cucumber recipe my grandmother used to make for years, and just haven't done so. Hubby was suspicious when he saw the finished product (it doesn't look like anything), but decided he loved it after trying it! Since we finished that batch, Hubby has asked me several times to make more! I will this weekend, and that should make him happy. I will share the recipe Monday (and hopefully get a better photograph).
The CSA fruit share was $180 for 18 weeks, or $10 per share. After the fruit wasn't ready two weeks ago, we got pushed back on that share a week, and all they said was that "our shares will be larger to make up for the missing week".
Well, since we missed week 1 on the fruit share, I had no idea how it would play out. Turns out we weigh the free weight stuff (duh), and got a pint of blueberries. So for this week's $10.58, we received: a pint of blueberries and 2.5# of cherries. The cherries were a choice of dark and white sweet, as well as tart (you could mix and match). Now if you took tart cherries, this was a deal!! But, I still have frozen tart cherries left from last year, so I grabbed dark, sweet cherries. They are selling for $3/# here, and the blueberries are $2/pint in the store, so I paid $10.58 for $9.50 worth of fruit. BUT those local cherries were OMG AMAZING!! I honestly can't tell you that the store ones were anywhere near as good. So, not complaining about the extra buck at all!
I also got a lesson on local eggs. Last year I was able to buy free range, organic-feed, brown eggs for $5 a dozen from the CSA, and was looking forward to doing so again this year. I had asked the first two weeks, but he hadn't stocked the fridge. The CSA has been an insane asylum the last few weeks, and I was unable to ask again. This week, I was the third one in the door and since nothing was ready at u-pick, the crowds were down. The CSA pick-up area was was pleasantly devoid of bodies, and I was able to talk to the owner.
I asked her about those delicious eggs I used to purchase and she said he doesn't have any to sell right now. I asked her what she buys, and she laughed and said he does give them some. She went on to tell me that Kershner eggs now supplies Wegmans eggs (they bought Wegmans egg farm in Rochester), their own Kershner brand, and they supply the local Eggland's Best. She said the Wegmans brand and the Kershner brand are the same egg – raised the same way, fed the same foods.
Now this didn't help me in my quest for free range, organic-feed, brown eggs, but I found it interesting! Those that have a Wegmans nearby probably will too!
2014 CSA Share Week 7
● Beets *
● Broccoli *
● Blueberries*
● Cabbage*
● Carrots*
● Chard
● Cherries*
● Garlic Scapes
● Cucumbers**
● Escarole
● Kale*
● Kohlrabi
● Patty Pan Squash
● Scallions*
● Various Greens – including Arugula*, Tot Soi, Vitamin Greens* and Tokyo Borkan
● Zucchini*
* took for share
** paid $2 extra for 13 cukes
All-in-all a great rebound week for the CSA!
Do you belong to a CSA? If so, what type? How much? Do you find it as worthwhile as I do?
---
● For more CSA posts on Ann's Entitled Life, click here.
● Mind Your Peas and Cukes pinterest board: All things CSA, Produce, Farmstead Fresh – community supported agriculture, farmstand fresh produce, organic produce, more from all over the United States.
● CSA posts
● Find a CSA
● Porter Farms CSA (we belonged for years)
● Root Down Farm CSA (our 2013 and 2014 CSA)
● NYS Fruit and Vegetable Harvest Calendar
● US Agricultural Data
---