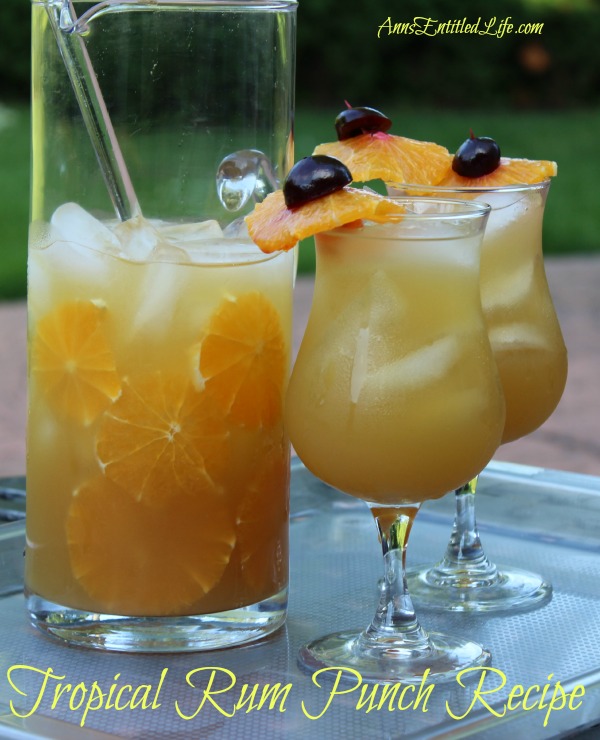 Tropical Rum Punch Recipe
By Ann
This Tropical Rum Punch Recipe is delicious, cool and refreshing. The rum punch combines the flavors of rum, brandy, and fruit juice into a fabulous tropical drink!
Prep Time: 5 minutes
Ingredients:
● 3/4 cups Amber Rum
● 1/2 cup Coconut Rum
● 1/4 cup Honey Brandy
● 1 cup Pineapple Juice
● 1 cup Orange Juice
● 1/4 cup Tangerine Juice
● Note: you can use 1 1/4 cups OJ with Tangerine in place of the OJ and Tangerine Juice.
● Sliced Oranges for Garnish
Directions:

● In a large pitcher, combine rums, brandy and juices.
● Stir. Add orange slice and ice.
● Fill a hurricane glass with ice, and pour the tropical rum punch.
● Garnish with orange slices.
Makes 4 Tropical Rum Punch Drinks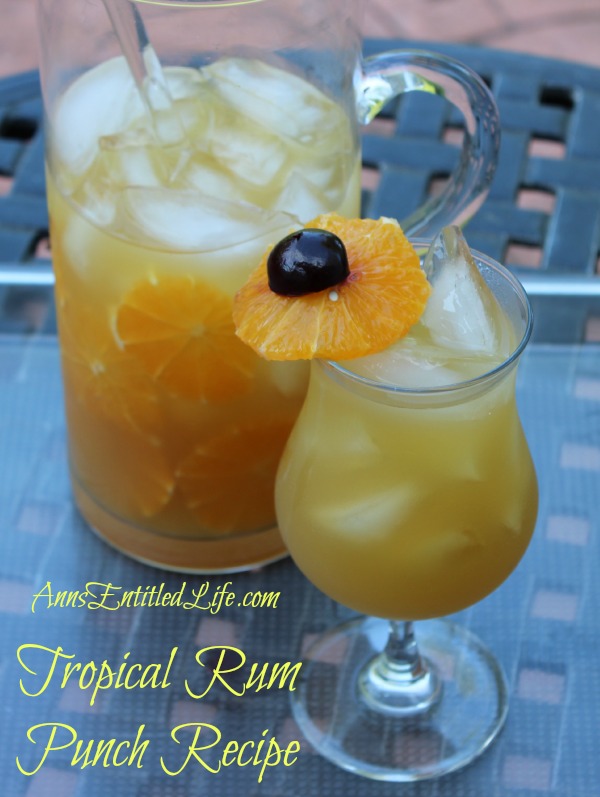 I wanted to put little umbrellas in for these pictures, but the paper drink umbrellas I have are lame. Hubby decided to come to my rescue with a carrot, cherry, orange and a toothpick. Pretty soon, I'll be calling him MacGyver.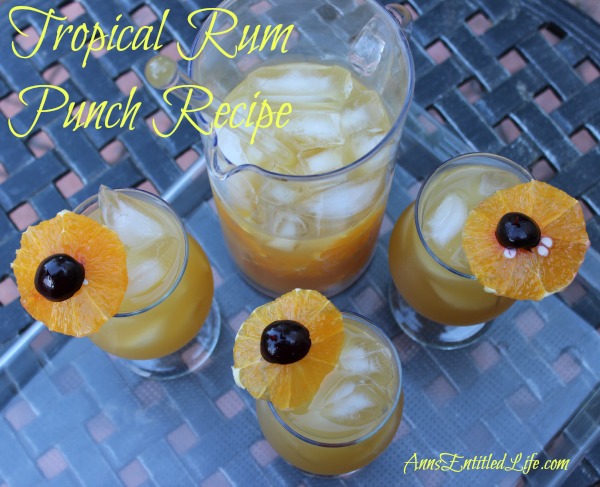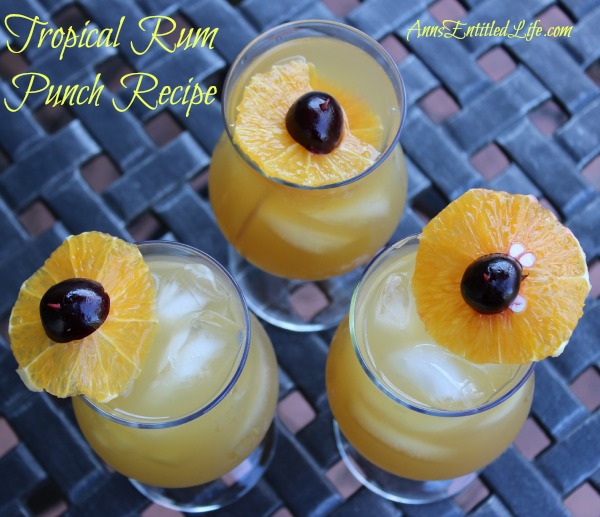 For a last second garnish idea, they really went well with this Tropical Rum Punch! Hubby liked everything about this drink so much, that he had two before I finished half of one!!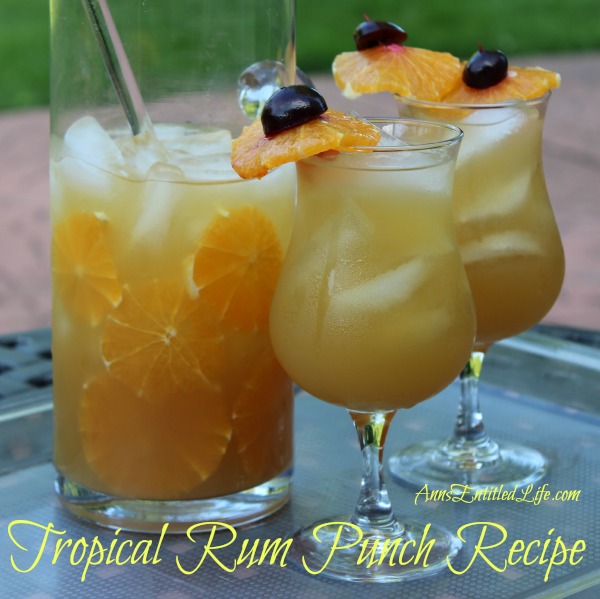 In the instructions I list OJ and Tangerine Juice. If you can't find Tangerine Juice, Simple Orange makes a OJ/Tangerine combo that works very well! I also want to warn you that these are not only tasty, they don't taste a lot like alcohol, so they can sneak up on you. You get it a bit at the start, but they go down so smooth that they become more like a juice drink than a booze drink.
You have been warned!
---
As always, drink responsibly and please don't drink and drive.
If you enjoy punch recipes, you may want to try these terrific cocktail drinks:
● This Festive Pineapple Punch is a sweet and delicious party punch recipe that is simple to make. In just a few minutes you can have a great punch recipe that your family and guests will truly enjoy. (this one can be made non-alcoholic too)
● Autumn Punch Recipe – This is a great fall punch made with hints of some of great autumn flavors. The subtle taste of cherry, cranberry and fresh picked McIntosh apples makes for a wonderful Autumn Punch; a great drink when spending time relaxing in front of a fireplace or gathered outside around the fire pit. So raise a glass of Autumn Punch to the season!
---
● Disclosure the links in this post may be affiliate links.
● For more Recipes on Ann's Entitled Life, click here.
● If you enjoyed this post, be sure to sign up for the Ann's Entitled Life weekly newsletter, and never miss another article!
---