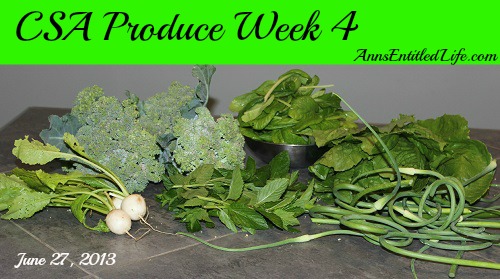 This is the diary of our CSA share this year. The cost of a full share is $545 for 22 weeks (this CSA offers a winter share) which will bring us to the last week in October, and works out to $24.75 per week. Western New York weather is such that June is lightest CSA month. September and October will be more than abundant! Usually I feel I don't get my money's worth the first few weeks (which will be predominantly lettuces), but the fall bags more than make up for that.
I was so looking forward to this week's produce bag! Since we were out of town last week, produce in our refrigerator has been non-existent. I was actually looking forward to salad!
● Broccoli
● Broccolini (two weeks ago I was told this was washed out, so surprised it reappeared!)
● Collards
● Garlic Scapes (to be used as garlic, scallions, or onions)
● Head Lettuce
● Kale
● Kohlrabi
● Mint
● Romaine Lettuce
● Salad Turnips
● Squash
● Swiss Chard
● Various Salad Greens
● Yellow Summer Squash
● Zucchini
This week had a lot of variety, little quantity. We were allowed to choose 2/3 of a shopping bag worth of produce from everything available – excluding salad greens, lettuce and mint. We then were allowed to choose 1/2 bag of a produce plastic bag for greens and mint.
To say this week wasn't worth the money would be a gross understatement. However, with all the rains it wasn't unexpected. It rained Thursday during pick-up after a dry week so I asked if they welcomed that particular rain? The answer was still no, and they had hoped for two dry weeks. Mother Nature isn't being very cooperative to date this season. Let's hope the weather regulates, and things pick up.
Do you belong to a CSA? If so, what type? How much? Do you find it as worthwhile as I do?
● Past CSA Shares
● Find a CSA
● NYS Fruit and Vegetable Harvest Calendar
● US Agricultural Data