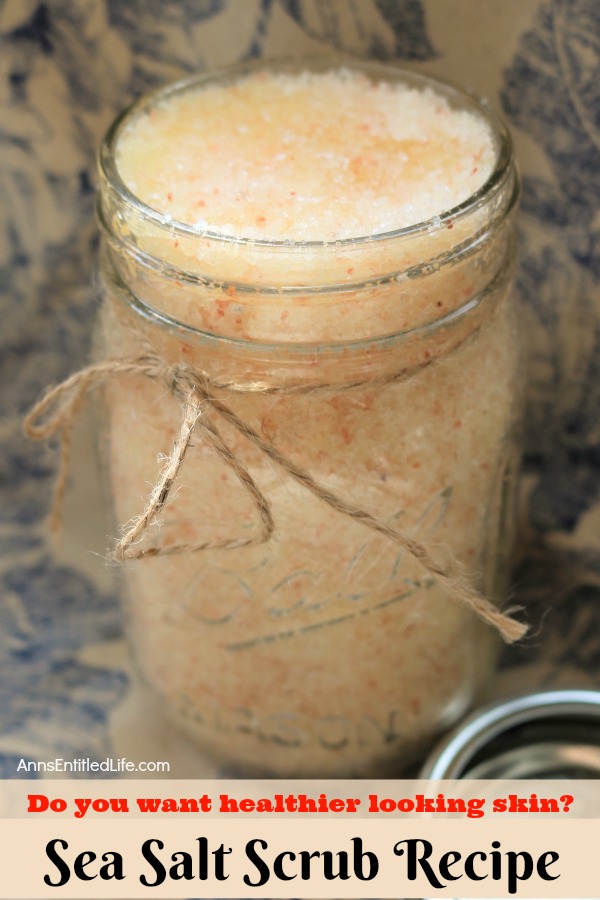 Sea Salt Scrub recipe

​Do you want healthier looking skin? This sea salt scrub recipe is a wonderful blend of Himalayan sea salt and essential oils that will exfoliate dead skin, leaving your skin softer and younger looking.

A lot of people love to make their own body scrubs, and once you try it, you understand why. They are easy to make, you can customize them to fit your need or just your preference of scent, and they are much less expensive than buying them from those fancy bath stores, and have better, and less toxic ingredients.

Sugar scrubs are the most common form of DIY homemade scrubs, but this post is for a sea salt scrub recipe instead. It exfoliates in the same way the sugar scrub would, but the salts give your body minerals as well, and with the addition of the Jojoba Oil and essential oils added, your skin feels softer, and so much better afterward!

This blend of essential oils is to promote healthier looking skin. The frankincense, geranium, and grapefruit are all really good for you and help keep your body balanced, along with many other benefits, but they were chosen for this sea salt scrub recipe because they all are great for the skin. They will leave you feeling light and uplifted and your skin will thank you.
Sea Salt Scrub Recipe Ingredients:
● 8oz Glass jar with a lid  (the grapefruit oil can break down toxins in plastic, so steer clear of that.)
● 6 oz. Himalayan Sea Salt
● 2 to 3 oz. Regular Sea Salt (I buy the Morton's brand)
½ cup Jojoba Oil
● 10 drops Frankincense Essential Oil
● 8 drops Geranium Essential Oil
● 8 drops Pure Grapefruit Essential Oil
 
Sea Salt Scrub Recipe Directions:
● In a mixing bowl, add in your pink salt first and remove any lumps (just squash them with your fingers).
● Add in the regular sea salt. It should be thinner in consistency and at all lumpy.
● Mix them together well.
● Add in the Jojoba oil.

● You want the jojoba to coat all of the salt but not have the salt be dripping wet. The jojoba oil
is the ingredient that moisturizes your skin but you do not need a ton of it. If the salt is looking super wet, you added to much for the amount of salt. At first, the amount given in this recipe may seem like it will not be enough, but it does spread well all over.
● Add in the frankincense essential oil,
the geranium essential oil,
and the grapefruit essential oil. The grapefruit essential oil especially is a very thin and runny oil so count your drops out slowly and carefully.
● Mix those into your salts well.
● Add the mixture to a jar.
If you are giving as a gift, you can add a cute ribbon or twine to the jar and a label for an added personal touch.
Note:  If your jar is larger than 8 oz. just use the ratio above for the salts and jojoba oil to make up the difference. It's does not have to be exact, so do not stress out over it, and just add in a few extra drops of the essential oils.
​If you enjoy sugar scrubs, here are a few you may want to make:
● Spearmint Sugar Scrub Cubes (mmmm Minty fresh!)
● DIY Grapefruit Sugar Scrub Cubes (so easy to make and so invigorating!)
​And, if you like Grapefruit Essential Oil
you may be interested in these Top Uses for Grapefruit Essential Oil.
Note: None of this is meant as medical advice. I am not a doctor, and do not play one on the internet. Please consult a physician if you have any questions about using essential oils so your doctor can better explain to you the benefits, possible side effects, and any warnings about essential oils.
● To print the Sea Salt Scrub Recipe recipe click here.
---
● Disclosure: the links in this post may be affiliate links.
● For more DIY Beauty on Ann's Entitled Life, click here.
● If you enjoyed this post, be sure to sign up for the Ann's Entitled Life weekly newsletter, and never miss another article!
---