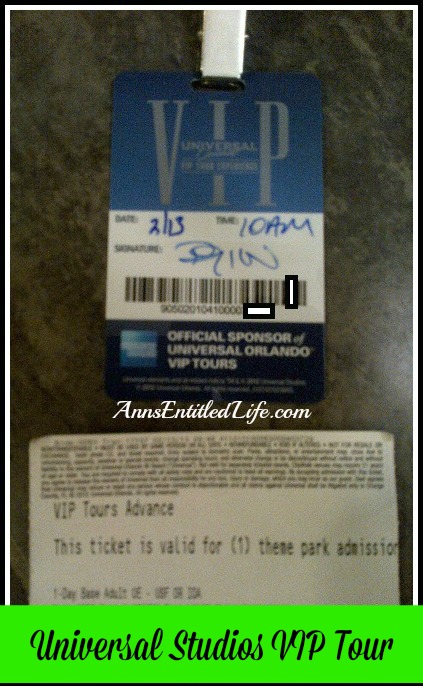 So why Ann's Entitled Life? How did that name come about? Well, it all started with our Universal Studios VIP Tour.
When hubby and I decided we were going to Florida for a month in February again this year, we let my immediate family know and issued an invitation for anyone to come down and stay with us for a week or so. My parents immediately said yes (we knew they would), and my neice decided to take us up on this invitation too.
One of the things she wanted to do was go to Universal Studios, especially the Harry Potter Theme Park in Universal's Islands of Adventure. Now, I wanted Hubby to come with us, but after our trip to Disney World a few years ago, I knew that was unlikely to happen.
What did he do at Disney? you may ask. Well, let me tell you!
A number of years ago we went to a conference being held at the Swan and Dolphin at Walt Disney World Florida. I hadn't been to Disney since Sonny-boy was 10, and Hubby had never been there. With that in mind, I wanted to take Hubby to the Magic Kingdom if the opportunity presented itself. There was a day prior to the start of the conference that was open so people would have time to visit the Magic Kingdom, Epcot, Animal Kingdom… whatever Disney Theme Park(s) they want to go to.
With much er, encouragement, I convinced Hubby to go to the Magic Kingdom. We were at the park when it opened that day because I know it was not only our best chance to get on the rides that normally have very long lines – even with fast pass, but it would be less crowded.
We hit all the highlights that I wanted him to see. Of course the park got more and more crowded as the morning went on.
At around 1pm, Hubby looked at me and said, "What are all these damn kids doing here?"
At that point I knew two things: it was time to leave and it was unlikely I'd get Hubby back to an amusement park anytime soon.
Fast-forward a few years, and now we were presented with my niece's request to go to Universal Studios, specifically to spend time at Harry Potter. I started looking for a way to entice/allow/compel Hubby to go to with us, and my research lead me to the Universal Studios VIP Tour. I contacted them, set up a date, and received this confirmation:
Tour Date: Wednesday, February 13, 2013
Tour Time: the guide will be available to you from 10:00AM until 6:00PM with a 1 hour break mid-way through the tour.
Confirmation Number: xxxx
Name of Party: Ann's Entitled Life
Number in Party: 12 (note this is now 10)
Tour Description
You and your party of up to 12 will enjoy a personalized, guided walking tour of Universal's Islands of Adventure.
Your private tour can last up to 8 hours (with a 1 hour break mid-way through) during which you will receive VIP priority entry into the rides/attractions visited with your guide.
Park Admission
Please note that park admission is not included in the price of any VIP Tour. Each guest must have the appropriate admission ticket to participate in the VIP Tour.
Parking for Your Tour
Standard Valet Parking is complimentary with your VIP Tour. Self-parking, Preferred Parking, Red Carpet Valet or any upgraded Valet Parking option is not included. Please be sure to have your Standard Valet Parking slip validated while checking in for your tour.
Plus there were more whys and wherefores in the confirmation email.
We took our Universal Studios VIP Tour last month, and they have already changed things a bit! A one day tour is not listed, and the limit is now 10. I believe that is for peak dates though, and you can contact them for a one day tour during non-peak times.
We ended up only having the three of us go on the Universal Studios VIP Tour.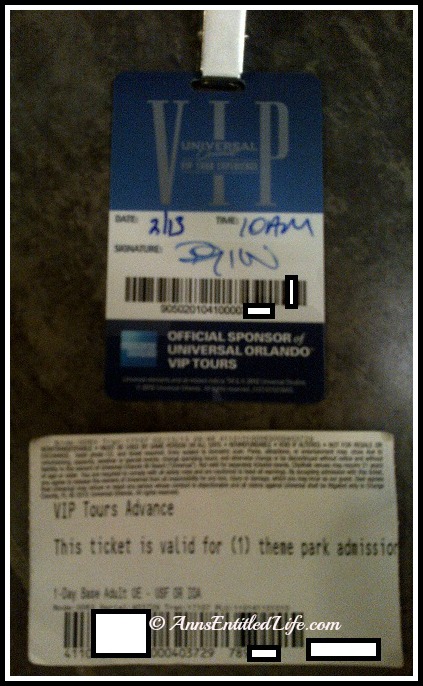 The cost of the admission ticket is not included in the Universal Studios VIP Tour package. That is a separate cost.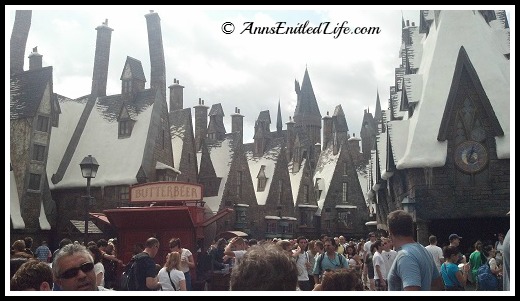 When we first got to Universal Studios, it wasn't all that crowded. The park had opened at 9am, and our tour started at 10am. Our first stop was Ollivanders Wand Shop since we had heard the lines could get pretty long – not that it really mattered to us, we skipped to the beginning of EVERY line, before all the express pass people, before people who had waited for a particular seat placement … before everyone!
Ollivanders has a short show where you are not allowed to take pictures. Maybe 20 people enter the room, Ollivander does a short skit like in the first Harry Potter movie where Harry chooses his wand, and then you are let out into the Owl Post to buy wands, owls, gear, whatever.
The room we exited to was the Owl Post which has the Book of Monsters in a cage, and yes it does move and growl at you!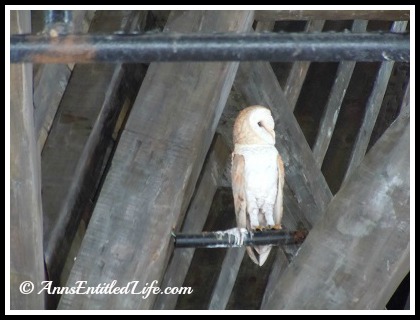 Outside the Owls were at the ready. There was also a booth where you could get your mail stamped with a Hogwarts Postal Stamp, and actually mail your letters there is you had the postage!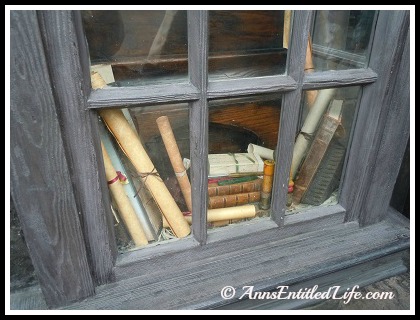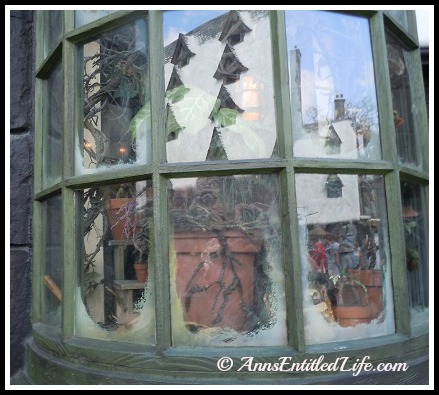 The other storefront shops, in what was Diagon Alley, had Mandrake plants and Wizarding books. These are just props though, and not for purchase.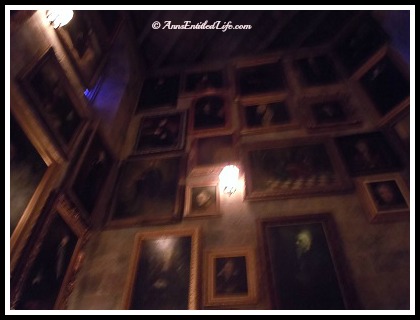 We went to Hogwarts, and went through a back door to a stairway where there was a huge wall of portraits. Godric Gryffindor and a few other portraits had a discussion about the Muggles in the hall (that would be us).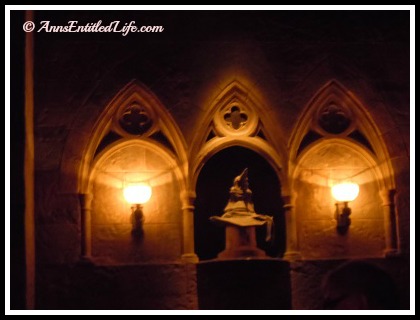 Hogwarts also featured the Sorting Hat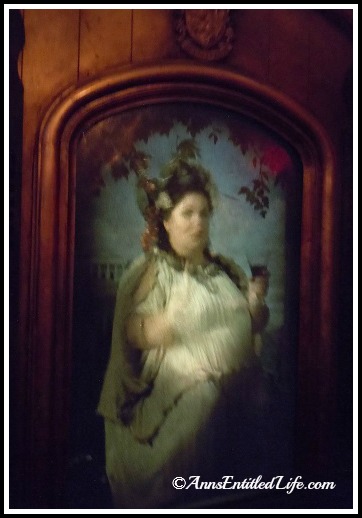 and the Fat Lady. There was also a number of skits like a Harry, Hermione and Ron piece on a balcony, and Professor Dumbledore in a hologram skit. We then went on a truly fabulous ride through Hogwarts!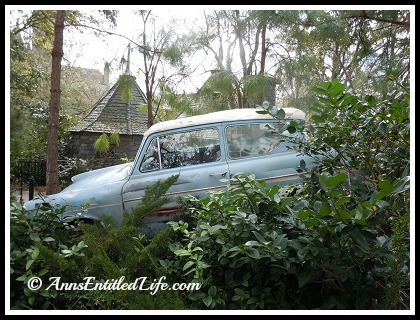 Ron's car was in a tree on the way to the Dragon Challenge ride (behind Hagrid's house). There was no way we were going on that ride! I got nauseous just looking at it. We did go in to see the Triwizard Tournament Champion Cup though!
We also went on the Flight of the Hippogriff which was the biggest waste of 30 seconds of my life – ever!
We had lunch at the Three Broomsticks (which was really, really good!) and got frozen butterbeer and collectable mugs (Hubby took advantage of the inexpensive pop refills in the park when you have this mug!).
We left the Harry Potter portion of the park after lunch, and it was mobbed at this point. It was so crowded, it really wasn't very fun. Or magical. Or anywhere anyone would really want to be. Our tour guide told us that during the peak season (we were there on a Wednesday, non-peak) there are gates they close so no one else can be let into the Harry Potter portion of the park until people leave.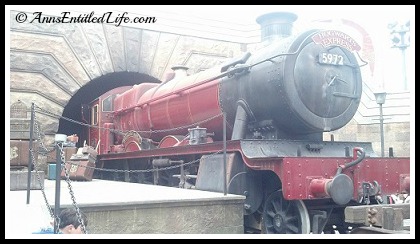 As we waved good-bye to the Hogwart's Express (I can't tell you how disappointed I was to find it didn't circle the park but was stationary), we went to other parts of the park – Dr. Seuss was awesome! It was not crowded, we got to see Horton's Egg and the shops were cool, empty and accommodating. We did go on a ride or two… mostly just to rest our weary feet.
We went on the Amazing Adventures of Spiderman – which really and truly was amazing. Our tour guide told us each of the ride cars cost 1.5 million dollars! We exited from the back of the ride, and met Spiderman. We declined the offer to see how the ride worked. It really and truly was an amazing ride, and we decided to keep it magical.
By this time it was 88° out, and we were getting both worn out, and overheated. We decided to go on the Jurassic Park River Adventure, sit in the front of the boat, and cool down. Our guide warned us we would get soaked, so we took her up on the offer of rain ponchos. And, we still got soaked! I was so hot at that point though, I didn't mind.
We made the decision not to go on anymore rides or see anymore attractions, so our tour guide took us out via those gates I mentioned before. Since that exit wasn't open to the public, it was deserted and we were able to stop and get some great pictures of Harry Potter from the backside.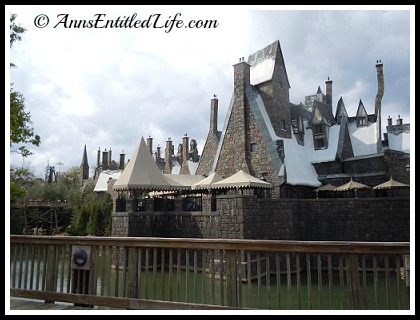 Our entire time in the park lasted just under seven hours. It is amazing how much ground you can cover and how much you can do when you have a tour guide that knows exactly where to go, and when you do not have to wait in line!
On our way back to the valet parking lot ($40 if you don't do the VIP, and it would be worth every penny! You avoid all the crowds walking in, and the elevators from valet are not far from the park entrance) the three of us started talking about our day at Universal Studios.
As Hubby put it, "Yeah, it was worth it. I am too old and too entitled to go any other way when a tour is offered."
At that point, it dawned on my how truly amazing my life has become since I married Hubby. Things I never would have dreamed of doing – either from an ignorance or lack of funds before we were married – I don't think twice about now. I truly do live a life of privilege. I decided to co-op Hubby's words and make a part tongue-in-cheek, part reality based blog built on that thought.
If you have stayed with me this long, and are familiar with my lack of photography skills, you are probably wondering where these awesome pictures came from! Well, my niece took most of them. Maybe I can hire her to take more pictures so you all can enjoy clear, clean, crisp photography and not the cockeyed messes I usually take? Thanks Mags!
---
Disclaimer, the links in this post may be affiliate links
For more Ann's Entitled Life Travel posts, click here
---