As we aim to set up our Florida condo, I have run into a bit of a wall with window coverings. I really, really, really wanted plantation shutters. The plantation shutter guy asked me what I was trying to accomplish with my window coverings, and if I wanted to make the focal point the views. My response was privacy at night, otherwise it is all about the views. (We bought this condo to look at the purdy water.) He quickly put the kibosh on plantation shutters. He told me they don't really have a way to pivot them completely off the windows when more than two pieces are required.
He showed me honeycomb blinds from Hunter Douglas (room darkening for the bedrooms), and suggested I pass on window coverings completely in the living room.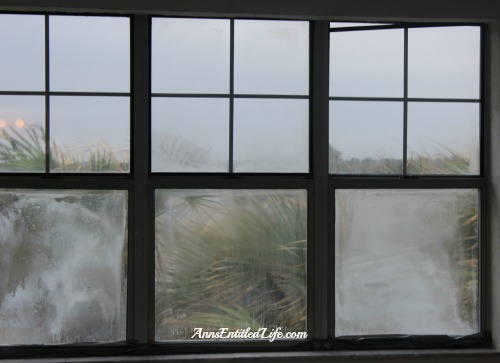 Once those are replaced (in 2-3 weeks, YAY!), the view from our bedroom and living room will be spectacular. I am wish-washy about the lack of window coverings in the living room: on the one hand I understand what he is saying, and he is absolutely correct. Why cover up the view when the view is why we purchased the condo?
On the other hand, at home we have a very elaborate living room drapery set-up that I had custom made. Living room window treatments are what I am used to! There is a window in the living room and a slider. Since the slider leads out to a small deck, the slider window is pretty well covered and I can see leaving the slider without a window covering. On the other hand, if I put something on the living room window, I worry that the slider will look "funny" without a covering.
Decisions, decisions.
So tell me – do you have window coverings that open up completely off the window (or maybe cover 2-3″ total)? If so, what do you have? I am really looking for any and all idea. These honeycombs may be the best idea there is (because they will close up to under 2″ at the top of the window), but I do want to explore further options. HEEEELLLLLPPP!!
---