Happy New Year!
Yes, it may be a few days late, but I do believe everyone, myself included, has been off enjoying the holidays the last few months. I know that the hustle and bustle from Halloween through New Year's disrupts many of our regular day-to-day lifestyle routines.
I know mine was interrupted! Hubby and I took a trip down to St. Augustine to do some furniture shopping and upgrade reconnaissance for the condo we bought earlier in the year. We drove down with a truck load of household goods that I had been accumulating over the years. This helped clean out our basement! Unfortunately, even with an 8′ truck bed and the entire backseat ( Max stayed up here with a friend of my niece's), we still had eight boxes we couldn't fit in the truck!!
We take two days to drive down to Florida. While basically a straight line drop from Buffalo to Jacksonville, there isn't a straight road to make the trip. And the hills of West Virginia are a real "treat" to drive through, especially in the winter. It is a little over 16 hours of driving from our home in the Buffalo-area to our condo in the St. Augustine-area. Since we travel while the days are short, and are not fans of driving in the dark, Hubby and I break up this road trip into two days.
The way down was smooth until we got to the Savannah area. Traffic had gradually increased as we headed south, to the point where it was bad in South Carolina. It was a holiday weekend (Thanksgiving), as well as the first of December, so traffic heading south got more and more congested the closer we got to Florida. As we headed into Georgia, our 70 mph road turned into a 7 mph road strictly due to congestion. We ended up getting off and taking the "scenic route" through most of the Savannah area. It added a bit of time to our drive (maybe an hour), but I bet we'd still be sitting on I-95 if we hadn't done so!
Our first four days in Florida were spent at a local Country Inn and Suites. Now we normally like these hotels. They aren't high-end, but they are usually clean and cheap and they offer free internet and a free breakfast. The one in St Augustine was clean, but very worn. This bothered Hubby a lot more than it did me, especially when they upgraded the furniture during our stay, instead of putting money towards upgrading their bathrooms and wall finishes.
Me? I get it. It is a lot cheaper to upgrade furniture – which can be done in the off season (and believe me, December is off season in St Augustine) in two days – than it is to upgrade a bathroom and have the room out of commission for a week (not to mention the noise and dust)! He should know better too. He's been in on hotel renos and knows what it entails.
The morning after we arrived in St Augustine, we went over to our condo to see if it was in better or worse shape than we remembered, and if we needed to do more than replace the windows and kitchen counter top (and paint).
Oh. My. Goodness.
We had had a cleaning service in before we got there. The floors were clean, the refrigerator, freezer, stove surfaces – all clean. Same for the bathrooms, and no bugs or cobwebs were to be seen anywhere in the condo. But the closets and doors and walls? Ick.
Apparently the family (the mother owned the place, we purchased from the estate. The daughter-in-law, grandson and a grandchild lived there when we purchased) we purchased from were heavy smokers. We didn't get that when we looked at the place (which is shocking because I have a pretty good sniffer), but when we started to look at the closet shelving and such, we could see the nicotine build up. It seems the bad part about nicotine accumulation is when you go to scrub it off wire racks (these were the coated closet maid ones), it doesn't come off. Not even with Dawn! Since Dawn is used in oil spills to degrease wildlife, that surprised me.
The prior owners had pained before putting the place up for sale, but we re-painted. Hubby convinced me that all white would work, and I could add artwork to the walls and get colorful furniture. Since St. Augustine is an artsy community, I went along with that. I plan on buying a lot of local artisan crafts and artwork the next few years.
We found out one of the toilets had a cracked bowl, but we ended up replacing both. The second toilet seemed like an "extra low" model to me. This was a surprise as the lady who owned the condo was in a wheelchair prior to passing away. A lot of doors were off to accommodate her wheelchair, and I'd have expected a higher toilet.
We replaced the kitchen faucet with this super cool model! The one that was there leaked all over the counter every time you turned it on. While we need to replace the countertop, and expected to replace the sink, we didn't expect to replace the faucet the first thing. Oh well.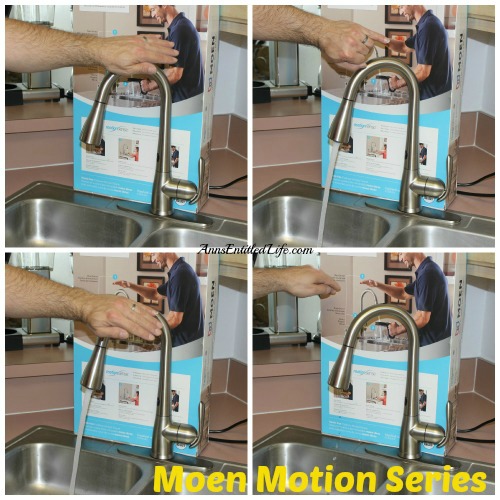 We needed to buy new windows. This is why: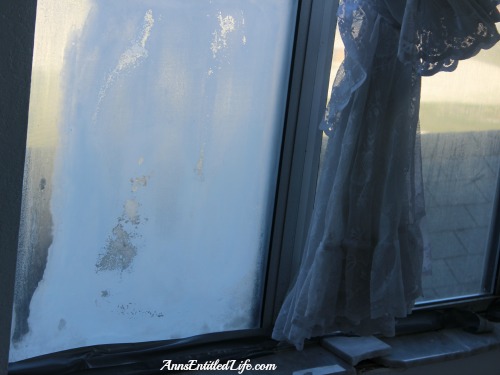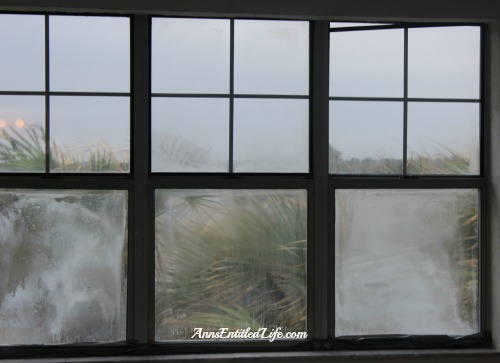 It is amazing the difference in glass between Florida and New York – here we care about UV rays and energy efficiency, down in Florida it is all about impact glass. We knew the windows had to be replaced and it was built into our offer. Since this is a condo, we had no stylistic choices other than double or single hung windows. And this place is all about an ocean view, so therefore we want windows we can clean, so double hung it is. There, that was fast.
We spent a lot of time shopping to furnish the place too. We finished the master bedroom, living room, and dining area (more on that in a Crap My Hubby Does later this week). We have the spare bedroom left to furnish, and the third bedroom that we will use as a sitting room and include a sofa bed. Many of our purchases came from consignment stores, of which there are an abundance in the St. Augustine area!
Our return chores include getting the duct work cleaned, finish painting (we still have both bathrooms and the spare bedroom to paint), replacing the kitchen countertop and sink, and then having an argument on what to do about the bathroom vanities. 😉
My parents are scheduled to come down in March, my brother and niece in February, and if Sonny-boy doesn't find a job soon, he will come down for a week to sit on the beach too.
That is our Florida condo update. Stay tuned for a few renovation posts, as we complete the renovations to the condo.
---